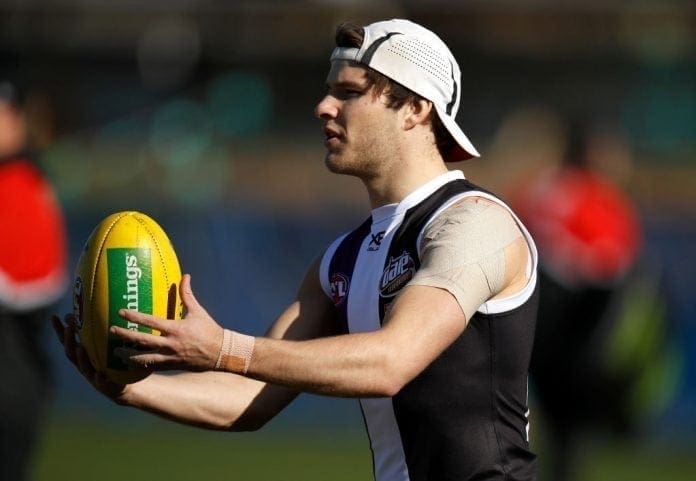 Despite coming to terms with the fact his injury-ravaged AFL dream is finally over, former Collingwood top-10 draftee and St Kilda two-gamer Nathan Freeman has given himself no chance to take a breather following a turbulent football career.
While having pulled on a jumper for four clubs so far in 2022, each at separate competitive levels, the 27-year-old has been just as busy off-field as he has on it, changing tack to charter a course into player management.
His 2022 started with a potential career lifeline in Queensland, with Freeman venturing to the Sunshine State on a 'train and trial' contract with the Gold Coast Suns, ahead of the AFL's Supplemental Selection Period (SSP).
Going toe-to-toe with fellow list hopeful James Tsitas for the last remaining squad spot at the Suns' for the season, Freeman saw the opportunity as his last to rekindle his career. An outcome that, ultimately, failed to transpire.
After leaving Carrara, the Dingley product headed west to South Australia, linking up with the Adelaide Crows' reserves in the SANFL, joining the AFL club's COVID contingency list.
But, like his career with the Magpies and Saints, Freeman failed to escape injuries at the lower level, with a shoulder setback abruptly ending his tenure at West Lakes.
Freeman returned to his home state of Victoria amid rehab, with his ambitions turning toward player management at high-profile athlete agency Connors Sports Management.
While working through the steps toward becoming an accredited AFL player agent, Freeman eventually returned to the football field with VFL club Frankston, a side that acted as a springboard for a potential AFL reprieve last year.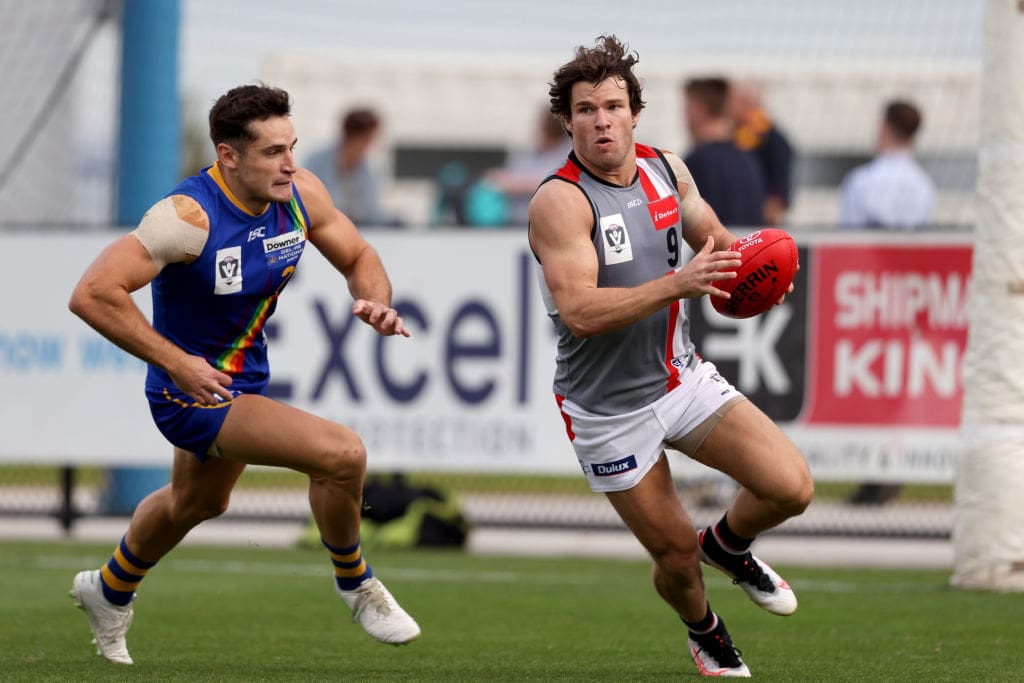 But where Freeman found solace most was back at the local level with Dingley in the SNFL, where he wasn't met with pressure and expectation.
Now eight months into the year, the former Sandringham Dragon has finally had time to reflect on an astir 2022.
"I've had a bit of a whirlwind year," Freeman told Unpluggered Podcast.
"I did preseason with Gold Coast, went over to Adelaide in the SANFL, came back to Frankston. I just wanted to go back and play with my mates.
"Work's been quite busy. I had an accreditation course I had to do through the AFLPA this year, so local footy, training and playing-wise, it's sort of what I needed.
NATHAN FREEMAN: "I was still AFL standard"
"We'll see what happens next year, but it's good just being back and playing with mates.
"For so long, even when I've been working, I've been having one eye on getting back into the system, and I almost did.
"I'm full into my work now. I'm 27, I won't have too much footy left in me. So, I think the AFL dream is [sort of] finished, and now my priorities are back to work."
Not unfamiliar with transition, Freeman has flourished in his short time behind a desk as a player agent, having left the cutting routine of an AFL player behind him.
The role is his first real job outside of football, having not placed his attention elsewhere since first forging the dream to play in the big league.
"Football was all I had ever known since I was 18, so I never had a job before I got drafted," Freeman said.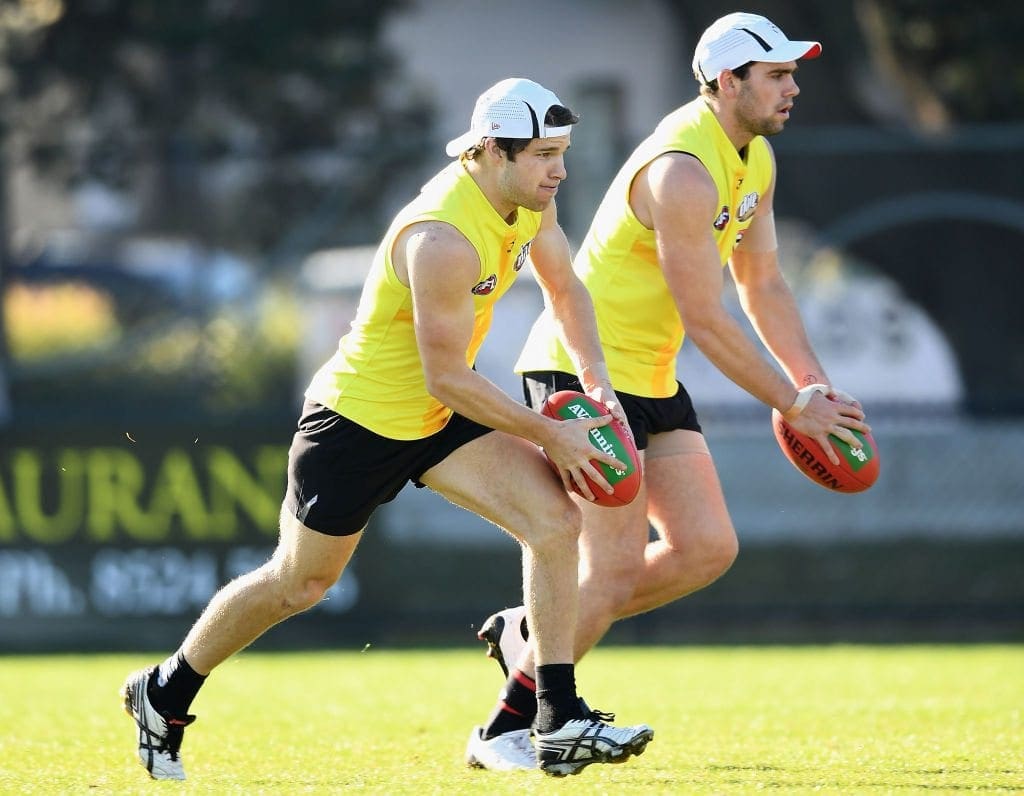 "You go in and footy is so fast-paced. Your schedule comes out every week and you've got to be here at a certain time, you've got a meeting at this time, weights and training and everything is sort of set out for you.
"So sometimes you can just go through zombie mode. You just go out and train and everything's just automatic towards the end."
Freeman's position at Connors Sports has the luckless ex-midfielder working alongside some of the AFL's next generation of stars.
Knowing the ups and downs professional athletes face from year to year, Freeman is best positioned to help younger players combat the more arduous moments in their raw careers.
At a crossroads during his football journey, Freeman found an opportunity through his own manager in Paul Connors.
"Halfway through my last year at St Kilda in 2018, my manager, Paul Connors, said 'mate, like, if it doesn't happen - if you do get delisted - don't find another club. I'd love to have you. Come work part-time and see if you like it. If you do, then we'll put you on and train you up'," Freeman recollected.
"Pretty much as soon as I finished with the Saints I had a couple of weeks off, went away with the boys to Bali on a footy trip and got back and pretty much went full-time straight away.
"I loved it. Mentoring, managing finances with Paul (Connors) and Robbie D'Orazio, living in their back pocket for a year, and gaining networks and relationships with different list managers, recruiters, and players.
"I'm four years in now, I'm accredited as an agent and am working really closely with the younger boys, the under 17s-18s boys up until second and third-year players.
"I've always loved footy, I'm a bit of a footy head so I've loved stepping straight out into it.
No stranger to adversity, NATHAN FREEMAN fought through injury after injury to make his AFL debut five years after being drafted as a Top-10 draft talent.

LISTEN:
🔴 https://t.co/90R4bvNzgi
⚪ https://t.co/7EQEZIooUU
⚫ https://t.co/SCI0m6F9OT#Unpluggered #TogetherWeRise pic.twitter.com/tWhFfaXqkT

— Unpluggered Podcast 🔴⚪⚫ (@unpluggered) August 10, 2022
"Having the experiences that I've had in the system for five years, I've played AFL, played VFL, been injured, off-field stuff like budgeting, buying a house, buying a car.
"Any sort of emotional thing that players are going to go through as they journey through under 17s to playing AFL and beyond I've got a bit of an insight into having experienced that myself.
"I think that's a bit of a key difference that I have in the industry."
Connors' agency was a prominent feature in the recent AFL documentary Show Me The Money, with several clients at the firm - along with Connors himself - being key figures in the series.
Lifting the lid on the wheelings and dealings agents work through during the busiest period of their football year, Freeman said the documentary gave great insight into his new occupation.
"It was actually good fun," he said.
"We had the film crew in the offices for about two or three months straight, it was like 'Big Brother.'
"They were just filming everything, filming us working, we were all mic'd up the whole day in the office.
"We had a few good storylines like Luke Dunstan, which was really good for him getting to Melbourne.
"Adam Cerra, a few of the draft boys like Nick Daicos, Tyler Sonsie, Connor MacDonald.
"It was good for the average footy fan just to see how it all goes behind closed doors and the human element behind the trades.
"As a fan, you sort of see just players moving clubs. I think it just goes to show the work that gets put into it, the human element behind the player's decision to leave or do whatever they do."
Home to the likes of in-demand Magpies ruckman Brodie Grundy, Lions' free agent Daniel McStay and contracted Giant Jacob Hopper, both Connors and Freeman are bracing for a busy strand and free agency period in the coming months.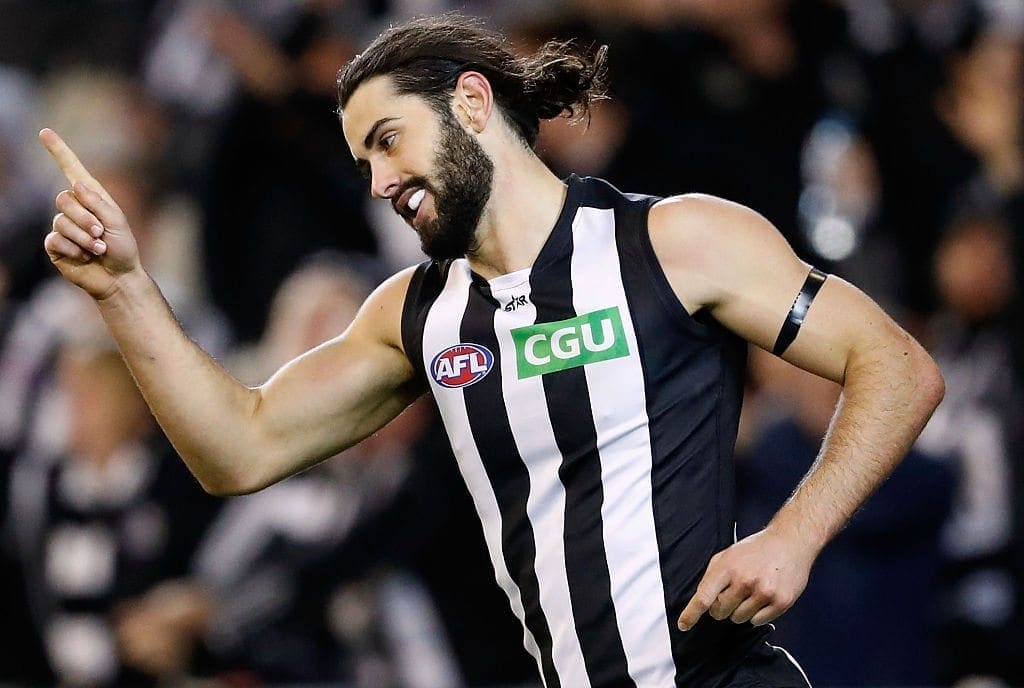 While not giving away too much, Freeman flagged a "watch this space" for this year's player movement market.
"I think it's going to be a really good trade period," he said.
"There's a lot leading up to it.
"There's a fair few gun free-agents out, there's a few players that are already getting shopped around. I think there's going to be some big names that come out of it.
"We can't say too much. A lot of work is being put in behind the scenes from different clubs... watch this space."
Catch the full Nathan Freeman interview on Unpluggered Podcast on Spotify and Apple Podcasts.