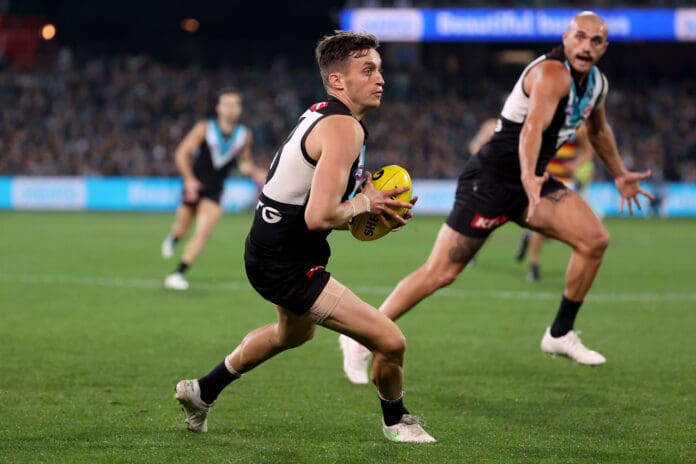 Port Adelaide forward Orazio Fantasia has opened up on his plans for 2024, revealing that both he and the Power had agreed to a one-year deal to keep him at Alberton. The agreement reportedly took place during his exit meeting with the club this week.
Following their disappointing finish to the season, going out in straight sets to GWS at home, the feeling at Port Adelaide this week has been flat, with Fantasia detailing so while speaking to FIVEaa Breakfast.
When asked what the players had been up to this week, he was optimistic despite acknowledging that it was a disappointing finish to the season.
"Sitting back and reflecting on the season, we've still had a good season, won 13 in a row or something... We did do some good things, I know we lost but it's not all doom and gloom... there's still some exciting times ahead" he said.
The Power were electric for much of the season and looked on track for a home final in week one before a late-season slump saw them slide to third and have to travel to Brisbane. The resulting loss saw them face the rampant Giants last weekend, ending their season.
See Also: Dockers defender inks mega extension
Despite the poor finish, Fantasia was adamant that there is still plenty to be optimistic about, something that he said was discussed during his exit meeting, as well as his future.
"We had a good discussion in there," he said.
"I understand that I haven't played enough football and that I really want to and they want me to as well.
"We're just working out how it looks but I think a one-year deal is where we sort of left the room."
Fantasia went on to speak of his optimism about the future heading into pre-season, as well as the fact that he had cruelly only just got his body right in time for finals, only to miss out on selection.
"Yeah and that's exactly what we said and it's frustrating and essentially, the coaches said you've probably just ran out of time a little bit, which is hard to hear as well because I felt I'd almost done enough," he said.
"But that's OK, I think going into an off-season with no surgery, no injuries, is a really good and positive sign for me to now attack a pre-season and an off-season to come back and be ready to go."
The Power are set to be extremely active in the trade period as they seek to secure the final few pieces of the puzzle they feel will take them a few steps further in 2024. If all goes well for Fantasia, he could well be one of them.