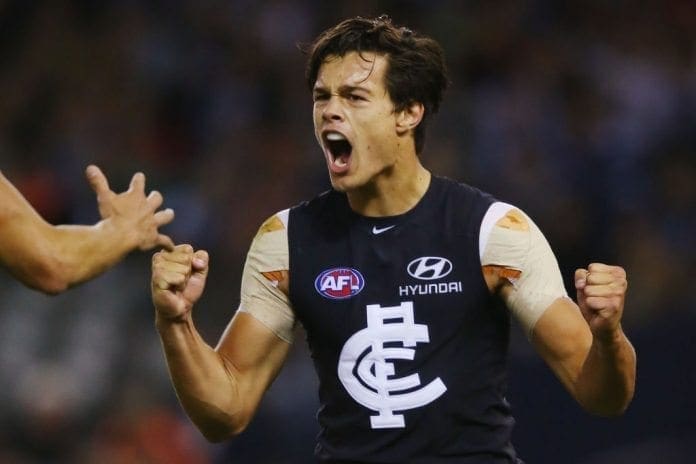 Third generation Carlton player Jack Silvagni has earned a two-year extension with the club following an ameliorated season in 2021.
During a year in which he was asked to fulfill multiple roles for the 13th finishing Blues, the 23-year-old put his best foot forward whether in a familiar position inside 50 or when pinch hitting in the ruck.
Although injuries has stunted Silvagni's ability to string consistent performances together since being drafted in 2015, the father-son selection re-announced himself to the footballing world during Carlton's Round 20 victory over St Kilda under Friday night lights.
Silvagni's 25 disposals, nine tackles, five marks, five hitouts and a goal may not have been enough to earn a Brownlow vote last Sunday night, but they were integral in securing a win in the wake of a devastating loss to North Melbourne a week prior.
Upon agreeing to terms with the club where his surname is intrinsically linked, the long-sleeved guernsey advocate humbly stated that he was keen to see what the future held for him.
"I'm incredibly excited to recommit and sign on for a further two seasons," Silvagni said.
"This football club has been a very significant part of my life from the moment I was born and to be able to continue doing what I love in the Navy Blue guernsey is something I feel very privileged to have the opportunity to do.
"I really enjoyed being able to work on different areas of my game this year and throw my hat in the ring to play in various positions, so I'm looking forward to seeing where I can take my game over the next two seasons."
The Blues' Head of List Management Nick Austin stated that it was a pleasure to retain such a passionate member of the club's playing group, especially given his recent strides made at senior level.
"Jack's passion for this football club is undeniable and the pride he takes in wearing the Navy Blue is second to none," Austin said.
"That is evidenced by the way he takes to the field each week – he plays with heart and he puts his body on the line, finishing every game with nothing left to give.
"Despite battling a few injuries, his development across all areas of his game has been pleasing and his willingness to tackle new challenges is something we commend and admire, so we are excited to see what Jack will achieve over the next two years as he takes the next step in his career."
With 78 appearances as a Bluebagger, Jack has already followed in the footsteps of his legendary father, Stephen, and late grandfather, Sergio.
However, the next item on his agenda is sure to be replicating their premiership deeds from years gone by.