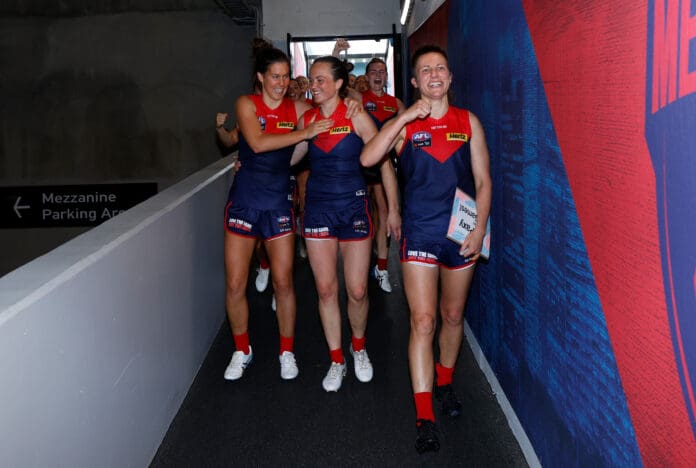 Melbourne skipper Daisy Pearce has claimed that the loyalty of her teammates was at the heart of the Demons' premiership run.
With the AFLW expanding to include all 18 teams ahead of season seven, Essendon, Hawthorn, Port Adelaide and Sydney opened the purse strings to attract star talents to their fledgling programs.
At Tullamarine, former league best and fairest Madison Prespakis was brought through the doors, alongside sharpshooter Bonnie Toogood from the Bulldogs.
Despite acting as an inaugural member of the AFLW competition, Melbourne had failed to taste success across the first six seasons, featuring in just a single grand final prior to their history-making win in Springfield last Sunday.
Still, with a litany of stars sticking fat at Casey Fields, Pearce lauded her premiership pals, stating the allure of opposition offers had been tough for many to ignore.
"When expansion happens, the star players in our team get peppered with phone calls and big offers," Pearce told SEN.
"They were getting offers and would've been able to set their lives up, lay a deposit down on a nice house."
Aside from the burning desire for a premiership win, the veteran revealed that head coach Mick Stinear was critical in keeping this legion of Demons together after their heartbreaking loss to Adelaide in the S6 decider.
"They knock it back because they know that the way to get the most out of their footy is to stand by this guy," Pearce added.
Stinear has led Melbourne since the AFLW's debut season in 2017, steering superstars such as Pearce and Karen Paxman, whilst also developing the likes of Olivia Purcell, Kate Hore and Lily Mithen amongst others.
And in providing a consistent message to a consistent group, Stinear has not only earned the respect of his group; he was won their admiration.
"I absolutely love him," Pearce said of her head coach.
"His ability to connect and build relationships, I know that is the buzz word in coaching at the moment, but I've never met anyone like him.
"If your old man gets sick or you break up with your partner, he's the first one to ring you up and take you out for lunch.
"He's the reason we won on the weekend."
Due in large part to the revelry a premiership brings, Pearce is yet to announce whether she will continue her glittering career in 2023.