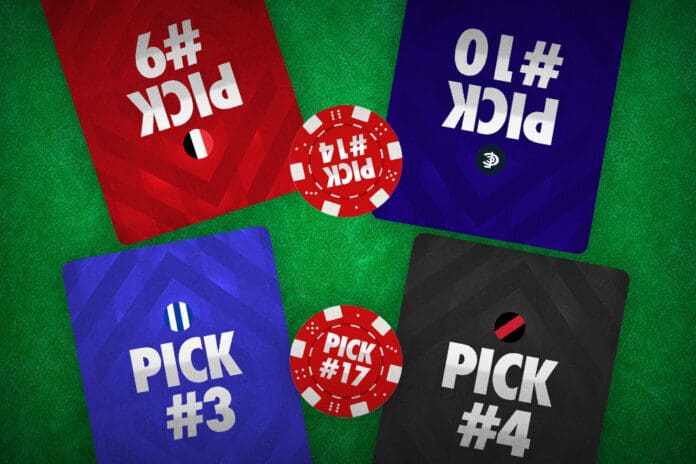 While trade period has come and gone, AFL clubs are still permitted to trade draft picks for both this year and next across the coming month, with plenty of early selections sure to be up for grabs.
The window for draft pick trading opened on Monday this week and will run until 5:00pm (AEDT) on Tuesday, November 15 - almost a fortnight before the National Draft commences on November 29.
AFL clubs will also be able to trade draft picks live across the draft, which will again take place over two nights, with the first-round selections the only picks for the opening night.
The new-form draft model gives certain selections plenty of additional power for their place in the draft order, namely, Pick 19. That selection opens the second-round and the following night of the draft, giving the club which possesses it almost 24 hours to weigh up selecting a player from the remaining pool, or be open to trade offers from clubs eager to select a prospect still available.
SEE: FULL DRAFT ORDER FOR THE 2022 AFL NATIONAL DRAFT
GWS currently holds that selection after it was acquired from Richmond this off-season, who gained the selection from North Melbourne last year in a trade involving Callum Coleman-Jones and Robbie Tarrant.
That selection was among 12 picks from the top 20 that have swapped hands, including Picks 1, 2, 3, 5, 7 and 8 in the recent exchange window.
Other early selections are also set to hit the open market should enough keen suitors emerge across the next month.
GWS swooped on Pick 1 in the now-famous four-club trade that saw Jason Horne-Francis head to Port Adelaide, with Picks 2 and 3 landing with the Roos.
While the opening two selections are seemingly locked in, North Melbourne is said to be open to offers for Pick 3.
The Giants are in the frame to secure key-forward Aaron Cadman with their first pick, while a bid on Brisbane father-son selection Will Ashcroft is likely to come by Pick 2 at the latest.
The Roos are set to select one of George Wardlaw, Harry Sheezel or Elijah Tsatas with their opening selection, but could part with Pick 3 if one of the talented trio are strongly in the sights of another come draft night.
READ: Predicting the top 20 picks for the 2022 National Draft 
A trade for Pick 3 would likely see North Melbourne split their selection into multiple first-round picks, whether that be for 2022, 2023 or both.
The Roos' third earliest selection doesn't come until Pick 40, leaving them without a second-round selection. They may look to add two first-round selections for the price of one, with West Coast (8 and 12), GWS (15 and 18) and Sydney (14 and 18) the only other clubs with multiple first-round selections.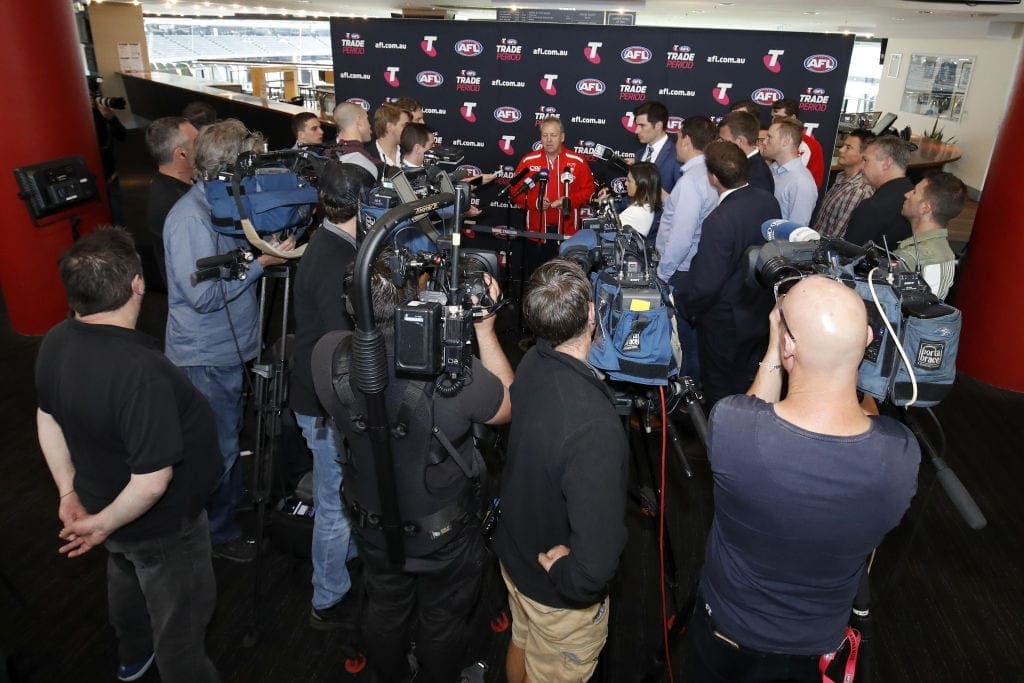 The Swans are another side that has flagged that their pair of first-round picks are on offer, with the grand finalists potentially increasing their place in the queue or adding to their hand for 2023.
Essendon's Pick 4 is another which has been tagged as accessible for rival clubs should the right offer arise.
Carlton, currently entering the draft at Pick 10, is on the other end of the trading desk, hoping to increase their place in the queue, and is seen as a potential buyer for either the Bombers or Roos.
The Blues currently hold Picks 10, 29, 49, 66 and 86 for 2022, meaning their future first-round selection is likely to be required should they have their eyes on Picks 3 and/or 4.
St Kilda is another club potentially looking to increase their place in the draft order and was in talks with North Melbourne for Pick 3 on deadline day of the trade period.
That deal centred around Hunter Clark and Pick 9 heading to Arden Street, however more early selections were also tied into discussions, which eventually ended without an agreement.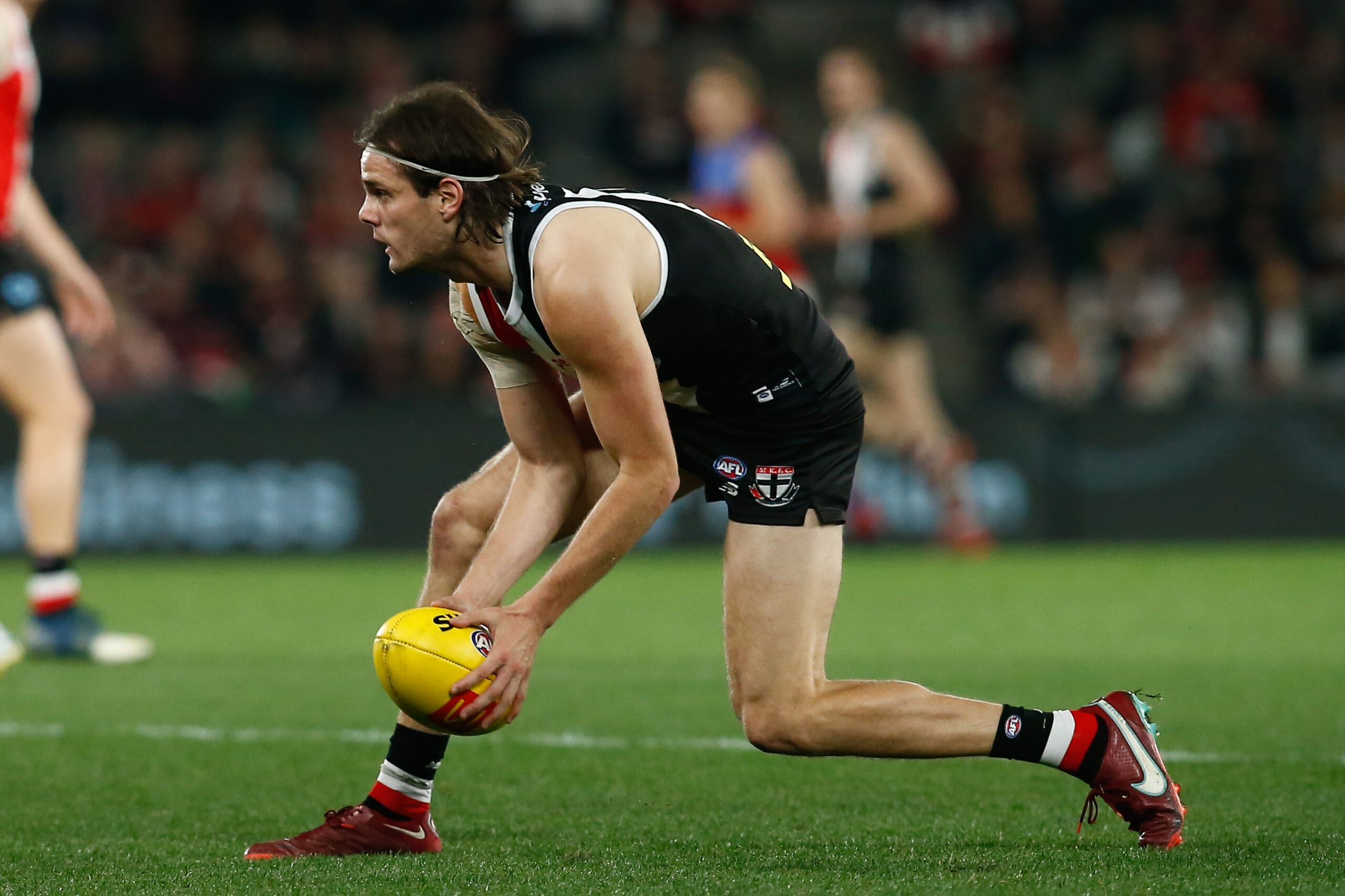 The Saints could look to pair their future first-round pick with Pick 9 to satisfy clubs like North Melbourne or Essendon atop the draft order should they seek a top-five pick.
Gold Coast (Pick 5), Hawthorn (Pick 6) and Geelong (Pick 7) are seen as unlikely to be open to parting ways with their earliest selections.
Looking later into the draft, Brisbane is expected to have further future selections up for grabs as they continue their hunt for further draft points.
The Lions' current draft hand of 34, 35, 36, 38, 55, 56 and 73 equates to 2441 draft points for this year, meaning if a bid came for Ashcroft at Pick 1 then Brisbane would be left with just Pick 73 given the required 2400 points (3000 minus 20 per cent matched bid discount).
Their position means Brisbane is likely to continue to stockpile picks for this year's draft through trades in the lead-up to and on draft night to secure another top prospect and father-son prodigy in Jaspa Fletcher.
Fletcher's name could be called in the final few picks of the first-round, with a selection at Pick 18 seeing the Lions require another 788 draft points to secure Fletcher at that selection.
For example, Picks 40 and 44 would be enough for Brisbane to match that bid. But with a majority of their selections likely going to Ashcroft, the Lions will likely be needing to trade future picks to pair their father-son duo together.
Other early father-son bids will also shake up the remainder of the draft order as multiple picks get swallowed into matched bids, with Essendon's Alwyn Davey Jnr. and Adelaide's Max Michalanney also joining Fletcher in potentially falling in the 15-30 range.
The Bombers will be hopeful a bid on Davey doesn't come until after their second selection at Pick 22, but may be open to sliding their way up the order from that pick to avoid it being used in a require matched bid.
Pick 4 and 22 could please clubs that hold multiple first-round picks, with GWS' 15, 18 and 19 potentially a starting point for a deal between the two clubs.
Last year's National Draft saw seven live trades take place, while another between Adelaide and Melbourne was declined by the AFL.