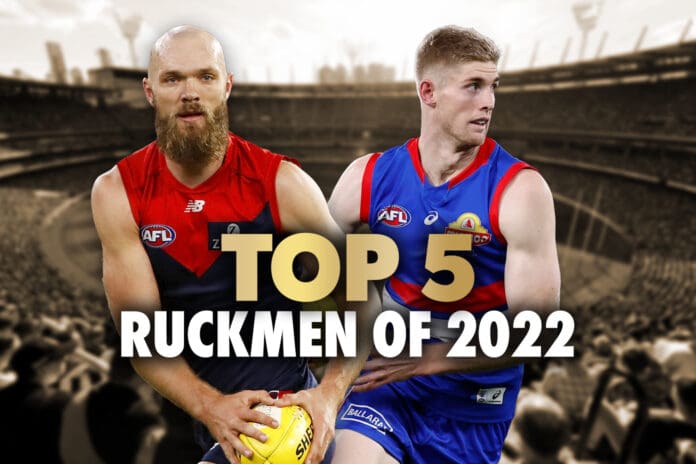 The ruck role has caused much confusion for footy experts in recent seasons. Some sides seem to benefit from a pure tap-winner type, while other sides require the around-the-ground type of big man.
It is hard to judge ruckmen against each other in 2022; one player might record the most hit-outs but provide less value than his versatile opponent.
Mark Blicavs may be one of the most valuable players in the competition, but does most of his damage as an onballer or lockdown defender, not necessarily as a ruckman.
Conversely, Oscar McInerney was a quality ruck stoppage player in 2022, but wasn't as versatile in general play as someone like Tim English.
With all nuance considered, here is our top five ruckmen of 2022:
SEE ALSO: Top Defenders of 2022
SEEL ALSO: Top Midfielders of 2022
5. Tim English
In a relatively disappointing year for the Dogs, one bright spot in 2022 was the continued rise of their ruckman, Tim English.
We caught a glimpse of his potential in recent seasons with some scary good performances and we know he has the capacity to stuff the stat sheet with his versatility around the ground.
While the pure stoppage numbers do not match the likes of Gawn and Witts, English's ability to collect disposals and compete in the air at the level he does sets him apart from most.
2022 was by far his best season yet, recording a career-high in hit-outs, disposals, marks and clearances. He also strung together consistent stretches of dominance, including a four-game patch with over 20 disposals, 20 hit-outs and 5 marks in each.
While he does not feature as a top-10 player in any major statistical category for ruckmen, his versatile impact on his side is obvious. If he continues to improve his pure ruck ability, English could truly rise to the top of the big-man mountain by the end of 2023.