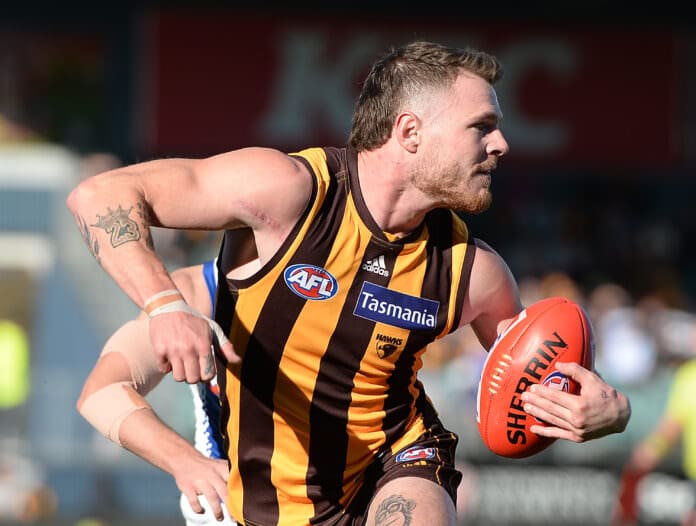 In 2021, the Hawthorn defence was one of the best in the competition. According to AFL.com.au, they rated fifth in the league for conceding scores per inside 50, with their opponents only scoring on 41.9% of entries.
Much has been made about the glut of exciting half-back flankers coming through the side. Will Day, Jack Scrimshaw and Changkuoth Jiath all had moments of individual brilliance throughout the year, and the future looks bright in this respect.
However, there has been comparatively little fanfare about the Hawks' full-back line – Sam Frost, Blake Hardwick and Kyle Hartigan. To be fair, none of these names really leap off the page, and this bit-part defence was assimilated from pretty much nothing. Frost was brought in for the equivalent of a third-rounder, Hardwick was drafted with one, and Hartigan's services were secured with a fourth.  
And yet, as written by David King for The Herald Sun, these three were only out-marked five times throughout the entire 2021 season. To be clear – this statistic is not referring to five times per person. It's five times collectively.
In spite of this spurring defensive figure, the Hawks were cellar-dwellers for the vast majority of the year. This begs the question – is Hawthorn's defence actually one of the most underrated in the league? Or is the truth being hidden behind some noise?
Let's dive in.
The midfield
Hawthorn has a big-named midfield. Their big three comprises of a prized pick (Jaeger O'Meara), a Brownlow medallist (Tom Mitchell), and one of the youngest ever club best and fairest winners (James Worpel).
However, in 2021 their engine room was operating at a level substantially less than the sum of its parts.
TOM MITCHELL
Midfielder

Hawthorn

2021 SEASON AVG

34.3
Disposals

4.9
Tackles

4.8
Clearances
The Hawks ranked second last for scores from stoppage differential, third last for centre clearances and third last for inside 50 differentials.
Right off the bat, you have to feel some sympathy for Hardwick and co. They were under a constant stream of bombardment and the stats suggest they did everything in their power to stem the bleeding.
It simply wasn't enough – categorically, the Hawthorn midfield did not do their job.
When your team is regularly conceding over 60 inside 50s per match, you could have a squad of six All-Australian defenders on-field and still struggle to win games.
It's also worth considering that with such weight of ball coming into Frost, Hartigan and Hardwick, there would be quite a bit of variance on the quality of entry. With coaches putting an emphasis on team defence (the very aspect that took Melbourne to a premiership), the long, high ball to forwards has become a grenade quite easy to diffuse – at least momentarily. 
This brings us to our next point: the coaching style of one of the best to ever do it, Alastair Clarkson.
The coaching
While many fans are quick to lament slow playstyles and defensive-minded strategies, the reality is the AFL metagame has swung strongly towards this for a long while now.  
According to squiggle, the last premiership team to have a higher-rated offence than defence was Hawthorn themselves, back in 2014.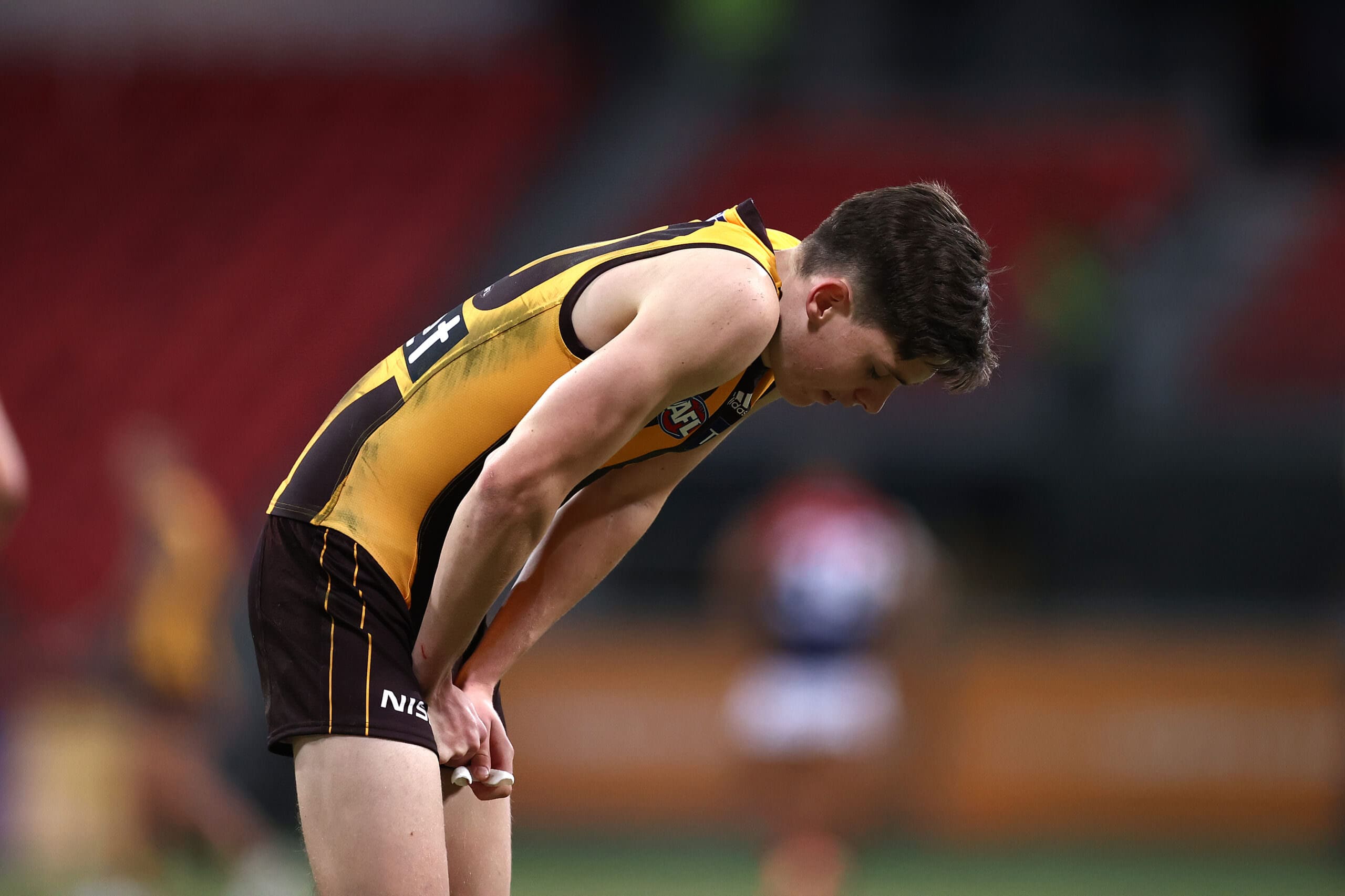 Hawthorn in 2021 were a particularly defence-first team. By the end of the season, they had a Squiggle defensive rating of nearly 60, while their offense floundered away at under 50.
Although this data is a little meaningless on its own (as much of Hawthorn's scoring troubles could come just come down to their young, impotent forward line) it was reflected in the way Hawthorn set up their play. 
There was an ongoing narrative that the Hawthorn team would build play slowly, chipping the ball around until they found an opening to propel forwards. This was not the case though – in fact, Hawthorn were the highest handballing team in the league, averaging 167.6 per game.
However, this still coincided with a game plan that revolved around defending turnovers, rebound 50s and mangling forward thrusts from stoppages.
This would often be achieved by the team setting up one short at contests and having them play as a loose defender, either in the defensive 50 or on the wing/flanks. A great example of this was the Round 14 matchup vs Essendon, where the Hawks' strategy was to give Essendon an edge in the clearance battle (Essendon 42 – Hawthorn 29) in order to thwart their offensive influence.
Hawthorn ended up having more Inside 50s and intercepts that day, but still ultimately lost.
The nature of this tactic is to ensure most opposition forward entries aren't particularly dangerous and easy to execute, which provides some context to the 'elite' status of the Hawthorn back six. However, it came at the cost of transition prowess and leverage at the coalface.  
The gifts
Now, let's turn our attention back to the key statistic we're analysing in this article – that Hardwick, Hartigan and Frost were only outmarked a total of five times in the 2021 season.
It's worth remembering that this doesn't account for the occasions they were simply caught out on the lead and gave up uncontested grabs. 
In addition, their ability to prevent goals via contests was made somewhat redundant by their continued gifting of goals through clangers.
One just needs to take a look at this footage from Fox Footy to get an idea of what I'm talking about:
Is Hawthorn's Kyle Hartigan in any trouble for this hit to the back of Tom Hawkins' head?

✍️ BLOG: https://t.co/KfdgUqAB4E
📱 MATCH CENTRE: https://t.co/IHucR3PdMG
📺 WATCH #AFLCatsHawks on @kayosports: https://t.co/qRyaNfPow4 pic.twitter.com/gYTeM1dCMS

— Fox Footy (@FOXFOOTY) April 5, 2021
Frost and Hartigan averaged around 1.5 frees against per game, and these often resulted directly in opposition shots on goals.
Pair this with Frost's 64% kicking efficiency and 3.5 clangers a game (Hartigan also averaged 2.5 clangers), and it's easy to see that it wasn't all roses for the Hawthorn backline in 2021.
That said, their ability to quell contests was no doubt impressive, and in an ideal world the ball wouldn't be in their hands enough for such egregious turnovers to be a major talking point.
Blake Hardwick
You will notice that Hardwick was left out from my analysis of turnovers – and there's a reason for this.
While there are rational explanations for Frost and Hartigan's supremacy in marking contests beyond them forming the best back duo in the AFL, Hardwick is one of the most unheralded defenders in the game.
In 2021 he only had five contested defensive losses through the whole season. In contrast, the AA defensive pockets had 21 (Jake Lever) and seven (Tom Stewart).
His kicking efficiency was above average at 80%, from over 15 a game, and he also averaged an elite six rebound 50s every time he took the field.
When you put it all together, it's hard not to see him in the top echelon of mid-sized backmen. 
What does this mean for season 2022?
In Hawthorn circles, there's some uncertainty on whether Hartigan and Frost will even get consistent game time in the best 22. This is pretty remarkable, when you consider Hawthorn's statistically elite defence revolved around them (and Hardwick) as successful key stoppers.
Some of this will depend on the urgency in which the Hawks want to get game-time into their No.6 pick from the 2020 draft, Denver Grainger-Barras.
In addition, Sam Mitchell has come into the fold touting a renewed emphasis on attacking football – something that may not play to the strengths of the 2021 backline.
Either way, the 2022 season may truly put this Hawthorn defence to the test. Will Sam Mitchell throw away the structures that helped the club set up one of the most effective backlines in the league? Or will he implement a quasi-attacking gameplan that still emphasises transitional defence and allows Hardwick and friends to post a similarly ridiculous stat line in the year to come.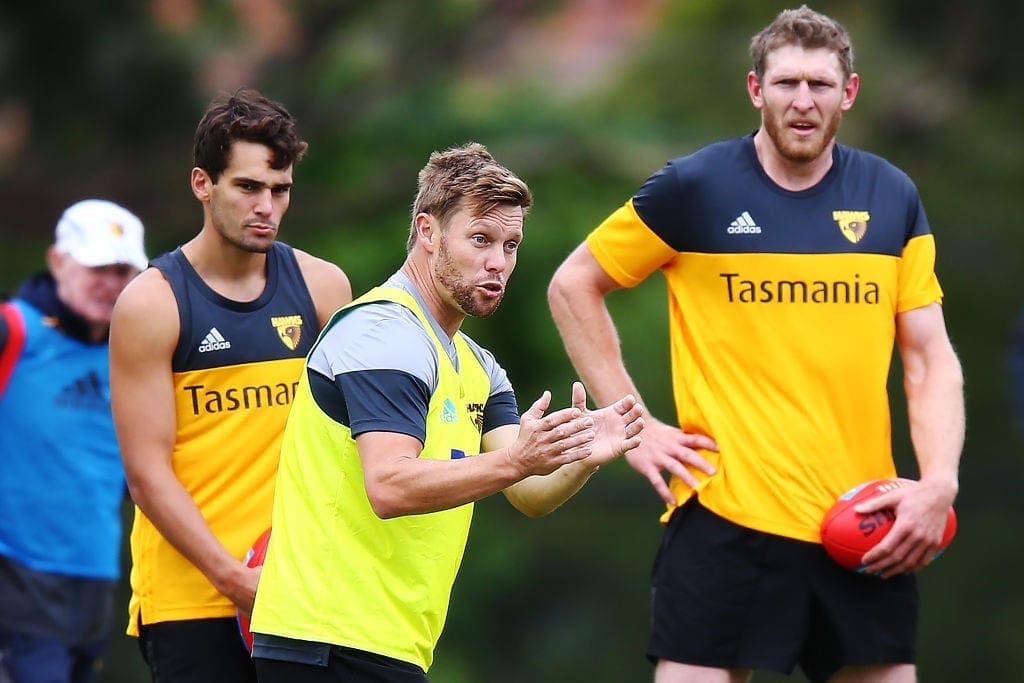 Hawthorn are one of the hardest to read teams heading into the season, and it will likely take a few rounds …months…for the picture Sam Mitchell wants to paint to become clear.