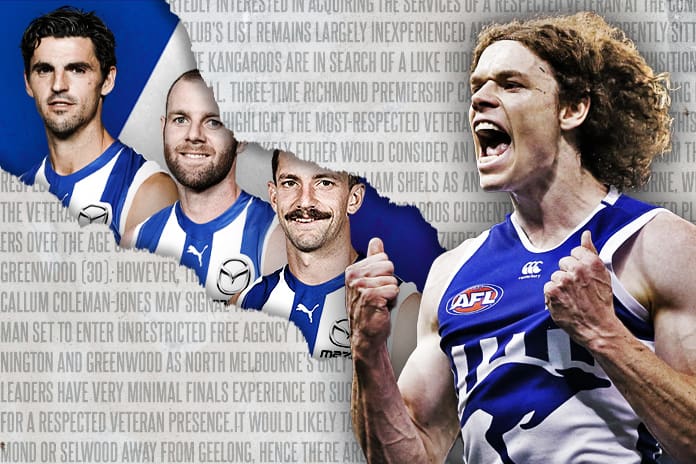 Despite currently residing at the foot of the AFL ladder with a 1-14 record and coterie members calling for boardroom heads to roll, there may still be air between the rebuilding Roos and a realistic rock bottom.
Though powerbrokers at Arden Street have been transparent about the length their current overhaul is set to take, the beatings dealt out on a weekly basis have taken the vast majority of breaths from their balloon.
Still, with their historical debt wiped and a recruiting ploy in place to attack the future, the club known for their propensity for always facing up to a fight is prepared to get their fists dirty again.
Within a report published by The Age this week, it was suggested that North Melbourne held the view of obtaining a general behind the ball in the mould of Luke Hodge during his tenure with the Lions.
But while the notion of luring a seasoned veteran to help raise the Roos off the canvas may well work in theory, before one can be snared, a short-list must first be drawn.
While North has kept their cards close to their chest regarding the names in their crosshairs, you can be sure that if they are to pull the trigger on an import, it will be one that meets most of these metrics:
- Is open to seeking a final challenge before hanging their boots up
- Has proven their leadership qualities across the course of their career
- Has proven capabilities in steering sides
- Has obvious claims to a coaching role once their playing career concludes

With this in mind, here are the prime candidates currently plying their trade on rival lists.
Although most names on this list will appear to be unrealistic trade options on the surface, but so too did the notion of Hodge, and his former teammate, Sam Mitchell, coming clad in anything other than a brown and gold guernsey.
Still, with the left-field nature of many of these pitches in mind, only read on after consuming a grain of salt or two.
1. Adelaide – Taylor Walker
While the idea of Walker playing anywhere other than Adelaide makes about as much sense as a reality show host in the White House, recent history has shown us that predicting its course is still a stiff task.
Though 'Tex' wouldn't find himself behind the ball if he crossed over the border, the 32-year-old's ability to act as a shield for twin pillars in Cameron Zurhaar and Nick Larkey could only be seen as beneficial.
With captaincy credentials under his belt and recent form in helping gel a young offensive unit comprised of Darcy Fogarty, Elliott Himmelberg and Riley Thilthorpe amongst others, Walker has runs on the board when it comes to rebuilds.
His signature would also ease nightmare material for North's already beleaguered backline each time they are fixtured to face the Crows.