While some stars are set to burn bright in the night's sky for eternity, others aren't afforded such longevity.
Although former St Kilda ruckman John McIntosh's full career as a professional footballer stretched over eleven seasons - after commencing in the early 60s - those of a certain age on the eastern seaboard were only treated to the final three in the VFL.
Despite his brief stint with the Saints being capped at just 51 games, those that witnessed the sideburned Western Australian ply his trade across the muddy ovals of Melbourne recall a man whose versatility - and legacy - was undeniable.
With McIntosh's passing earlier this week following a bout with leukemia, tributes for 77-year-old have begun to roll in from across the country, Claremont to Moorabbin.
Vale, John McIntosh.

We pause to remember the former Saint and Claremont great, who passed away after a long battle with leukemia.

— St Kilda FC (@stkildafc) October 19, 2021
Having shared a lockerroom with the man from the western wheat belt across the early seasons of the 70s, former St Kilda star, Stuart Trott, was among the throng to tip his hat.
However, the now-73-year-old's praise came from much further afield.
"He [McIntosh] was just a great bloke," Trott told zerohanger.com from his base in Thailand.
Trott's relationship with the border-hopping blonde wasn't confined to just the playing field, as the 159-game Saint explained that it was actually 'Big Tobacco' that had kickstarted their friendship.
"'Phillip Morris', who was the sponsor of St Kilda back then, got 'Macca' and I to do a PR run through Western Australia and South Australia, so I got to know him pretty well," he revealed.
"He was just a magnificent footballer and a really good bloke."
While the vast majority of McIntosh's days in boots were spent over the other side of the Nullarbor, Trott claimed that despite his footprint being left at Linton Street, it had the potential to be much deeper.
"My only regret, and I'm guessing it was his too, was that he only came over when he was 26," he said.
"I would have loved to have seen come at around 23."
Given the roll-on of years since a crippling knee injury ended his fruitful career in 1972 and the fact that most of his matches weren't televised, many red, white, and black backers may have missed McIntosh's shooting star entirely.
Still, should you turn over any of his now-yellowing footy cards, you will find that across the course of his three seasons in Victoria, McIntosh finished within the top 5 on Brownlow night on two occasions.
A career on both sides of the continent also saw him claim a combined 19 state guernseys for both Western Australia and Victoria.
RIP, John McIntosh.

Just 51 games in the RW&B across three years of VFL football. A short career at Moorabbin but one that included a 5th (1970) and an equal 2nd (1971) in the Brownlow medal.

Fortius Quo Fidelius.#TogetherWeRise #Unpluggered pic.twitter.com/fakEB3xjnu

— Unpluggered Podcast 🔴⚪⚫ (@unpluggered) October 19, 2021
When asked what it was that saw McIntosh sit among prolific ruckmen of the era such as Nicholls, Newman, and Dempsey, Trott believed it was his ability to stand and thrive on any patch of grass.
"It was his ability to play anywhere," the 1971 St Kilda best & fairest winner explained
"If he was playing today in the modern game, he'd be priceless. You could play him on a wing he was that adaptable.
"His kicking was impeccable. He could kick left and right foot. He surprised me when he first came over because he was kicking dropkicks, and thought, 'I don't think 'Jeansy' [coach, Allan Jeans] is going to like this'."
Creating a fearsome tap work threesome alongside Carl Ditterich and 1966 premiership hero, Brian Mynott, McIntosh prospered on the forever damp centre square of Moorabbin Oval.
Yet, if a permanent positional change had been afforded to him, many more personal accolades were likely to have mounted by the truckload.
"We were spoilt rotten at St Kilda. We had Carl [Ditterich] and Brian Mynott," Trott recalled.
"He [McIntosh] was a good tap ruckman, but his real ability was the ability to play one kick behind the play. He would have made a magnificent centre-half back, but that's robbing Peter to pay Paul.
"He would've been the best centre-half back in the league, along with Peter Steward from North Melbourne."
Although this kick behind the play role saw McIntosh finish just three-votes in arrears of Richmond's Ian Stewart during the 1971 Brownlow count, Trott - a former teammate of both champions - claimed that had the import stayed in the backline, he would have become the first Western Australian to ever take 'Charlie' home.
"If he'd played centre-half back, he would've won the Brownlow," he said steadfastly.
"You don't win a Simpson Medal by being a mug, and you don't run second in the Brownlow in his second season - and fifth in his first - if you're no good."
Though pieces of this kind can only paint so much of a picture when it comes to deeds that took place on black and white reels, the man that knew McIntosh as both a player and as a person claimed that the current Saints have a McIntosh clone on their list today.
"If you wanted to say, 'what St Kilda player of today is he like?', let's say he was a very, very, very athletic Rowan Marshall," Trott said glowingly.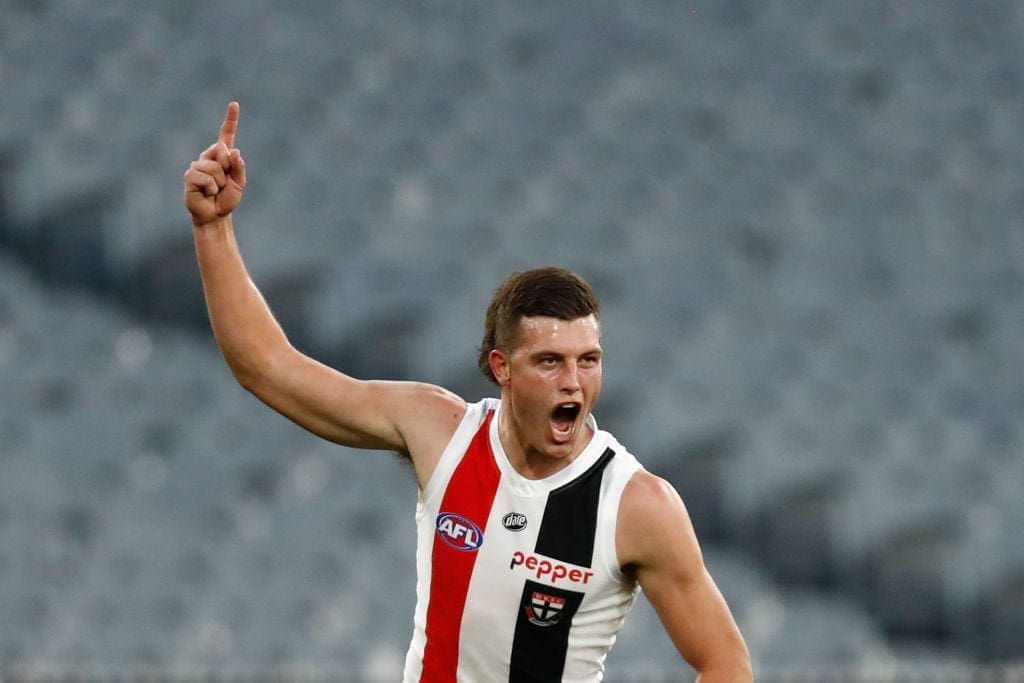 But - as the act of never letting your teammate get a big head is still alive and well with Trott - he was quick to bring his late mate back to earth.
"He didn't kick goals like Marshall though," he said with a wry smile.
As the severity of his knee injury sustained at Victoria Park almost half a century ago was enough to close the curtains on his career, McIntosh returned back to his state of origin to take up lawn bowls and tennis.
Irrespective of his boots being forcibly hung, the game remained close to the Western Australian Football Hall of Famer, as a pair of his sons both made their way onto West Coast's list.
While eldest boy Nathan never got a run at AFL level, his younger brother Ashley carved out a spectacular 242-game professional career for the Eagles, and ended his contrasting career with a pair of blue and gold flags in the early 90s.
In yet another cruel miss for St Kilda, the All-Australian defender was looked at by the club ahead of the 1990 season, but the Saints again sinned with selection by opting for alternative recruitment.
With the perennially heartbreaking side within touching distance of the 1997 flag after finishing the regular season as minor premiers, one can't help but wonder whether the cool, calm, and collected son-of-a-gun could have been the difference in defence against the unrelenting Crows.
The team at Zero Hanger wishes to extend our condolences to John's friends, family, and everyone connected with the Western Australian, Victorian, and AFL football community.
Vale, John McIntosh (1943-2021)