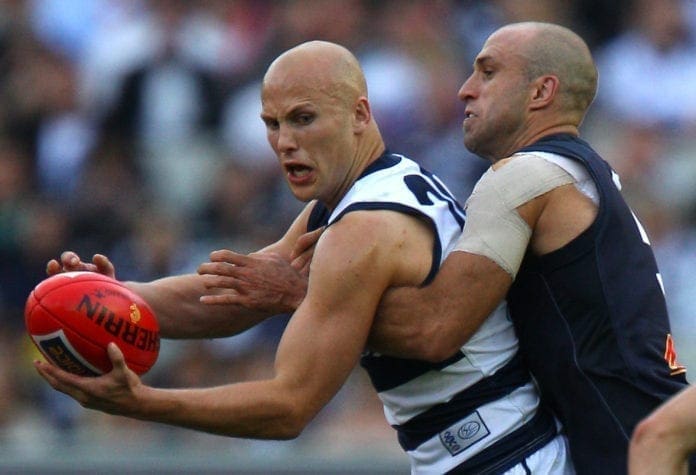 On September the 2nd, 1996, 21 men achieved footballing immortality when they were named in the V/AFL Team of the Century.
To commemorate the 100th birthday of the V/AFL, the Team of the Century was named at the Princess Theatre in Melbourne, by the selection panel of Allen Aylett, Bob Davis, David Parkin, Percy Beames, Gerard Healy, Jack Irving, Bill Jacobs and Greg Hobbs.
On this day, these selectors undertook the monumental task of selecting the greatest side to ever play the game, the players chosen dominated the game in all eras. As this legendary side has not been rebooted since it was named in 1996, we at AFL Zero Hanger have decided to name our own 22 footballers who played their entire career after September 2nd, 1996. The results are remarkable, In only 25 years, this side has enough superstars to run with and even usurp the immortalized Team of the Century.
It was a gruelling process trying to name only 22 players, there would be enough players to run a second's side.
Defence
Starting in the backline we have the height and flexibility to shut down any side, with Corey Enright, Matthew Scarlett and Josh Gibson being the last line of defence.
Enright would be the clear favourite to win the 'Mr. Reliable' award. Across his 16-year career, Enright played a then club-record 332 games and at 187cm and 91kg could play on tall and small forwards. Enright had the unique ability to always be in the right spot for an important mark and rarely lost a one-on-one contest.
Instrumental in Geelong's three premierships, Enright won the B&F award in two of those premiership seasons and was named All-Australian six times.
Scarlett added a certain element of flair playing as a full-back. This was noticeable during the Cats' 119-point Grand Final win against Port Adelaide when 'Scarlo' had 29 disposals and eight marks.
Like Enright, Scarlett could play on any sized forward and proved a hassle for coach Mark 'Bomber' Thompson who had to leave him out of match simulation sessions at training because he intercepted everything that came his way.
Scarlett was named in six All-Australians and his crucial toe-poke in the 2009 Grand Final will go down in history.
Gibson was 22 years old by the time he made his debut for North Melbourne, and after forcing his way into the side in 2007, suffered bleeding on the brain after slipping in the shower in his home.
Fast forward to 2010 and Gibson was traded to Hawthorn and finished second in the Club Champion award in 2011. The 'Gibo Spoil' became his trademark, as his uncanny ability to read the ball in the air was instrumental to the Hawks three-peat between 2013 to 2015, with Gibson winning the Hawks' B&F in two of those seasons.
The owner of one of the most penetrating kicks in the last 25-years, Shannon Hurn last year (2020), became the first West Coast footballer in history to play 300 games.
During the Eagles magical run to the premiership victory in 2018, Hurn, at 31 years of age, was selected in his first All-Australian and proved the next year, in 2019, it was no fluke by winning his second All-Australian blazer and the vice-captaincy.
As a strong key-defender, Alex Rance is rated as one of the greatest of all time. After a slow build-up to his career, Rance hit his straps in 2014 and was crowed All-Australian five years in a row.
2017 was extra special for Rance as Richmond broke their 37-year premiership drought and he was named Captain of the All-Australian side. As a possible full-back, Rance is named at centre half-back due to his ability to push up the ground.
Rounding off this dominant backline is a man who needs no introduction, Luke Hodge's resume is awe-inspiring. A triple premiership captain, dual Norm Smith medallist, three-time All-Australian, three-time best and fairest and 346 games in the brown and gold.
Hodge started in the midfield and slowly became a general in the backline, barking orders like a drill sergeant. Hodgey was monumental in the Hawthorn's 2008 Grand Final win over the seemingly indestructible Geelong side, winning his first Norm Smith Medal. After All-Australian honours in 2010, Hodge was named captain in 2011 and led them with gusto across 125 games, culminating in the 2013 to 2015 hat-trick. Hodgey will captain this 25-year side.
Centre
Patrolling the centreline is Scott Pendlebury, Simon Black and Nat Fyfe. One of the most consistent performers in history, Pendlebury has had 12 podium finishes in Collingwood's B&F, this includes five 1st place finishes and five 2nd place finishes. Seven of those top-two finishes were in seasons the Magpies made the finals.
'Pendles' has the ability to weave his way in and out of any contest, his vision at stoppages and his knack of giving himself an extra couple of seconds before he kicks, won Collingwood many games.
In 2010, after Collingwood defeated St Kilda in the Grand Final replay, Pendlebury was rewarded with a Norm Smith Medal, finishing with 29 disposals and 11 tackles.
In the centre is Brisbane great Simon Black. Black's trademark across his career was his ability to win possession and use his skill by either hand or foot.
Especially damaging digging into packs and firing out handballs for quick clearances, Black also had the tank to outrun any tagger as he was a former State Champion in the 800m and 1500m. Black was right in the engine room as the Lions won a three-peat between 2001 to 2003, a Brownlow Medal in 2002 solidified Black's status as a champion and his 39-disposals, nine-tackle effort in the 2003 Grand Final cemented his position as an all-time great.
When certain players are talked about as modern-day greats, I believe this man doesn't receive enough plaudits. Nat Fyfe isn't just a modern great, he is an all-time great.
From Round 12, 2014 to Round 14, 2015, Fyfe - in a 23-game period - polled an unimaginable 48 Brownlow Votes, averaged 29.3 disposals, 8.09 clearances and 17.78 contested possessions.
With two Brownlow Medals and two AFL MVPs, Fyfe is a superstar. He is a dual-threat in the air and on the ground, at 190cm, he is a dominant inside midfielder yet could still play a valuable role on the wing for this side due to his size and like 'Pendles', has ample time to be damaging on the wing.
Forward Line
Across the half-forward line, we have a mixture of power, poise, athleticism and a little bit of arrogance. Dustin Martin, Jonathan Brown and Patrick Dangerfield would be a handful for any backline.
There's not a lot to say about 'Dusty' that hasn't already been said, the undisputed biggest game player, testament to this his is unheard of three Norm Smith Medals. Although 'Dusty' is a man of few words; he lets his boot do the talking and really, there's no better player to watch in finals when the whips are cracking.
10 goals in three Grand Finals is why Martin is rated as one of the greats. His brilliance in the 2020 Grand Final was on show when he booted four goals and set up another. When the game was on the line, the cream rose to the top and Martin kicked four of the Tigers' last 10 goals to bring them back from a 15-point halftime deficit, running over Geelong by 31 points.
Lining up at centre half-forward is the intimidating Jonathan Brown. Brown was a powerful forward whose courage is legendary and ultimately ended his career. Three premierships by 21 years of age, Brown grew into his position and across 100 games between 2005 to 2010, he averaged 16.13 disposals, 8.37 marks and 3.28 goals a game, this included a Coleman Medal in 2007.
In comparison, Wayne Carey's greatest six-year period he averaged more disposals a game than Jonathan Brown with 18.47 yet averaged fewer goals (2.87) and fewer marks (7.65).
Known for his trademark of blasting out of stoppages at express pace, Patrick Dangerfield, like Nat Fyfe, changed the way midfielders play.
At times, his kicking efficiency can frustrate fans, but there's no denying Dangerfield's output. Between 2012 to 2019, Dangerfield played 184 games, kicked 212 goals, polled 200 Brownlow votes, averaged 27.43 disposals a game, was awarded seven All-Australian blazers, one Brownlow Medal, one MVP and three Club Champion awards.
Since his famous move to Geelong in 2016, Dangerfield has averaged a goal a game, including a bag of five goals six behinds on one leg against Hawthorn in Round 17, 2017.
There are very few footballers in history who possessed the skill to be able to perform consistently in various positions. Adam Goodes' versatility saw him stand out as one of the greatest to ever play the game.
Goodes showed his versatility early, winning the 1999 Rising Star playing as a key-forward, floating half-forward and in the ruck. Four times Goodes was named in the All-Australian, once in the ruck for his standout Brownlow Medal season in 2003, once on the wing in 2006 when he won his second Brownlow Medal, found a spot on the bench in 2009 after kicking 38 goals and in 2011 at 31 years of age, he was named in the forward pocket after a 41-goal, 511-disposal year.
After injuring his knee in the 2012 Grand Final, Goodes kicked an important goal to put the Sydney Swans seven points up in their 10-point Grand Final win.
Next to Goodes at full-forward is one of the greatest footballers of the modern era. Lance Franklin is, without doubt, the greatest forward of the last 25 years.
The fact that this superstar is five goals off the magical 1000 mark should be enough to solidify his ranking.
'Buddy' possesses the athleticism of Ablett Sr, the scoring-power of Lockett and surprisingly to many, the unselfishness of Dunstall. It isn't just full-forward v full-back, one out in the square anymore like the 1980s-90s. The tactical defensive mindset of many modern coaches has made defenders smarter; they intercept in the holes, they zone off the space, and that is why 'Buddy' is so damaging.
His ability to continually break defensive zones and kick long-range goals from 50m+ is his trademark. As footy lovers, it will take a long time to digest the magnitude of 1000 goals in the AFL era and the fact he has kicked 280 more goals than anyone else since 2005, is a testament to his greatness.
Next year hopefully, another piece of history will be made as we see Franklin become the sixth footballer in history to reach the magical mark.
Eddie Betts will go down as one of the most magical small Forwards in history. Very few, have had the skill to continually kick spectacular goals and Betts has won the Goal of the Year Award four times.
A diminutive magician, who was good for a goal a game at Carlton, Betts transformed himself into an all-time great after he moved to Adelaide in 2014. Betts kicked 310 goals at 2.35 for the Crows. He was named All-Australian three times and won their goal-kicking award four times. This included an amazing haul of 75 goals for the 2016 season, this haul was the third-highest tally in a season by the smallest footballer (Jeff Farmer at 174cm kicked 76 in 2000 and George Moloney at 174cm kicked 109 in 1932).
Betts also had 24 goal assists to go with his tally of 75 and that's why he gets the nod over Stephen Milne, 318 assists, to go with 640 goals, which shows he could have kicked a lot more.
Followers
Flipped a coin deciding who would be the first ruck between Dean Cox and Max Gawn, I went with Cox. As is the common thread in this side that the players chosen to have revolutionised their positions, Cox used his athleticism to play as a fourth midfielder.
At 203cm, Cox helped teammates such as Judd, Cousins, Kerr and turned them into one of the greatest midfielders of all time. Cox was selected in six All-Australians between 2005 to 2012 and holds the record for most times achieving 20+ disposals and 20+ hit-outs in a match, Cox did this 65 times across his 290-games, the next best is Gary Dempsey with 59 and Brodie Grundy with 58.
By the time he reached his 24th birthday, Chris Judd was a Brownlow medallist, Norm Smith medallist, premiership captain, AFL MVP, dual All-Australian and dual club champion for West Coast.
There was no better sight in footy than Cox tapping it down to the electrifying Judd. At the top pace he would explode out of the stoppage, baulking, swerving and side-stepping his way to goal. At 19 years of age, Judd - against the soon-to-be triple premiers in Brisbane  at their home ground - put on a clinic, kicking five goals in the first half.
Injuries turned Judd into an inside-footballing machine when he moved to Carlton in 2008, an elder statesman for a younger Blues side, Judd became a different player. He won his second Brownlow in 2010, a second MVP in 2011 and another four All-Australians.
Judd's performances for the Eagles were legendary, yet three games in 2011 show the superstar's dominance. He was on fire. In Round 5 against Sydney, he had 33 disposals, 15 clearances and 25 contested possessions, in Round 15 against Richmond he had 31 disposals, two goals, 10 tackles, 10 inside 50s, 11 clearances and five goal assists and three rounds later against the Bombers he had, 33 disposals, 12 tackles, nine inside 50s, seven clearances and seven goal assists.
The superlative to describe how good Gary Ablett Jr was does not exist. For Geelong and Gold Coast, the little master was a cut above the rest in an era blessed with a plethora of amazing midfielders.
Looking through statistics to show just how dominant Ablett Jr was, I crunched the numbers of all players who had 30 disposals and kicked two goals in a game since 1965. As usual players such as Martin and Dangerfield feature on the list with 19 and 23 respectively, Ablett has 12 more than 'Dusty' and 'Danger' combined. Let that sink in, two of the greatest midfielders in the last 50 years and this genius sits on top of the list with 54.
27-times Ablett achieved that number during his 110-game stint on the Gold Coast, a new club, where their game plan was built around his ability to win the ball. Week-in week-out Ablett copped the heavy tag, but to no avail. All his genius is even more remarkable when you consider he performed beneath the shadow of a father, people nicknamed 'God'. He was the second coming.
Between 2007 to 2014, across 168 games, Ablett produced some of the best football ever seen. Averaging 30.89 disposals a game, Ablett also kicked 223 goals, was rewarded with eight consecutive All-Australian blazers, won the AFL MVP award five times (no player has won it more than twice) and won two Brownlow Medals (finished 2nd twice and 3rd three times). There's no pressure in saying we will never see someone of Ablett Jr's calibre again.
Interchange
The hardest task was sorting out the interchange bench for such a dynamic side. Following the blueprint of the V/AFL Team of the Century, I named one backup ruckman in Max Gawn, an inside midfielder with Joel Selwood, and two utilities in Matthew Pavlich and Nick Riewoldt who like Gary Ablett Sr could play on the wing, half-forward, ruck-rover, centre half-forward or full-forward.
Max Gawn created history in the 2021 AFL Finals Series, joining the likes of Ron Barassi Jr and Alan La Fontaine as a Melbourne Premiership Captain after a 57-year hiatus (putting an end to the Norm Smith Curse).
Five All-Australians would have been unimaginable for the 208cm Ruck who played 39-games in his first six seasons. Over his next 120 games, Gawn has averaged 16.09 disposals, 38.37 hit-outs and won two B&Fs.
Everyone remembers where they were when Gawn kicked five against Geelong in the 2021 Preliminary Final, yet his 34 disposals, 33 hit-outs, 10 inside 50s and three contested mark effort against Collingwood Round 12, 2019 stands out. Melbourne went down by seven goals, but it was Gawn's herculean effort against Brodie Grundy (who would eventually be named as first ruck in the 2019 All-Australian side), shows how good Big Max is.
The much-maligned Joel Selwood has been the catalyst for Geelong's seemingly never-ending finals run. Selwood started like a 10-year veteran in his first year at the Cats in 2007, and by the age of 23, had already won two premierships, a best and fairest and two All-Australian blazers.
Selwood's standout game against Hawthorn, the reigning premiers in 2009 at 21-years of age, underlines his ability. Selwood had 42 disposals, 10 marks, 11 tackles and nine clearances in the Cats one-point win over the Hawks.
Since he was named captain of Geelong in 2012, Selwood has been named All-Australian captain three times and won two more Carji Greeves Medals. A testament to Selwood's consistency, he has the second-highest average of games per season with 22.27 and the outright highest average games per season of players with 250 or more career games.
Found it nearly impossible to separate Matthew Pavlich and Nick Riewoldt, the similarities between these stars is remarkable. Both played 300 games, both kicked 700 goals, both are one-club players who captained their sides (Pavlich 182 games, Riewoldt 220), both took their sides to grand finals, both won six B&Fs and both were selected in the All-Australian five or more times.
Aussie Rules has evolved over the years, selecting both 'Pav' and 'Roo' is a must. You could select Pavlich anywhere on the ground and he would win you the game.
At 20 years of age he was selected in the 2002 All-Australian as a full-back, the next year in 2003, he was used as a big-body ruck-rover and was selected in the side on the half-forward flank. In 2005, he was thrown forward and kicked eight goals for Fremantle in their Round 14 six-point loss to Adelaide.
49-points down at the five-minute mark of the third quarter, Pavlich would kick seven goals in the last half to nearly pull off a memorable victory and two weeks later he kicked nine goals straight against Carlton.
As a key-forward, Pavlich excelled, between 2006 to 2008, he kicked 210 goals at 3.18 and averaged 17 disposals. The next four years, Pavlich rotated through the midfield averaging 20 disposals and two goals, leading Fremantle to their inaugural Grand Final in 2013 and retired in 2016 becoming the third player in history to play 350-games and kick 700 goals.
No player in V/AFL history has taken more marks than Nick Riewoldt. 2944 from 336 games at an average of 8.76. In his second year in 2002, Riewoldt won the St Kilda's B&F, played the first half of the year as a key defender and the second as a forward to win the Rising Star from Chris Judd, Jimmy Bartel and Luke Hodge.
Riewoldt took his game to the next level in 2004, winning the AFL MVP Award with 432 disposals, 256 marks and 67 goals, including nine goals against Melbourne in a 57-point loss. With fractured collarbone, Riewoldt was controversially targeted by Brisbane Lions defenders in his first game as captain in 2005, but bounced back in 2006, with 60 goals and a third B&F.
Riewoldt returned as captain in 2007 and led the Saints to two Grand Finals in 2009 and 2010. 'Roo's' strong marking was still prevalent in his last five seasons, this included 21 marks against the Brisbane Lions in Round 23, 2016 (his last game as captain) where Riewoldt also kicked nine goals in the last three quarters.
The best 22 since the V/AFL Team of the Century:
FB: Corey Enright, Matthew Scarlett, Josh Gibson
HB: Shannon Hurn, Alex Rance, Luke Hoodge
C: Scott Pendlebury, Simon Black, Nat Fyfe
HF: Dustin Martin, Jonathan Brown, Patrick Dangerfield
FF: Adam Goodes, Lance Franklin, Eddie Betts
FO: Dean Cox, Chris Judd, Gary Ablett Jnr
INT: Max Gawn, Joel Selwood, Matthew Pavlich, Nick Riewoldt