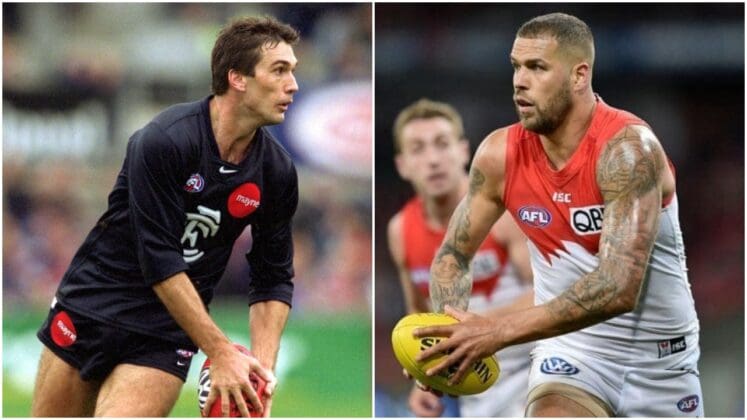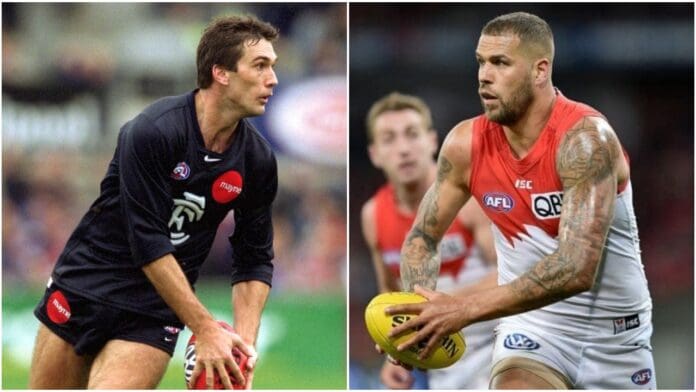 It is a sad reality that the All-Australian side every year never gets to play a match in anger.
It is doubly tragic that our 25-year side (who played their entire career after September 2nd 1996) will never lace up their boots and run onto the hallowed MCG turf together.
We have taken a close look into the potential match-ups if the 25-year side played against the revered V/AFL Team of the Century.
When I picked the 25-year side, I based their structure/selection on the Team of the Century, with resting rucks in the pockets, two ruckmen and midfield-forwards playing on the half-forward flanks.
Some of the match-ups will bring joy to the truest footy lover.
Matthew Scarlett vs. John Coleman, Luke Hodge vs. Alex Jesaulenko, Ian Stewart vs. Simon Black, Ted Whitten vs. Jonathan Brown, Patrick Dangerfield vs. Bruce Doull, Lance Franklin vs. Stephen Silvagni, Dean Cox vs. Polly Farmer, Chris Judd vs. Ron Barassi and many more.
Let's set the scene.
It's a beautiful spring afternoon in Melbourne, the train stations are packed and we are greeted with the voices of their respective eras, Dennis Cometti, Bruce McAveney and Mike Williamson, with Lou 'The Lip' Richards on special comments.
Walking onto the marvellous colosseum of Melbourne, Jack Elder, Brett Rosebury and Glenn James are greeted with a tumultuous roar 'and more than a few boos' from overflowing 200,000 strong crowd, because there is no crowd control protocols in the wonderful land of the hypothetical.
Always the showman Ted Whitten Sr. struts out to the middle and gives his counterpart Luke Hodge a firm handshake which nearly breaks his fingers.
Whilst the coin is still in the air, Whitten Sr. exclaims "we'll kick this way son" and leaves a bewildered Hodge who's locking this moment in the mental vault.
The atmosphere is electric and John Coleman is greeted with thousands of cheers as he lines up at full-forward with his famous No.10 long-sleeve rolled up.
The crowd is expecting to follow the great man from end to end as the game progresses.
Although 12cm shorter than his opponent Dean Cox in the ruck, the great 'Polly' Farmer is working out a devious plan with Bob Skilton and Ron Barassi Jr to stop the run and carry of Chris Judd and Gary Ablett Jr. It's not every day you line up on a triple Brownlow medallist, the Team of the Century has four.
Two stalwarts of their respective sides, Scott Pendlebury and Keith Greig, will provide a grand spectacle of footy IQ and cleverness on the wing.
Whilst the two Brownlow medallists in Dustin Martin and Kevin 'Bulldog' Murray shake hands and compare each others tattoos.
Whitten Sr and Jonathan Brown greet each other like two bulls in a china shop, both footballers incapable of taking a backward step are at each other before the first bounce with verbals and the odd bump.
The crowd has waited all week to see how Lance Franklin would go against proved forward-killer the 'Sosctpus' Stephen Silvagni. 'SOS' who made his name smothering his opponents with his long 'inspector gadget like' arms is determined to not get into a running race with 'Buddy' with his bow-legged gait, as visions of Cale Hooker's futile chase dance around his mind.
Fire and Ice is matched on the half-forward with the explosive Patrick Dangerfield, who could talk the hat off a head, shaking hands with Bruce Doull. The 'Flying Doormat' who's never as welcoming as his nickname suggests, is as silent and cold as a glacier.
Just for a second, each player takes a deep breath before the siren and the crowd's anticipation bursts open like a dam wall as Bobby Skilton roves the first hit-out and kicks it long inside 50 to a high flying John Coleman.
Let's take a deeper look into the match-ups which will play out.
BP/FP: Corey Enright vs. Haydn Bunton Sr.
Enright's versatility to play on both small and tall forwards provides a good matchup for Bunton Sr. His height will be a big factor if they try and kick it long to Coleman. Bunton Sr will be rotated through the midfield as he averaged nearly 28 kicks a game throughout his career.
FB/FF: Matthew Scarlett vs. John Coleman
A mouth-watering matchup. Coleman was a freakish high mark and could also do damage if the ball hit the ground. He'll prove a handful for Scarlett who will try and bring him out of the square. I hazard a guess the V/AFL Team of the Century will kick the ball long to Coleman, who famously averaged 5.48 goals a game. If Scarlett keeps him to under six, he wins.
BP/FP: Josh Gibson vs. Leigh Matthews
Gibson has the size to match Lethal, yet Matthews' goal-scoring prowess and physicality will overwhelm Gibson. With Bunton Sr as the second rover, Matthews' playing purely as a small forward could be a disastrous mission for any defender.
HBF/HFF: Shannon Hurn vs. Dick Reynolds
With incredible skill, 'King Dick' and a goal sense developed later in his career, the Essendon legend will be perfectly matched with Eagles Premiership captain of Hurn, who's booming right foot kick will help the 25-year side on the rebound.
CHB/CHF: Alex Rance vs. Royce Hart
Two Tigers legends going toe-to-toe. Like Coleman, Hart's aerial exploits could waver Rance, yet both players have a vice-like mark. Great matchup, as both players will look to move up the ground.
HBF/HFF: Luke Hodge (C) vs. Alex Jesaulenko
The Drill Sergeant vs. the Greatest Utility. This matchup, theoretically, could go anywhere. 'Jezza' was a genius with the ball in hand, his balance was the best in the league, yet Hodge's football IQ is close to the greatest ever seen. Stalemate.
W/W: Scott Pendlebury vs. Keith Greig
Both these footballers have many things in common, including longevity. 15+ seasons with 19 or more games, there's little that separates these two. Greig was a dual Brownlow medallist playing as a defensive wingman, Pendlebury on the other hand, has the strong awareness and ability to find space, he will match up well with Greig's cleverness.
C/C: Simon Black vs. Ian Stewart
The two centres are equally skilled at finding targets in small spaces. Triple Brownlow medallist Ian Stewart was immaculate on both sides of the body and fearlessly threw himself into packs, taking big marks. Black's key skill was his ability to find the Sherrin in packs and use his hands, he could out-run any tagger. Two different styles, both crucial for either side.
W/W: Nat Fyfe vs. Francis Bourke
The courageous wingman, Francis Bourke was equally skilled as a half-back flanker or full-back. Nat Fyfe with his height (192cm) and sublime marking skill could prove a handful rotating in the midfield and up forward. Bourke, who was also valuable in the Tigers' premiership era during the '70s down back, would be a great match-up for Fyfe if he went forward.
HFF/HBF: Dustin Martin vs. Kevin Murray
Arguably the greatest footballers at their respective clubs. Dustin Martin with a record three Norm Smith Medals and 1969 Brownlow medallist Kevin Murray who won an equal V/AFL record of nine B&Fs. Martin's ability to drop deep forward could be equally challenged by 'Bulldog' Murray, whose long spider-like arms could curtail Martin's one-on-one dominance.
CHF/CHB: Jonathan Brown vs. Ted Whitten Sr. (C)
Two footballers, both courageous and intimidating. Whitten was a prodigious kick on both sides of his body. 'Mr. Football' was All-Australian in three state carnivals and won the B&F in Footscray's magical 1954 season. Brown's courageous marking became his trademark and had the ability to kick team lifting goals when it mattered. Plenty of showmanship from these two leaders, who both captained Victoria.
HFF/HBF: Patrick Dangerfield vs. Bruce Doull
Dangerfield's explosive pace against the reliable Doull, who rarely made a mistake. Fire vs Ice. 'Danger' who embraces the media against the 'Flying Doormat' who wouldn't say boo to a goose. Dangerfield, since he joined Geelong in 2016, has averaged 27.15 disposals and a goal a game. Doull shut his opponents down each week with no fuss and won a Norm Smith in 1981.
FP/BP: Adam Goodes vs. John Nicholls
As the Team of the Century named a resting ruck in the back pocket, I named Goodes as Nicholls' opponent. Two Brownlows in different positions (ruck and wing), Goodes would provide a key match-up with Nicholls who would rotate in the ruck with Farmer. No player in history played more games for the 'Big V' than 'Big Nic', who was immovable around stoppages due to his big tree trunk legs.
FF/FB: Lance Franklin vs. Stephen Silvagni
The full-back of the century against the greatest modern Forward. No matchup on this field will be scrutinised more than this one. Silvagni fought against the greatest full-forwards and beat them all, famously holding Ablett Sr goalless in the 1995 Grand Final. The real question is, how would he go against 'Buddy'? Nearly 1000 goals in the modern era is unimaginable to the biggest footy lover. Franklin's athleticism squeezes him just in front.
FP/BP: Eddie Betts vs. Bernie Smith
Possibly the greatest small forward up against the first footballer to win the Brownlow Medal from the back pocket. Bernie Smith was one of the most reliable footballers to play in backline. Using plenty of pace, Smith won the 1951 Brownlow Medal and was second-best in Geelong's 1951 Grand Final win. Betts with the skill to kick the most mercurial goals, this is another mouth-watering match up.
RU/RU: Dean Cox vs. Polly Farmer 
The master and the Incumbent. Dean Cox averaged 15.87 disposals and 22.86 hit-outs, Polly Farmer averaged 24.07 disposals and 19.47 hit-outs. Cox with six All-Australians was a great player, but Polly was an all-time great. The first ruck to ever have 40 disposals in a game, Farmer is named in not one but six Team of the Century's which include Geelong, West Perth, East Perth, WA, V/AFL and the Indigenous.
RR/RR: Chris Judd vs. Ron Barassi Jr.
Ron Barassi Jr revolutionized the role of the ruck-rover. Barassi broke open packs like Chris Judd and hit the scoreboard, kicking 15 goals in eight Grand Finals, he was best on ground twice. The first player in the Hall of Fame to be named as a Legend, Barassi captained two Premierships and coached four. Judd had a similar big game influence as Barassi and was named best on ground in seven of his 17 finals, including the 2005 Grand Final. With six All-Australians, two Brownlow Medals and two MVPs, Judd would be very hard for Barassi to stop.
RO/RO: Gary Ablett Jr. vs. Bob Skilton
Fittingly that two of the greatest midfielders of all time go toe-to-toe. Bob Skilton is the only player in history to average 30 disposals and two goals a game for a season, he won nine B&Fs, three Brownlow Medals and kicked 47 goals for Victoria as a rover. Skilton is also the only player in history to have 40 disposals and kick seven goals in a match. Ablett Jr, who achieved 40 disposals and two goals in a game 13 times would be well equipped to play on the pugnacious Skilton. A true battle of the Gods.
INT/INT: Matthew Pavlich vs. Gary Ablett Sr.
At home on the wing, half-forward or playing out of the square, Gary Ablett Sr was the most truly gifted footballer of them all. Not many footballers can kick nine in Grand Final, kick 14 goals from 30 disposals in a game and average 7.29 goals for a season at 32 years-of-age. Pavlich's ability to play as a swiss-army knife could see him settle in any position. In Round 19, 2007, 'Big Pav' had 30 disposals, 16 marks and kicked six goals.
INT/INT: Max Gawn vs. Jack Dyer
As the Team of the Century named Jack Dyer as their spare ruckman, I thought it would be fitting to name Max Gawn on the bench too. The famous 'Captain Blood' against the Demons' premiership giant, both could talk the leg off a chair and are cult figures at their respective clubs.
INT/INT: Joel Selwood vs. Greg Williams
Geelong's captain courageous against the superstar who revolutionized the modern handball. Although Williams had 140 more handballs than anyone in 1985, he could be a handy resting forward, kicking five goals from 31 disposals in the 1995 Grand Final and had the unimaginable stat-line of 25 kicks, 28 handballs and six goals in Round 19, 1989 for Sydney against St Kilda. Selwood would hold his own against Williams in the guts as he has the record for most inside-50s, clearances and contested possessions in Grand Finals.
INT/INT: Nick Riewoldt vs. ?
Four players were named on the bench after 1997 in the AFL, so the Team of the Century only has 21-players. The 25-year team has spent their careers with a 22-man side, so Riewoldt stays. 'Roo' was a champion who could lead up the ground and take huge marks.
COACH/COACH: Alastair Clarkson vs. Norm Smith
Two coaching masterminds. Smith was instrumental in Melbourne's dominance coaching them to six flags from only eight Grand Finals. Alastair Clarkson coached Hawthorn to 10 finals series from 17 seasons and won four flags from six Grand Finals.
The first quarter is a shoot-out with both teams kicking seven a piece.
Ablett Sr is already causing headaches in the Forward line, with Hodge having to match up one-on-one with 'God', his son 'the second coming' has already racked up 15 disposals running around without a tag, whilst the 25-year side's defensive zone is struggling to combat the high-flying trio of Coleman, Hart and Jesaulenko.
Who wins?
You decide.