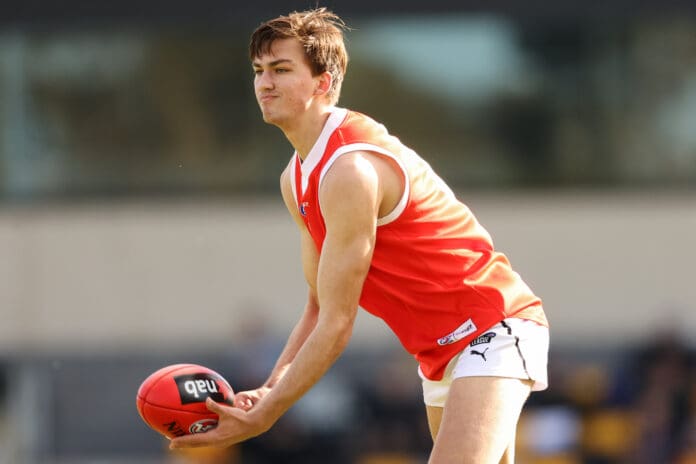 Tall defensive talents are a rarity among the 2021 AFL Draft class, however several names sit atop the pecking order and are likely to land on the daft board later this month.
With the 2021 AFL season proving to show the difference an adept structure of key defenders can make to a club's premiership chances, scouts will no doubt be eyeing the best tall backmen from this year's crop.
Ranging from early selections to potential bolters, the best tall defenders hoping to land an AFL contract are set to put the rest of the league on notice for the years to come.
With the National Draft just weeks away, AFL Talent Ambassador and veteran list guru Kevin Sheehan has provided insight into the top talents for clubs looking toward boosting their tall defensive stocks.
Josh Gibcus (GWV Rebels)
Height: 196cm
Weight: 87kg
A threat in defence given his ability in the air to lock-down opposition forwards, gather the ball at ground level and negate and impact opposition forward entries for his team's benefit.
Was one of four GWV Rebels players to earn a spot in the NAB League Boys Team of the Year, taking the role of centre half-back.
Gibcus looks to be a ready-made asset that can plug a hole in defence from next year, before blossoming into a substantial threat for any side down the road.
While his role when attacking may be an area for improvement, there is no questioning Gibcus' ability to hinder any oncoming onslaught and give his side the best chance of keeping opponent scores to a minimum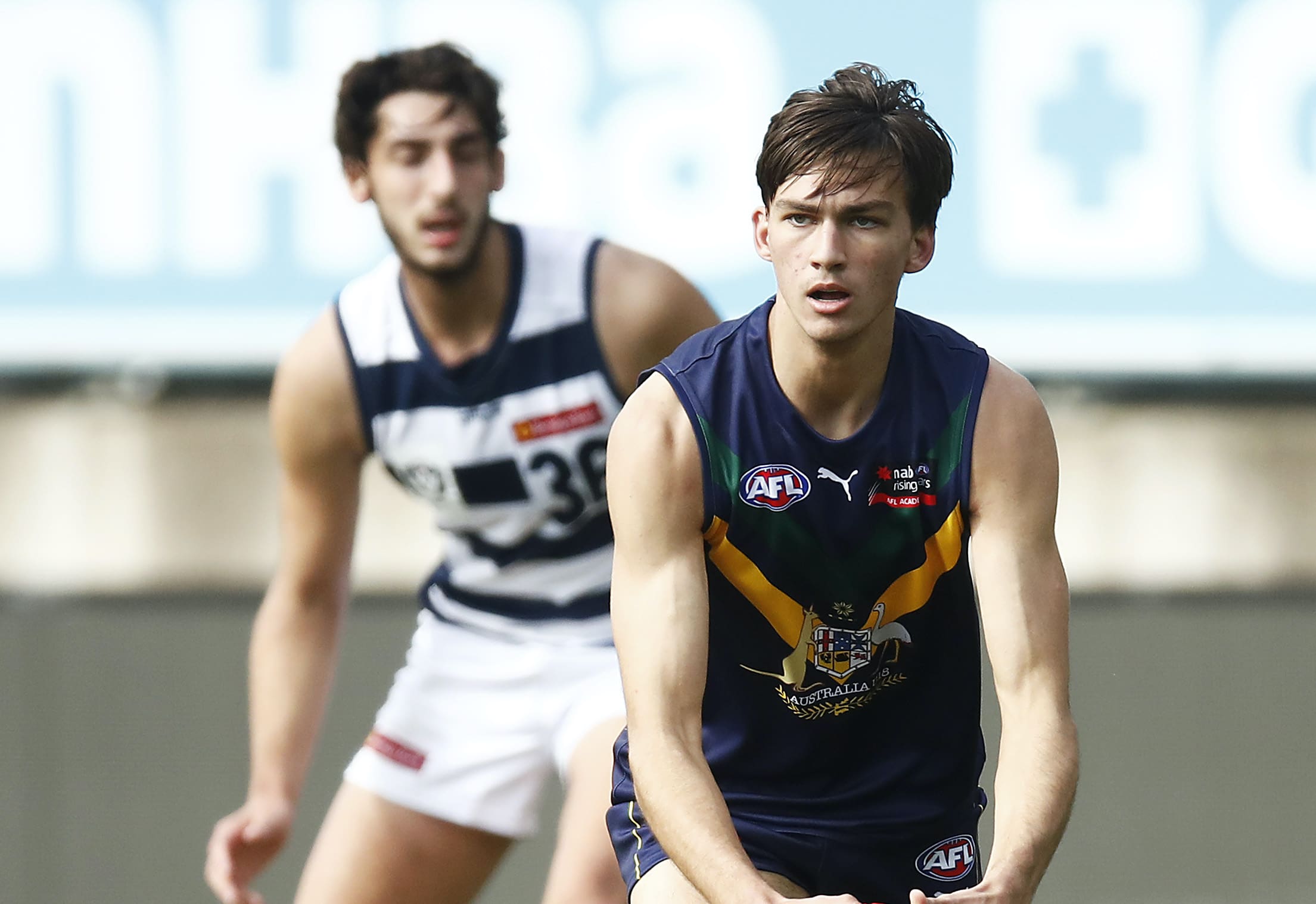 Sheehan says: Blessed with an elite vertical jump it assists his intercept marking and aggressive spoiling both features of his rapidly developing game. With similar traits as Melbourne's Jake Lever, he also played 10 matches with the Rebels averaging 12.5 disposals and 4.4 marks winning NAB League "Team of the Year" honors. Reminded scouts of his athleticism with his impressive NAB AFL Draft Combine performances including his 95cm running vertical jump. 3.04 seconds for 20 metres and 6 minutes and 38 seconds for 2km at Victoria Country testing.
Jacob van Rooyen (Claremont)
Height: 193cm
Weight: 91kg
The premier swingman in his class, van Rooyen proved his capabilities at either end of the ground this year after moving into defence at times while also amassing a stunning record in front of goal.
The Claremont product is has gained growing attention for his heroics in WA's U19's championship win over SA late in September, booting the match-winning goal in a stunning showing in both defence and attack.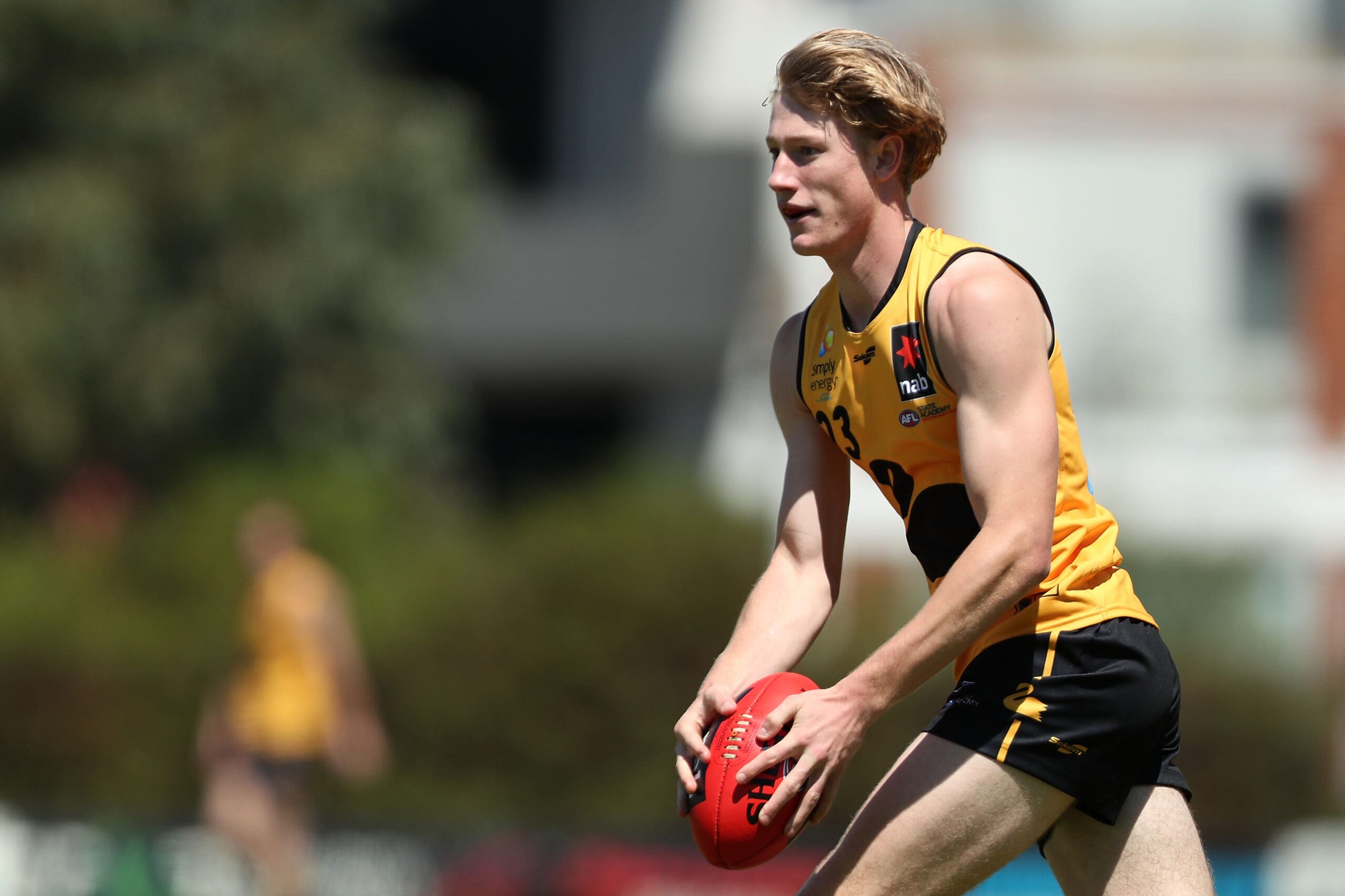 The athletic and versatile key-position tall has risen into top 20 contention for the National Draft across the latter half of this year and is showing plenty of upside.
Sheehan says: Tall defender or forward who showed his real talent playing an outstanding game across half back for Western Australia in the NAB AFL Challenge match against South Australia. Can Rooyen took eight marks and had 12 disposals in an eye-catching performance then swung forward in final moments of the AFL Grand Final curtain raiser to kick the winning goal for his state over South Australia. His versatility and aerial ability have drawn comparisons to West Coast Eagles emerging star Oscar Allen with his 34 goals in nine matches at Under 18s WAFL level showing his swingman ability along with playing mainly forward in five senior matches with Claremont this year.
Rhett Bazzo (Swan Districts)
Height: 194cm
Weight: 81kg
Among the best key-position players capable of playing in defence and attack, Bazzo is seen as arguably the second leading defensive tall behind GWV Rebel Josh Gibcus.
Has emerged as Swan Districts' best player in this draft class, aiding his side's Colts team to a premiership in 2021 as a formidable lock-down defender.
Able to move across lines and intercept inside 50 entries, Bazzo may play a smaller role in the early years of his time in AFL before adding muscle and developing into a primary backman.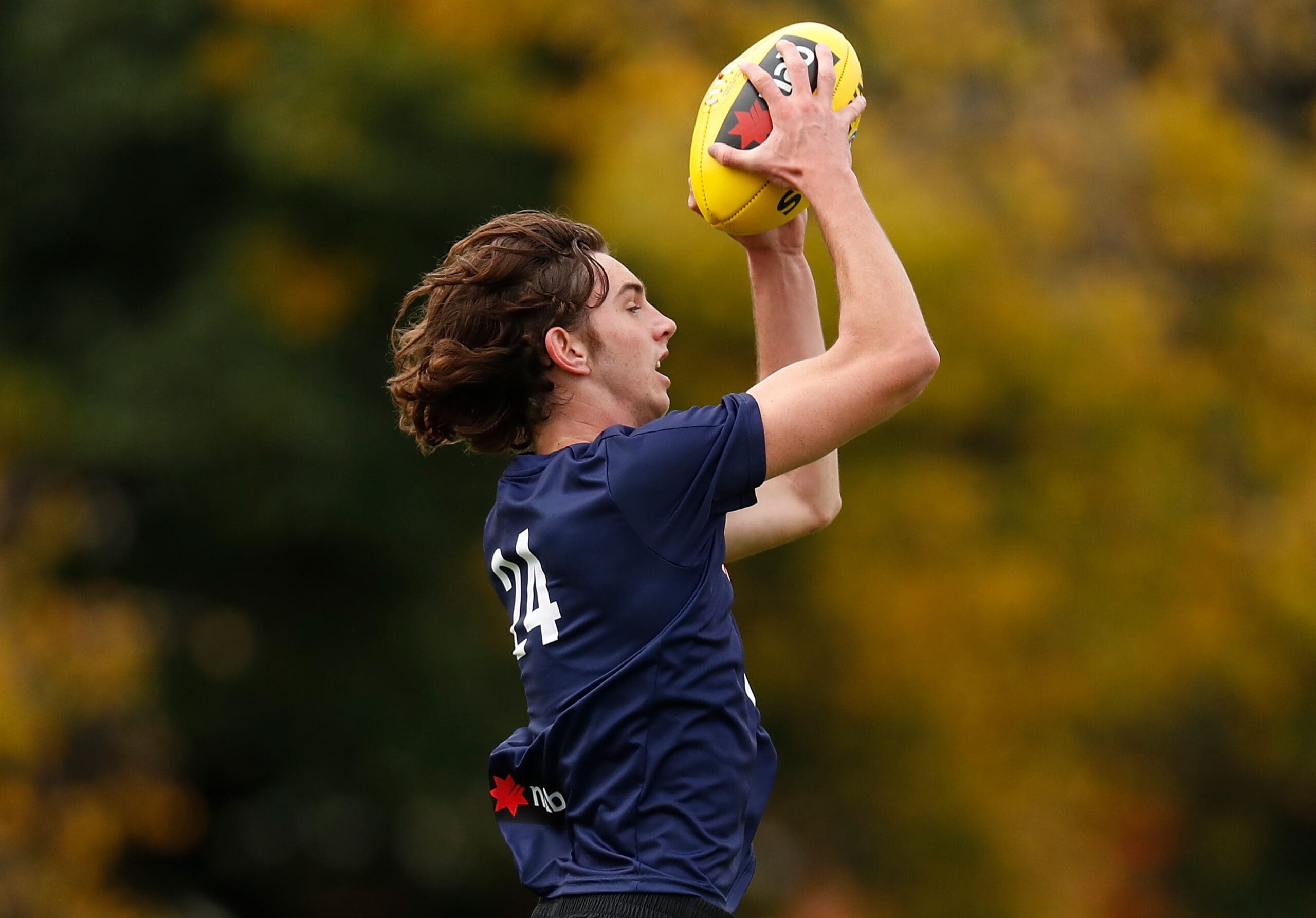 Sheehan says: Strong in defence for the Australian Under 18s Academy team against Geelong (VFL) in the annual AFL Challenge match he then starred for Western Australia in the championships match against South Australia taking 10 marks and having 18 disposals to one of the best afield across half back suggesting it might be his most suitable position.
Leek Alleer (Central Districts)
Height: 195cm
Weight: 81kg
Put recruiters on notice after breaking the running vertical jump record at the Draft Combine earlier this month, surpassing Kangaroo Kyron Hayden's result of 103cm by a further four rungs.
A stunning athlete that could fall into the second round should clubs in that range look to bolster their tall defensive stocks, with Alleer proving to be one of the best intercept players in his class.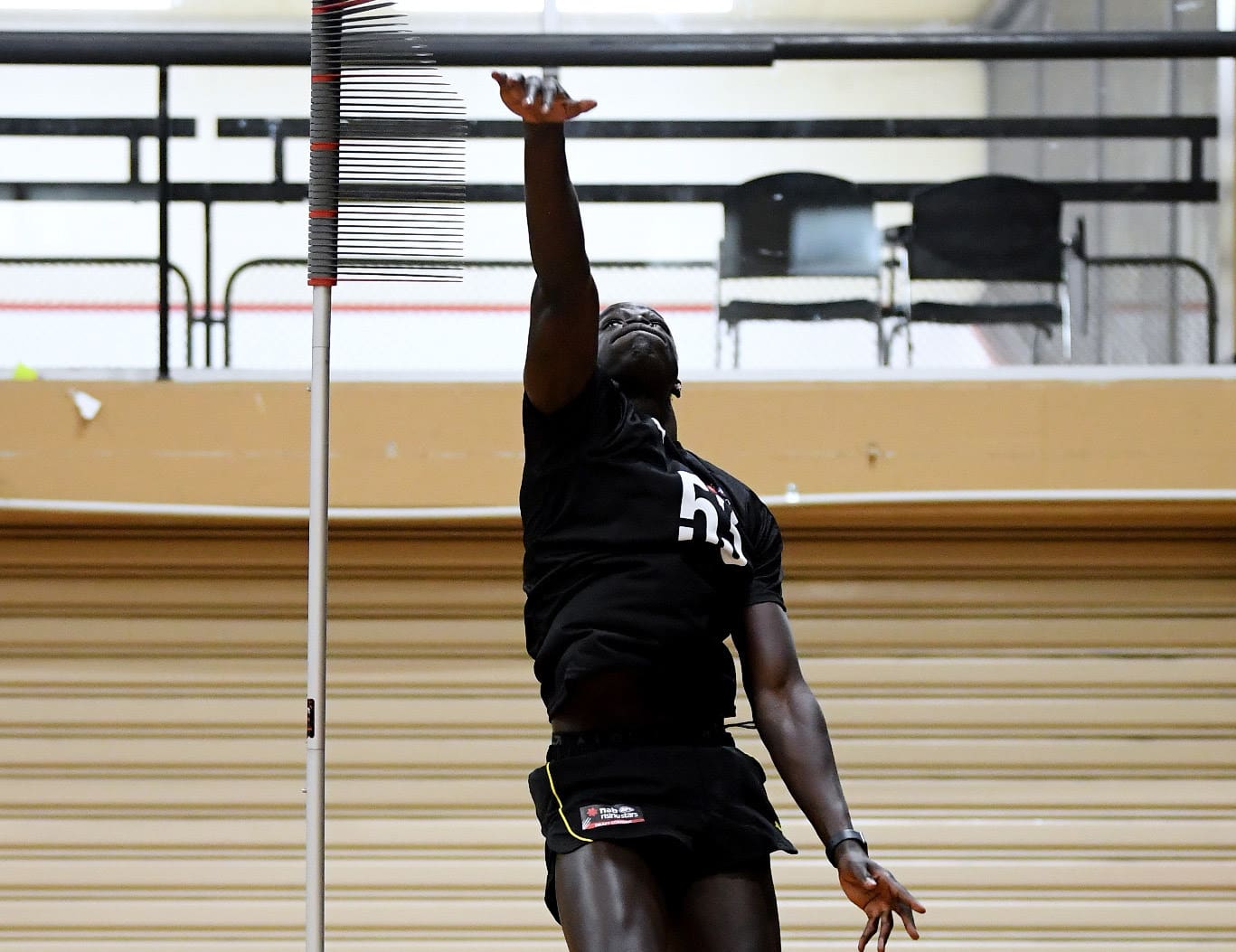 Sheehan says: High marking and extremely athletic tall defender who has been a revelation at senior level this year after being switched to defence. Hampered by injury for two years, he has come through the grades at Central Districts from under 16s, under 18s and Reserves to be play some exciting senior football this year. Still developing his overall game, he appears to have a massive upside which he gave a glimpse of at the South Australian Draft Combine breaking the All-time record for the running vertical jump with an amazing leap of 107cm.
Charlie Dean (Williamstown)
Height: 195cm
Weight: 86kg
Had his draft prospects ascend rapidly after claiming the Fothergill-Round-Mitchell Medal as the VFL's most promising young talent, an honour that has seen the past 14 winners feature at AFL level - including Bayley Fritsch, Kane Lambert, Nic Newman, Ahmed Saad and Michael Barlow.
Dean was also named in the VFL Team of the Year, with the 20-year-old showing plenty of poise and professionalism as a junior rising up through the ranks at Williamstown.
CHARLIE DEAN

2021 FOTHERGILL-ROUND-MITCHELL WINNER@WilliamstownFC pic.twitter.com/HHmuO1Tl2r

— #VFL / #VFLW (@VFL) October 7, 2021
While being a reliable user of the ball and a menace for opposition defenders, Dean also boasts the ability to play out full games with plenty left in the tank.
Sheehan says: Tall defender who can also apply his craft up forward. Had an outstanding season at Williamstown in the VFL in his 20th year after being part of Victoria Metro/Sandringham Dragons program in his initial Draft year of 2019. His marking is elite along with his composure under pressure and ball use which has earnt him selection as the VFL's most promising talent winning the Fothergill-Round-Mitchell Medal. Was also announced as a defender in the VFL's "Team of the Year" for 2021 after averaging 15.1 disposals and 7.3 marks in his nine matches this year.