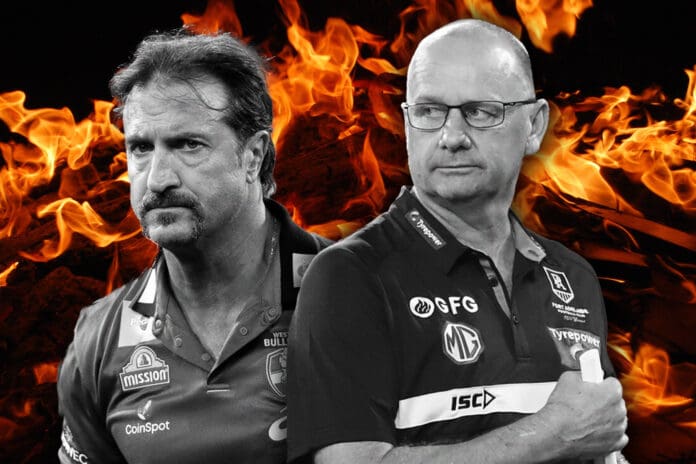 It is probably the toughest gig in the business, especially when the expectations are high. Whether they are looking to go that one step further or just make their claim among the best, these coaches will be feeling the heat in 2023.
Here is our list of the five coaches under the most pressure heading into next season.
SEE ALSO: WHO HAS THE OLDEST LIST HEADING INTO 2023? 
5. Damien Hardwick
'Dimma' is currently the longest-standing coach in the AFL with 12 consecutive years at the Tigers. Does this beg the question: how long is too long?
It seems tough on a three-time premiership coach to claim he is under pressure but with Richmond investing multiple early future picks for a couple of big-name players over this off-season, the Tigers' premiership window is limited.
There is pressure on Hardwick to squeeze one more premiership out of their stars while they are still capable of performing, even at a much lower level. Riewoldt, Cotchin, Martin, Grimes and Pickett are all 31 or older but can still put together a quality game, kick a crucial goal or make that one inspirational play to motivate their teammates.
When these five stars are gone, it will be hard to see Richmond maintaining their premiership-level success; at least immediately.
For Hardwick, he may feel pressure to add to his coaching legacy further and enter the Alastair Clarkson pantheon level of this era with a fourth premiership.
Many thought Richmond looked like the most dangerous team toward the back end of 2022, and the additions of Tim Taranto and Jacob Hopper could be the difference needed to make it on the last day of September once again.