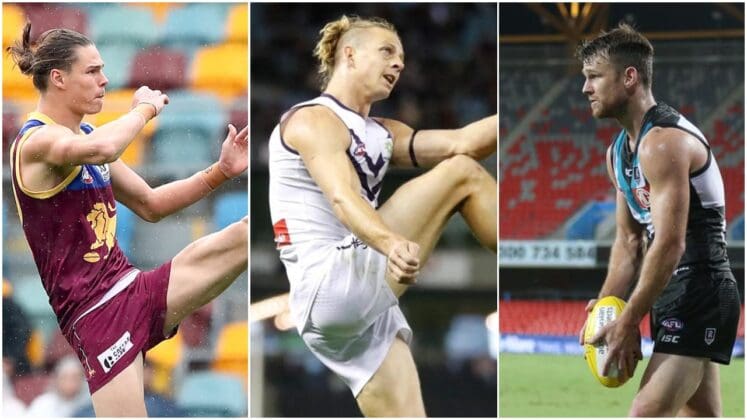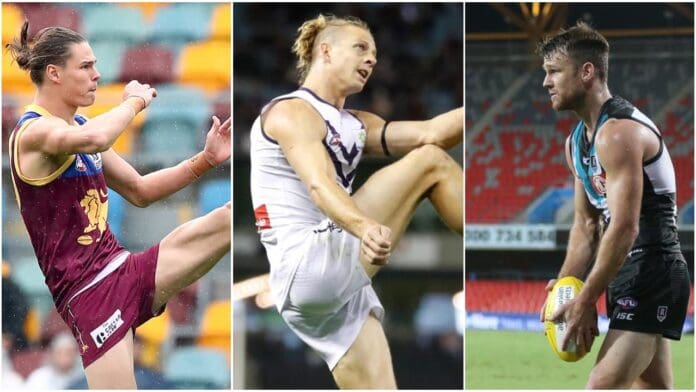 In 2020, the COVID-19 pandemic wreaked havoc on the AFL competition.
While the global illness nearly caused the season to be cancelled altogether, the AFL managed to successfully implement "regional hubs" around the country to keep the season going, in what was one of the most challenging and unprecedented experiences in the games existence.
Now in 2021, the AFL is faced with a new pandemic.
GOALKICKING
Or more accurately, goalkicking inaccuracy.
An aspect of the game so vital, yet for some reason, still not perfected by so many.
"It's diluting a beautiful game," exclaimed an impassioned Nick Dal Santo on Fox Footy's First Crack.
"I'm emotional because that shouldn't happen at this level. This is the top one per cent of the competition that can't do the fundamentals of the game correctly."
And he is right.
It is the bane of many superstar-calibre players, who still manage to freeze up when in front of the big sticks.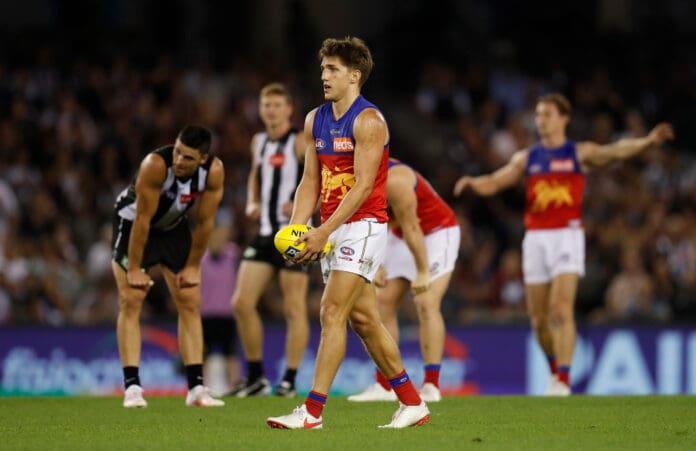 Over the weekend's six games, there were some brilliant displays of the goal kicking art, whilst there was also some really poor efforts as well. The likes of Collingwood's Jamie Elliott (6.0), Brisbane's Zac Bailey (4.0) and West Coast Eagle, Liam Ryan (4.0), shone bright for their sides, others struggled immensely to find the big sticks.
On the flip side, it was St Kilda's Jack Higgins (1.6), Bulldog Aaron Naughton (1.5), Brisbane's Eric Hipwood (1.4) and Adelaide talisman, Tex Walker (2.6), who highlighted - or lowlighted - another round of poor kicking for goal, with some that cost their sides dearly.
SEE ALSO: The most memorable celebrations ever seen in the AFL
For the everyday footy fan sitting on the couch watching at home, it is rather perplexing seeing professional athletes dominate in every facet of the game just to trip at what is arguably the final, and most important hurdle. There is no denying the immense pressure a player must feel when in front of goal, but it is an aspect of the game that continually costs teams wins week after week.
Those who can't kick straight
Expectations were high for the Saints in 2021. A competitive outfit over-performed in 2020, breaking their AFL Finals drought, as well as also winning an elimination final against the Bulldogs. While promising to build upon last years results, the Saints have been in free-fall throughout 2021, just 5-7 after round 12's loss to the Sydney Swans, with an embarrassing percentage of just 77.6%.
There are many reasons why St Kilda find themselves in the position they do halfway through the season - whether it be their inconsistent effort levels week by week, or underperforming 'stars' - however, it has been their goal kicking that has cost them a number of games and altered their season.
Atrocious in front of goals in both round 9 (the Saints kicked just 5 goals, 17 behinds in a loss to Geelong) and round 12 (numerous match-winning opportunities left begging in a tight loss against the Swans) goalkicking inaccuracy in important moments has cost the Saints at least two very winnable games, that would - maybe not change their season narrative -but would in fact leave them still in finals contention.
'The horrible accuracy for St Kilda continues...'

Yep, that's one way to say it. Seb Ross with a shocker from in front.

📝 BLOG: https://t.co/KbQGbJM9A4
🔢 MATCH CENTRE: https://t.co/C6W9ogbgUI
📺 WATCH #AFLSwansSaints on @kayosports: https://t.co/HiTjMasDTj pic.twitter.com/C0s1Z6uB1E

— Fox Footy (@FOXFOOTY) June 5, 2021
Similar to the Saints, Fremantle will be reassessing their goalkicking performances, after only managing to kick more goals than behinds on one occasion. This will haunt the Dockers, who could have also announced themselves as contenders for finals this season.
Both Fremantle and St Kilda have the worst goal:behind ratio in the competition, struggling to convert in front of goal with 0.95 and 1.06 respectively (non-inclusive of rushed behinds).
2021 AFL Goal:Behind Ratio
The following table shows the goalkicking statistics of teams (not including rushed behinds) after the first 12 rounds of the 2021 season, as well as the ratio of goals to behinds (source: AFL Tables).
Teams in alphabetical order, results are bold if above league average.
Six of the current top eight are above the league average in goal:behind ratio, showing the correlation between accurate goal kicking and winning games.
The one outlier in the data is Alastair Clarkson's Hawks, who - while currently sitting in 17th on the ladder - have an impressive goal:behind ratio of 1.61, good enough to claim second best in the competition behind the forever reliable West Coast Eagles.
It's hard to argue with the idea that kicking straight wins you games. Although the majority of sides have been able to float around the league average of 1.365, the individual winner of a game of football generally is the side that makes the most of their opportunities.
Dead eye like a Magpie
A perfect example from the weekend was Collingwood's brave win over the Crows. Although losing a majority of the key statistics, the Pies were able to sneak away with the win thanks to their ability to take scoring opportunities efficiently.
Kicking 12.6 to the Crows 10.13 was enough for Collingwood to walk away victors, leaving the Crows ruing their own missed opportunities in front of goal.
The difference in the game was ultimately small forward, Jamie Elliott, who kicked an impressive six goals straight, to lead the side in his return from injury. On the other end of the spectrum, the usually reliable Crows' former skipper, Taylor Walker, couldn't capitalise in front of goal like he usually does. Although playing an excellent game overall, he was unable able to convert efficiently, slumping to 2.6 in what turned out to be and incredibly costly exercise for his side.
Jamie Elliott started the game and now he is looking to end it 👊#AFLCrowsPies pic.twitter.com/BW4VgebZ5e

— AFL (@AFL) June 5, 2021
The power of accurate kicking was also on display later that night, during the Dreamtime Game, with the Tigers able to flex their muscle in the last quarter. Sitting at a modest 12.9 but down by less than a kick, Richmond put on a dominant goalkicking clinic late in the game.
In the last 10 minutes, the Tigers piled on seven goals straight, turning what was a tight contest into a 39-point mauling. It was a performance that saw three Tigers (Dustin Martin, Shai Bolton and Jason Castagna) combine for an impressive 9.0.
YOU CAN'T DO THAT SHAI 🤯🔥

(watch on 7) pic.twitter.com/gqaQmM76Kr

— 7AFL (@7AFL) June 5, 2021
Quicker game = Better shots?
Prior to the 2021 season, the AFL were crafting rules and putting their efforts towards encouraging an increase of the speed of the game. This was a direct reaction to issues of slow and unexciting play that plagued the league throughout the previous few seasons.
These changes should improve the quality of shots on offer for teams, as the increased speed of play allows forwards better access to the football in more dangerous spots, whilst defenders are left reactive to the chaos coming their way. Whilst this has been the case, it hasn't led to drastic improvement to the goalkicking numbers as many anticipated.
FEATURE: The incredible numbers behind Essendon's turnaround
The lack of ability to capitalise in front of goal -even from better positions - has illuminated that the problem of accurate goal kicking is much worse than initially thought.
Accurate Avenue vs Struggle Street
There are a number of guilty individuals who have struggled heavily in front of goals. Many individual performances come to mind, such as Jack Higgins' brilliant game, overshadowed by his unfortunate 1.6 in front of the big sticks.
Although costly, some players can be forgiven for one off games of poor kicking, but there are a number of repeat offenders that have accumulated rather unattractive season totals.
Some of the players to have struggled the most in front of goal in AFL 2021 include:
Nat Fyfe (FRE) 5.17
Max King (STK) 14.22
Michael Fredrick (FRE) 5.11
Luke Davies-Uniacke (NM) 2.8
James Aish (FRE) 1.8
Tom Lynch (RIC) 18.22
Tom Lynch (ADE) 2.7
Jack Newnes (CAR) 2.7
Will Setterfield (CAR) 1.6
Nic Naitanui (WCE) 0.4
All the players above are either well-recognised superstars of the game, or part of the influx of future talent set to dominate the competition for years to come. Numbers like these show why goalkicking is an area of the game that needs to be addressed in all levels of the AFL.
Although the overall standard of goalkicking has slumped, there are still several individuals that have managed to thrive in front of goal. Despite not necessarily kicking the most, these players have managed to maintain a high level of conversion when put in front of the big sticks:
Zac Bailey (BL) 17.5
Jamie Elliot (COL) 10.0 (in three games)
Luke Breust (HAW) 18.5
Robbie Gray (PA) 15.4
Gary Rohan (GEE) 17.5
Lance Franklin (SYD) 24.7
Josh Bruce (WB) 34.10
Ben King (GCS) 32.14
Anthony McDonald-Tipungwuti (ESS) 27.9
The fact that there are a number of players able to shine brightly in front of goal shows that it is in fact possible for teams to master this important skill.
With many sides already ruing missed opportunities in the front half of the year, it is important for this epidemic to be addressed to ensure the same mistakes do not continue into the back end of the year.
That is both equally important for those scrapping to make the eight, as well as those perfecting their craft to perform under pressure come September.