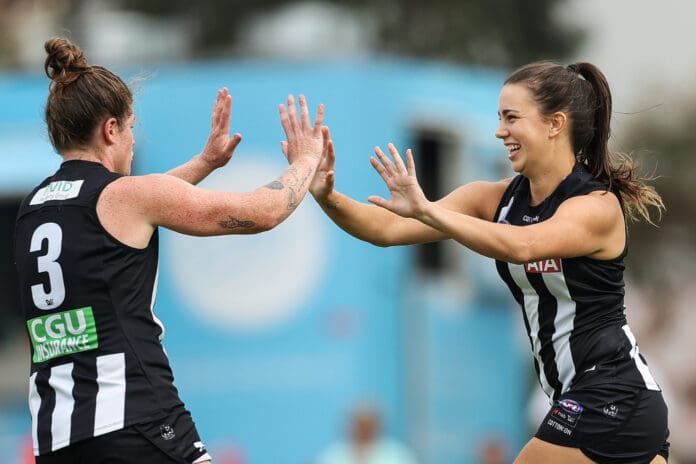 A swathe of AFLW stars including Chloe Molloy and Nina Morrison are set to sit out their respective Round 2 clashes.
While Collingwood will welcome St Kilda to the once unfriendly confines of Victoria Park on Saturday afternoon, Steve Symonds' black and white brigade will be forced to march without the likes of Brianna Davey (ACL), Tarni Brown (concussion) and Molloy (health and safety protocols).
Symonds will be afforded the ability to call on Alana Porter, Alicia Newman and Amelia Verlado as coverage.
After going down to the rising Tigers in Frankston last week, Saints coach Nick Dal Santo has rung the changes at Moorabbin, with Kate McCarthy, Jess Matin and Isabella Shannon all axed from his 21.
Locker room leader and starting ruck Rhiannon Watt will also miss the crosstown clash after being forced into isolation.
The Saints will, however, see the returns of integral quartet Nat Exon, Nicola Xenos, Molly McDonald and Kate Shierlaw.
Down the highway, Geelong has been hit hard by strict testing protocols, with each of Julia Crockett-Grills, Sophie Van De Heuval, Georgie Rankin and Morrison all unavailable for selection.
This collective has been replaced on the Hoops' teamsheet by Darcy Moloney, Laura Gardiner, Danielle Higgins and debutant, Gabbi Featherston.
Their opponents Carlton have fared better against the virus during the week, with their sole change coming in the form of Maddy Guerin in for the injured Grace Egan (punctured lung and broken ribs).
Collingwood v St Kilda
Victoria Park, 3.10pm AEDT
COLLINGWOOD
B: L.Butler 23 S.Livingstone 12
HB: S.Casey 22 R.Schleicher 18 A.Porter 9
C: E.James 20 E.O'Dea 50 S.Chiocci - C 17
HF: S.Frederick 1 A.Sheridan 14 J.Allen 6
F: S.Alexander 24 E.Chaston 32
Foll: A.Downie 30 B.Bonnici 8 J.Lambert 13
I/C: S.Rowe 7 A.Velardo 5 E.Fowler 15 A.Newman 16 M.Cann 25
Emerg: A.Moloney 40 I.Barnett 4
In: A.Porter, A.Velardo, A.Newman
Out: B.Davey (Knee), C.Molloy (HS Protocol), T.Brown (Concussion)
ST KILDA
B: L.Burke 30 R.Ott 20
HB: B.Jakobsson 8 J.Van Dyk 36 H.Priest - C 14
C: M.McDonald 1 T.White 29 C.Phillips 35
HF: D.Guttridge 5 C.Greiser 17 R.Dillon 25
F: N.Xenos 27 J.Vogt 10
Foll: K.Shierlaw 12 O.Vesely 23 T.Lucas-Rodd 18
I/C: A.Woodward 4 N.Exon 15 A.Burke 3 R.Saulitis 13 L.Cutting 26
Emerg: I.Shannon 11 T.Meyer 34
In: M.McDonald, N.Xenos, K.Shierlaw, N.Exon
Out: I.Shannon (Omitted), K.McCarthy (Omitted), J.Matin (Omitted), R.Watt (HS Protocol)

Geelong v Carlton
GMHBA Stadium, 7.10pm AEDT
GEELONG
B: M.McMahon 24 M.Keryk 45
HB: A.Johnson 30 M.McDonald - C 11 C.Emonson 16
C: Z.Friswell 20 G.Prespakis 41 D.Moloney 4
HF: M.Maguire 7 C.Gunjaca 26 R.Kearns 22
F: P.McWilliams 23 C.Scheer 14
Foll: O.Fuller 13 R.Webster 21 A.McDonald 3
I/C: L.Gardiner 18 K.Darby 8 D.Higgins 2 G.Featherston 32 J.Ivey 5
Emerg: R.Caris 1 G.Clarke 17
In: D.Moloney, L.Gardiner, D.Higgins, G.Featherston
Out: N.Morrison (HS Protocol), J.Crockett-Grills (HS Protocol), S.Van De Heuvel (HS Protocol), G.Rankin (HS Protocol)
CARLTON 
B: K.Harrington - C 9 G.Pound 6
HB: V.Laloifi 8 L.McEvoy 13 L.Brazzale 12
C: N.Plane 32 M.Prespakis 4 J.Dal Pos 2
HF: N.Stevens 21 P.Trudgeon 26 B.Walker 7
F: E.O'Dea 46 D.Vescio 3
Foll: B.Moody 16 A.McKay 5 G.Gee 19
I/C: D.Walker 23 J.Good 15 M.Guerin 18 A.Lee 11 C.Jones 22
Emerg: C.Hammans 17 K.Sherar 25
In: M.Guerin
Out: G.Egan (Punctured lung)