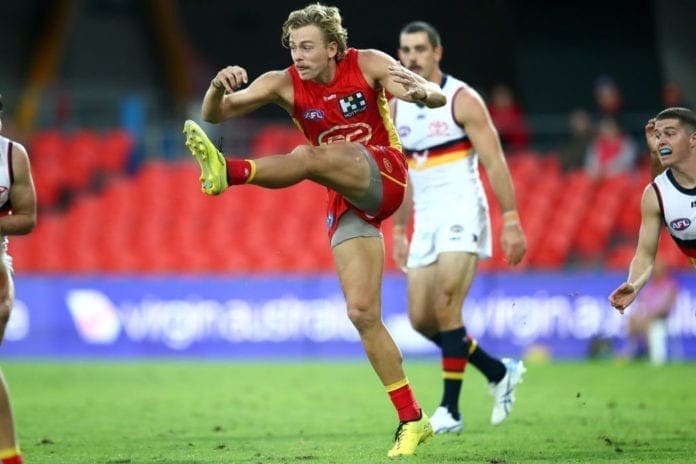 Gold Coast have announced that although they have delisted Jez McClennan, Rory Thompson and Hugh Greenwood, each will be re-selected by the club during the upcoming rookie draft.
The Suns made the announcement of their lastest list lodgements on Wednesday afternoon, with the alterations all being completed ahead of the 2 pm deadline.
The expansion club explained that the trifecta of names had been moved off their primary list in an effort to meet the league's requirements of selecting a minimum of three players during the draft period.
While McClennan will find a permanent home on the Suns' rookie list in 2022, both Thompson and Greenwood will return to the senior list once after being plucked with picks during the National Draft set for the 24th and 25th of November.
Speaking in the wake of their three-card shuffle, Suns' General Manager of Player Talent and Strategy Craig Cameron explained the method to the Carrara club's ploy.
"We've had a deliberate strategy on improving our list over the past four years and that hasn't changed during this year's trade and draft period," Cameron told goldcoastfc.com.au.
"Having a high number of contracted players, we have had to explore all possible options to comply with AFL requirements.
"I would like to thank Rory, Hugh and Jez for agreeing to this temporary measure which will allow the club to redraft them to our list ahead of next season."
Greenwood and Thompson are expected to be re-drafted with either the 97th and 115th pick at the upcoming draft.
McClennan will re-join his teammates in an official sense on November 26.