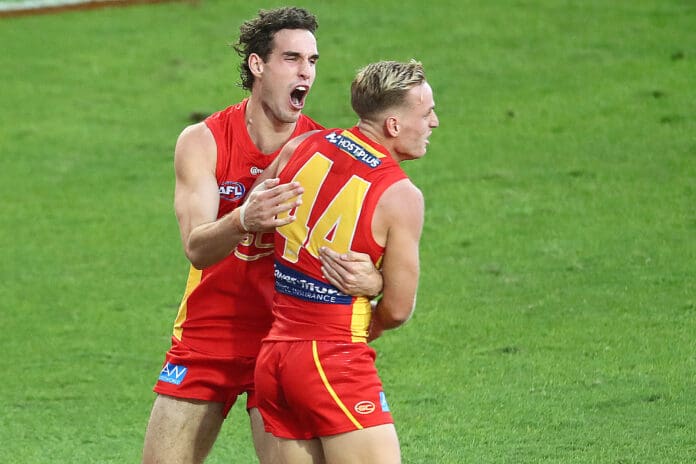 Gold Coast general manager of list and strategy Craig Cameron has explained that numerous factors have forced the expansion franchise into paying their early draft picks 'overs' ahead of time.
Given the Suns have yet to play finals across their 11 seasons at AFL level, the Carrara-based club have earned and used a bevy of first-round selections on gifted youngsters.
However, Gold Coast are routinely forced to pay above market value to keep said talent on their books, as rival clubs have long seen the sunshine state side as a rich recruiting hotspot.
Speaking on Friday via SEN radio waves, Cameron claimed there was a truth to this view of shelling out large deals to names that may not yet have earned their salary sum.
"I think that's true," he commenced.
"There's a dual part to this. One is I think the northern market teams have a unique scenario around the retention of players.
"Plus we have a number of really early draft selections and the truth is regardless of whether you're on the Gold Coast or Melbourne, they demand a lot more money in their third and fourth years, probably before they're actually producing that on the field.
"We've had a number of those selections since 2016 and at some point, it does start to bite you, there's no doubt."
Quite often Gold Coast's gambits don't pay dividends, as evidenced this week when the Suns were forced to package former top 10 draftee Will Brodie and another first-round selection to Fremantle just to earn some salary cap reprieve.
Following the Victorian's trade west on Thursday, it was reported that Brodie had been set to earn in the vicinity of $500,000 on a back-ended deal in 2022 despite having never played more than eight senior games in any of his five seasons as a Sun.
This has also been the club's modus operandi in their proposed 'salary dump' deal with North Melbourne in which Gold Coast were prepared to send Darcy Macpherson to Arden Street to gain further financial breathing room.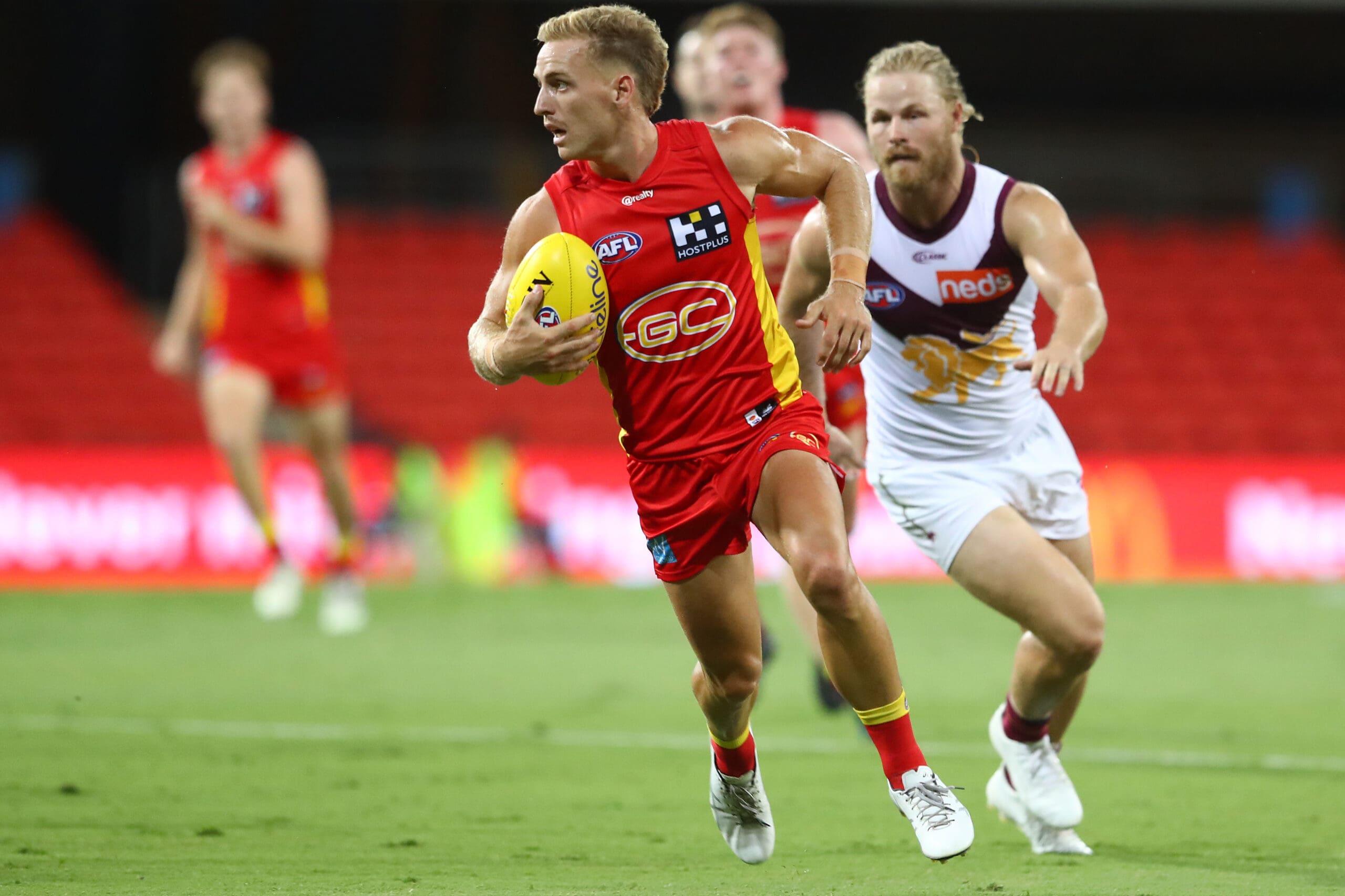 While this 'draft now, pay now' approach has often been derided by those outside of the Suns' four-walls, Cameron claimed it was simply a fact of life for the league's ugly ducklings, as the vast majority of their draftees had been sourced from outside of Queensland.
"We've got to live with it, we've got to have a strategy … it'll be different to what happens in the southern markets, we can't play the same way as the southern markets do in terms of their trade and contracting," Cameron said.
"Part of that is making guys comfortable and happy in the environment that they're in and having on-field success will be a part of us being able to normalise our contracts."
Following a first week of the trade period that saw the Suns clear both clear their books and the bulk of their hand, Gold Coast are now left holding only pick 3 ahead of November's draft.
Despite this culling of opportunities, the dual moves have been made so the club are armed with an arsenal to repel rival offers for key names at the cessation of the 2022 season.
Irrespective of where the Suns finish on the ladder next year, talented youngsters Ben King, Jack Lukosius and Izak Rankine are all set to come out-of-contract ahead of 2023.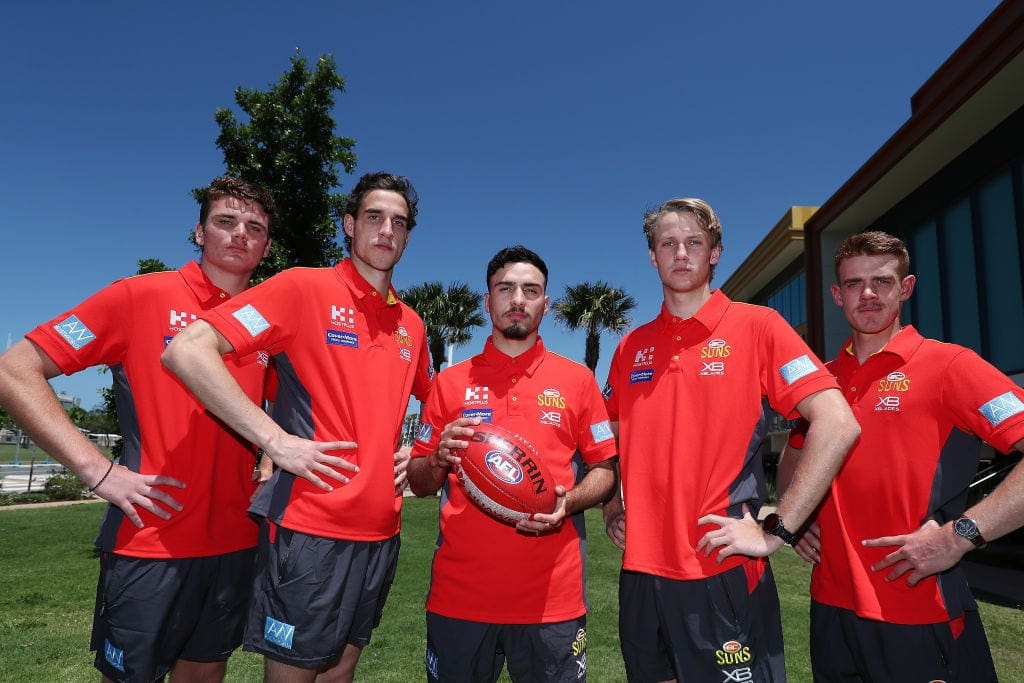 Given each have roots in either Victoria or South Australia, questions will be asked ahead of this time next year if the trio are yet to put pen to paper to remain on the paradise strip.
With his identical twin brother Max calling Moorabbin home, King, 21, has long been linked with a move to the Saints. Recent noise surrounding a shift to Essendon has also been raised by pundits.
Still, the key forward's manager, Robbie D'Orazio, has 'doubled down' on his stance that these musings and mutterings were "disrespectful" when speaking to SEN ahead of the weekend.
D'Orazio also claimed that he was "disappointed" that his client had not been granted an "opportunity to cement himself from the outset".
While church mouse silent in comparison to the previous pair of trade periods, St Kilda will almost certainly mount another challenge to reunite the Sandringham Dragons product with his brother ahead of 2023.