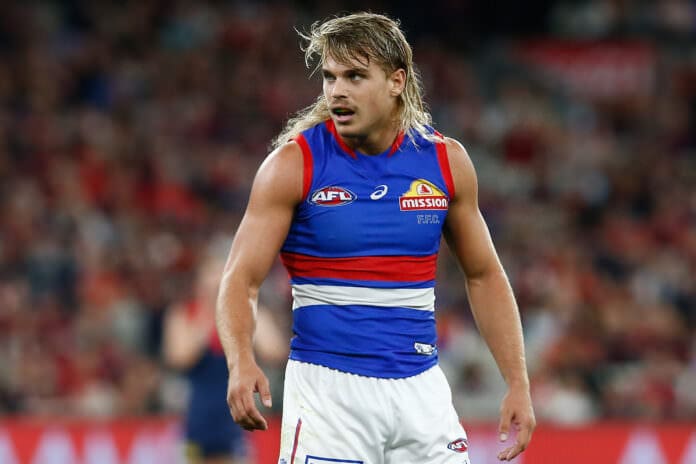 As pre-season gets underway in earnest everywhere, most clubs are carefully managing their star players to ensure they are ready to go for Round 1. At the Western Bulldogs, things are no different, as star midfielder Bailey Smith undertakes an altered program.
As reported by 7 News' Mitch Cleary, Smith is on "his own program as he deals with load management" and is "a big watch in the coming weeks."
The 22-year-old is crucial to the Dogs' hopes in 2023, already a star of the competition and entering his prime.
As such a valuable asset, the club is being understandably cautious in their approach to ensure that the injury issues that Smith has endured in the past are not repeated.
See Also: Tough blow as injury hits St Kilda draftee
Despite being so young, Smith has already had his share of injury worries, most notably a hip issue that affected him throughout the 2022 season. As a known fanatical trainer, it's entirely possible the Bulldogs are keen to ensure that his body is not overworked leading into the season.
This year looms as crucial in the life of the young star, with a number of distractions and indiscretions over the past 18 months making headlines.
Aside from his two-game suspension for headbutting an opponent, Smith was under severe scrutiny when a video clip of him holding a bag of white powder leaked online.
A suspension followed to allow him to focus on football completely, as well as deal with any possible mental health issues. That aspect of the suspension came after Smith opened up on his battles with his mental health early in 2022.
As one of the most talented young stars in the AFL at the moment, the Bulldogs will be hoping the only headlines about Smith in 2023 are about his on-field exploits as they look to launch another assault on September.