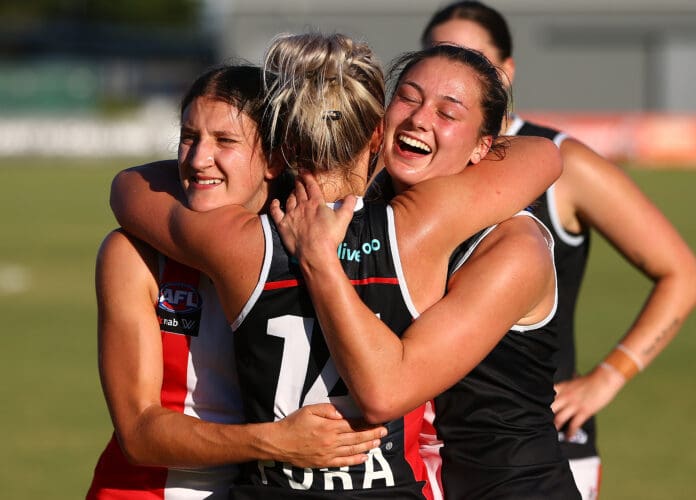 St Kilda favourite Nick Dal Santo has been named as the Saints' next AFLW head coach.
The Herald Sun originally reported that the 312-game veteran will take over from former AFLW coach Peta Searle, who stepped away from the role at the conclusion of the 2021 season.
MUST READ: Where to now for the Gold Coast Suns
The club have since confirmed the appointment, with Dal Santo taking on the reigns as senior coach.
"I am incredibly happy and grateful for this opportunity," Dal Santo said, per the club's website.
"I've followed the journey of our AFLW program since its inception and am excited to be given the opportunity to contribute to the next chapter of women's football at the Saints.
"We've had some excellent people involved in the program who have created a strong foundation for future success.
"Our list profile is very promising, and the women are hungry to make this footy club proud, something I personally identify with really strongly.
"I love this club and I can't wait to get started."
Dal Santo will look to draw from experience gained throughout his 260 games for the club and a further 62 at the Kangaroos. His total ranks as the 48th most games in league history, a bevy of experience that will likely hold him in good stead for his debut season as head coach.
Dal Santo retired from his playing career in 2016, amassing three All-Australian selections and representing Australia in an international rules stint.
Since then he has split his time with work in the media for Fox Footy, as well as working within St Kilda's academy program.
The new role is unlikely to affect his media commitments, as the AFLW season is played throughout summer months, scheduled to finish prior to the 2022 AFL season.
When appointed, the AFLW will have all 14 teams led by male head coaches, an interesting look for the league who preach equality and accessibility for all.
READ ALSO: If AFL Players were Olympic athletes
Former coach Searle was the sole female coach during the most recent AFLW season.
A pioneer for woman in the industry, Searle was the first full-time female to coach in the AFL as an assistant for the Saints mens side. She was announced as a development coach in 2014 before transitioning into the head of Female Football Pathways in 2018, seeing her coach the VFLW side prior to their inclusion into the AFLW league in 2020.
Dal Santo will look to build upon what Searle had put into motion at the Saints, averaging a winning percentage of 33% during her tenure. Dal Santo will be likely looking to eclipse that number with something more toward his own playing career win percentage of 184W-5D-133L (58%).