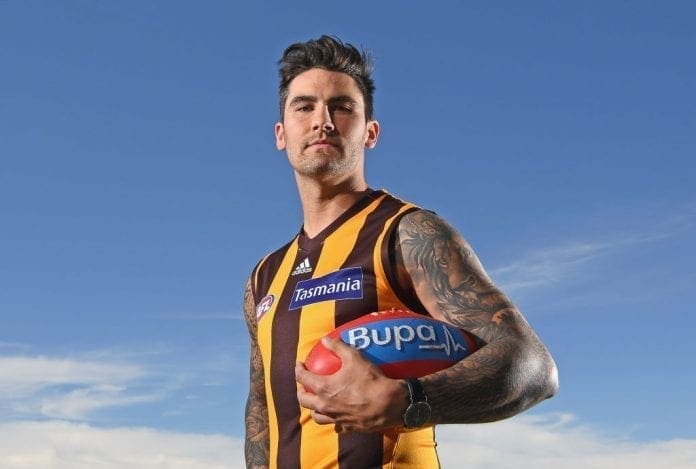 One of the most talked about players in the AFL this season has been Collingwood youngster Jack Ginnivan, and social media has played quite the significant role in that.
After all, it did begin with a social post that followed the Magpies' 17-point win over St Kilda in Round 1, where the 19-year-old took GoPro duties to capture the aftermath.
Ginnivan was scrutinised by many for labelling the victory and opponent as 'light work', most notably by Port Adelaide great Kane Cornes. He was also praised by some for showing character.
On-field antics, an ANZAC Medal and a Goal of the Year nomination have kept the livewire forward in the headlines, but it all began with social media. And through social media it has exploded.
After the ANZAC Day clash with Essendon, Ginnivan took to his Instagram, a video his friend captured of the medal winner's arrival home.
Seeing friends celebrate at home with a player gives fans insight into life outside of footy and was by no means a bad thing, however the Instagram posts revealed that Ginnivan had perhaps broken club protocol in drinking a few beers in the celebrations.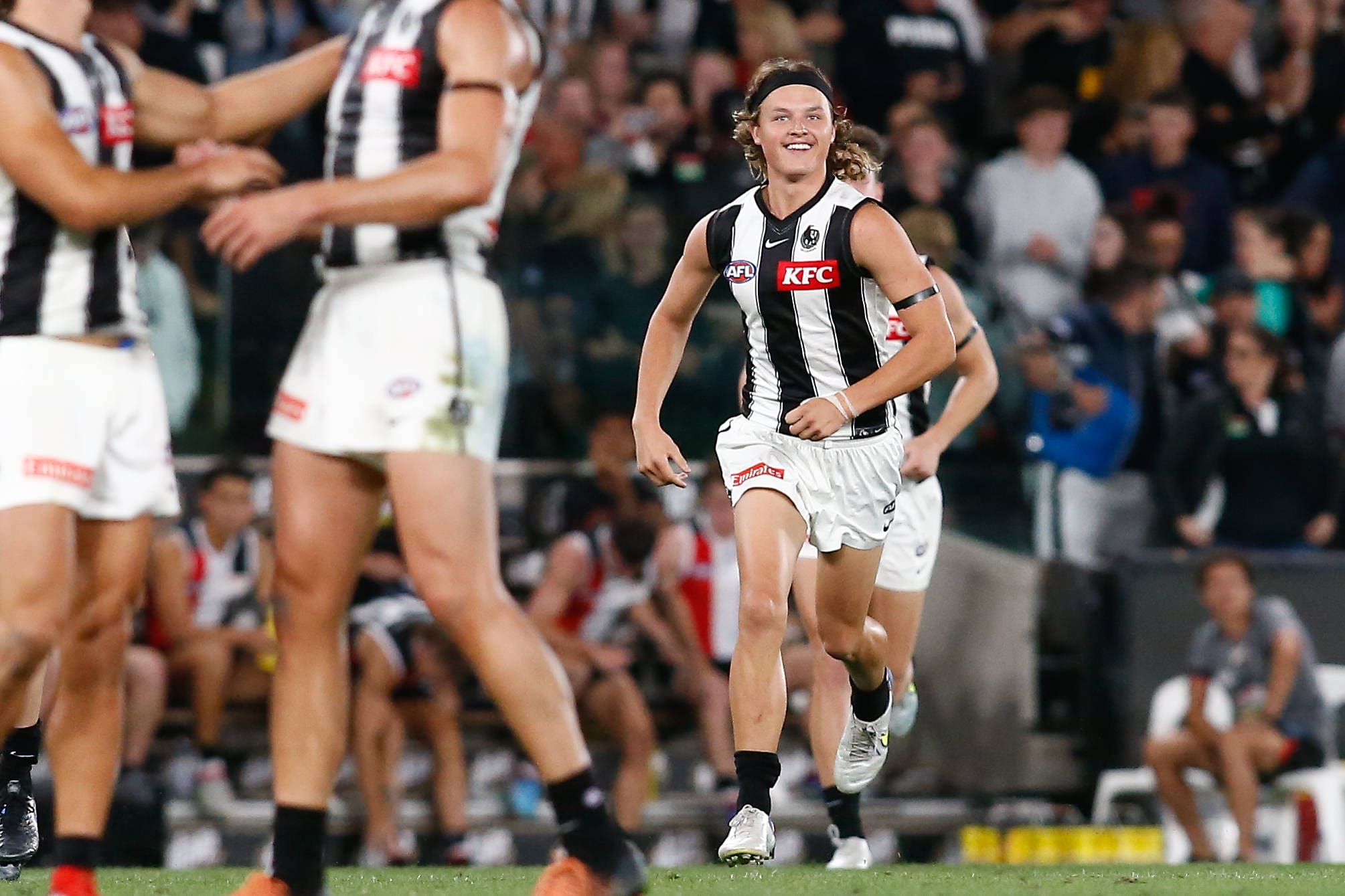 This caused some issues, given the club had a short turn-around.
Some more good has come from his social media use, posts on visiting Auskick clinics and a cheeky profile picture change to Kane Cornes donning the same bleached hairstyle.
So in this seemingly never-ending Ginnivan/media saga, social media has played the biggest role, proving that it can act as a detriment to players while also being beneficial.
How does social media act as a tool for AFL players and other sports stars? What are the pros and cons of players using social media? We take a look at all that, in this dive into social media use.
Player abuse
Probably the biggest issue to have arisen from athletes using social media is the never-ending abuse and attacks they receive from spectators online.
There are countless occasions an athlete has been subject to abuse, bullying and in some cases sexism and racism.
The most notable in recent memory would be AFLW star Tayla Harris.
In 2019 Harris posted an image of herself kicking a goal in full flight, which drew much attention, some seeing it as inspirational. However, it also attracted negative comments.
Here's a pic of me at work... think about this before your derogatory comments, animals. pic.twitter.com/68aBVVbTTj

— Tayla Harris (@tayla_harris7) March 19, 2019
Harris shared that she was repulsed by comments that were borderline "sexual abuse" and "repulsive", making her uncomfortable.
Early this year a parliamentary enquiry was conducted, where Harris shared more on the hurtful comments she received after leaving Carlton for Melbourne.
While social media can be a good platform to share positivity and inspire (more on that later), something the four-time All-Australian wishes to do, it also garners public feedback.
"I've very consciously not been using it and not been active recently, which is disappointing because I love to share positive messaging, I love to inspire people, but at what cost?" she said.
"Anything I put [up] is a platform for someone to come back with more hurtful things, and I don't have the energy to continue to delete [them].
"And the reason I would delete is because I don't want a 15-year-old girl who's aspiring to be a footy player to see what she might be exposed to … I am so conflicted, because I want to inspire people, I don't want them to be exposed to the kind of people that think it's acceptable to pile on."
Sometimes people don't understand what their words do to others, with mental health issues arising from online attacks.
Racism plays a big role, and Hawthorn's Chad Wingard flagged it earlier this year, saying a real problem is people hiding behind anonymous accounts.
He shared that one follower commented a monkey emoji on a photo of 10 AFL players.
"It's taken him five minutes to really ruin 10 people's days, weeks, months, it could be years to get over that kind of stuff, and that's how easy it is for someone to really make an impact," he said.
"And it's not the one comment. It's the thousands, it's the daily, it's the weekly struggles – people don't understand that."
Players receive countless amounts of threats and such on social media, and it's even worse for Indigenous players, as race comes into play almost all of the time.
This is not okay.
It is time for change. pic.twitter.com/WZQooOePce

— Hawthorn FC (@HawthornFC) May 20, 2022
Ultimately it is up to the athlete to decide if they can handle the pressure and consequences of being on social media, but it is often forgotten that at the end of the day, they too are human beings with emotions.
As seen, abuse hurled toward sports stars online by 'fans' is one aspect of social media that is a disservice, and is the biggest issue to arise from the online world.
Misinterpretation 
More often than not, a social media post is taken as a primary source for a story.
The thing with this is, at times there is no context or clarification and the mental state of an athlete is unknown.
This can lead to misinterpretation by media, and without digging deeper and fact-checking, a story can be run that is completely blown out of proportion.
A perfect example of this would be an Instagram and Twitter post by Tasmanian cricketer James Faulkner in 2019.
Faulkner posted a photo of himself, his housemate and his mother. In it he wrote: "Birthday dinner with the boyfriend @robjubbsta and my mother @roslyn_carol_faulkner #togetherfor5years."
The post looked to imply he was in a same-sex relationship with his housemate, and adding to the confusion were comments from teammates both current and former saying "great courage".
While some would likely have not viewed it as such, many did interpret the post as Faulkner confirming his sexuality rather than celebrating five years of friendship.
News quickly spread worldwide, with outlets in the UK, India and Australia all running with the story of Faulkner being the 'first openly gay Australian male professional cricketer'.
The Tasmanian edited his post to include the words 'best mate' after 'boyfriend', instantly it was interpreted by some as him pulling a prank, and therefore mocking the LGBTIQ+ community.
He eventually addressed the situation, explaining it while also praising and supporting the community.
A clear example in another sport that can easily happen in the AFL as well.
It goes to show that misinterpretation is prevalent in the social media world, especially when the media already likes to sensationalise comments and take posts as news.
Distraction
Social media is so prevalent in the day to day life of everyone, including sports stars.
Constant social media use can become a distraction for athletes in game preparation and day-to-day team interaction.
Important interpersonal connections with teammates can be missed if a player is too busy with their phone on social media in a locker room for example.
This could translate on-field, with less cohesion amongst the team, resulting in poor performance.
According to the University of North Texas Center for Sport Psychology and Athlete Mental Health, easiness in access to social media with phones has led to constant checking behaviour, which becomes habitual and interferes with many activities in life, including performance.
Bad habits with social media also negatively impact wellbeing, with sleep, relationships etc. all affected by it, in turn, an athlete's performance can be impacted.
False rumour spreading
Just this past week we have seen a negative aspect of social media in full effect, with Gold Coast player Brandon Ellis being victim to a false rumour.
Word began to spread of Ellis, with an Indian news site even covering the 'story', but was eventually deemed false by the Suns and reporters. But it goes to show that once a rumour starts on social media it can spread like wildfire.
READ MORE: Suns condemn "vicious" online player rumour
As aforementioned, its not all doom and gloom, social media does have its perks for sports stars...
Connection to fans
The biggest positive to come from social media is the better connection between sports stars and their fans.
People can follow their favourite players on Instagram, Twitter and now even TikTok, to get a better understanding of what they're like outside of sport.
This gives athletes the perfect opportunity to be role models, especially to younger fans, and use this reach to promote positivity.
Social media has a massive influencer following, people follow non-traditional celebrities and are highly influenced by them, the same can be applied to AFL players.
While soccer players like Cristiano Ronaldo and NBA players like Lebron James have more of a celebrity status, AFL players are more down to earth, but social media allows them to be influencers.
Connection with fans is also displayed when players promote projects that fans can get involved with. Be it charity, local businesses or video game streaming.
The latter is one that works hand-in-hand with social media.
RELATED: Esports and how the AFL can do more
Take Brisbane Lions' Mitch Robinson for example. He shares his Twitch streaming to socials and even does Vlogging (video blogging). He posts his longwinded videos of his day, including training, on his YouTube channel and promotes them through social media.
Doing a Puma order right now.

RT and comment I ❤️ RobVlogs

I'll choose a random person and gift a pair of shoes tonight! Good-luck. pic.twitter.com/xlcyPBLG1O

— Mitch Robinson (@MitchRobinson05) May 17, 2022
Players are just one mention away on social media as well. Earlier this year, a woman shared to Twitter that her son's favourite player is Jamie Elliott.
The Magpies forward saw this and gifted her son some footy boots.
What size is he? 😁

— Jamie Elliott (@elliott_jw) March 9, 2022
Love this

— Jamie Elliott (@elliott_jw) May 14, 2022
Social platform 
Social media can act as a platform for athletes to share their voice and story, with this becoming prevalent with young athletes of Generation Z using it as such.
This doesn't mean older generations can't, its open for the taking, it's just with better understanding of social media, it's a massive opportunity that AFL players could use if that is a future they see.
Last year, young athletes arrived as big players for social causes, mental health and global wellbeing, going beyond their sport in advocacy.
Letting their voices be heard, and using social media as the main tool.
Two names that come to mind are tennis player Naomi Osaka and gymnast Simone Biles.
Osaka has been able to use her social media to highlight issues around race, while Biles has used it to stop the US government from turning its back on sexual assault and harassment allegations against coaches and staff.
They've done this while also competing at a high level, so their mental health would definitely take a toll.
We saw this when Osaka withdrew from the French Open due to mental health reasons, using social media as her platform.
Perhaps using social media in advocating for issues while still competing in professional sport might not be ideal given the mental issues that could arise, but maybe it is something athletes could look at doing after retiring from their sport.
Once again, social media plays a massive role in our life, and that is also the case for sports stars.
It has much of a negative impact, perhaps more than positive, but it still has its benefits.