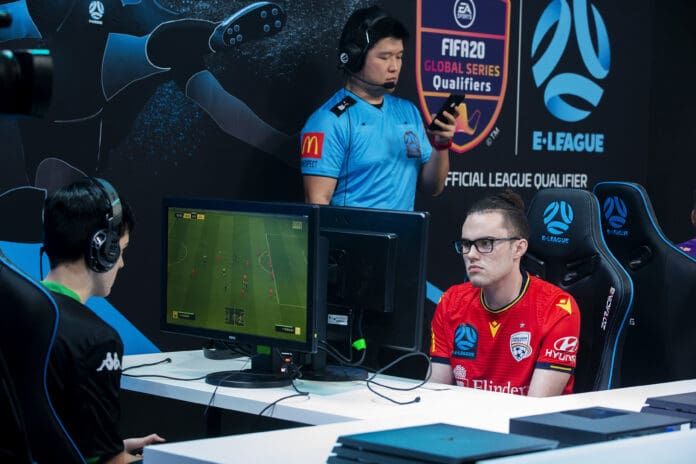 Back in 2016, Aussie Rules Football began its venture into the world of esports, when the Adelaide Crows sat down to find new potential ways to generate revenue.
Discussions surrounding Esports surfaced, and that led to Nigel Smart, former Crows star and then chief operating officer, to begin his research.
For those who haven't heard of esports, it is professional and competitive video gaming.
Smart was instrumental in Adelaide's endeavour in esports, and in 2017, the Crows purchased professional esports team, Legacy.
Well hot damn! Earlier this year the Adelaide Crows AFL club brought, Legacy Esports. Today they will build centre exclusively for esports. pic.twitter.com/obHwaAEt5c

— GameFed (@GameFedOfficial) November 10, 2017
In that same year, the AFL advanced into the world of esports, announcing that Etihad (now Marvel) Stadium would host esports events, and a partnership with Riot Games, developer of popular video game League of Legends.
The following year, Essendon would also purchase an esports team, and rename them the Bombers.
In 2019, the GWS Giants partnered with the High School Esports League (HSEL), a community partnership with the objective of educating, promoting and raising awareness of gaming and esports in New South Wales high schools.
Since then, nothing much has happened with footy and esports to push it further.
Instead, you could say, football's involvement with esports, has done a complete U-turn.
Last year, Essendon ended their involvement in esports, despite the team achieving some success in the Oceanic Pro League (OPL), winning Split 1 of the 2019 season.
Adelaide, the team that started it all, revealed earlier this year that they are reviewing their non-football investments, including Legacy.
Legacy won last years OPL title, but that hasn't stopped the club from reviewing their external finances.
The rebuild worked: Adelaide Crows' esports team Legacy wins flag - Fox Sports - eSports For Us https://t.co/cdPQyuW2be #esports #gaming #gamers pic.twitter.com/XIkqlE1YhC

— esportsforus (@esportsforus) April 26, 2020
The club cited focusing on football and the post-pandemic world making it harder to invest in other areas.
Adelaide have received backlash from some over the venture to esports, rather than focussing on football.
In 2017, the Crows won the minor premiership, but lost to Richmond in the Grand Final. Some say the money that went into esports, should have stayed in football.
Speaking to InDaily after his departure from the Crows last year, Smart defended the choice.
"It is very complex," Smart said.
"And it is interesting to compare us with the Richmond Football Club as we were in similar places leading up to the 2017 AFL grand final.
"We went to eSports, Richmond went into leisure centres.
Investing in alternative revenue streams, generated $2 million for the Crows in 2019.
"We are challenged on (the supposed distraction of) eSports; no-one questions Richmond because they have won three flags from 2017," he said.
Adelaide chairman John Olsen spoke to InDaily earlier this year, sharing why the club is reviewing its investments.
"Post-COVID, the landscape has changed – and changed substantially," he said.
Olsen added that activities such as esports and baseball (another investment which they are now looking to sell) need to be reconsidered in the new environment.
"The point I would make is the time you spend on looking after 'non-core' functions is time that you're not committed to the core function," Olsen said.
"And the core function, and priority of the football club, is 'football first'… and playing in finals in both the men's and women's competition."
Zero Hanger spoke with Sean Callanan, founder of Sports Geek, a sports digital agency who work with a number of clients in the NBA, AFL, NRL and in Cricket.
Callanan is also an esports advocate and is the owner of Gravitas, who play in the League of Legends Circuit Oceania (LCO).
Callanan told Zero Hanger that sports teams dipping their feet in stuff outside of their single sport is a strong strategy, crediting Real Madrid and Barcelona, as two teams who have done so.
However, he does share that COVID has indeed thrown a wrench into the external finances of clubs.
"Obviously, COVID has caused slashing of budgets, which is why a lot of businesses are cutting out things that they might have previously tried," he said.
"So I think once things sort of bounce back, I think more sports will be looking at how do they diversify their offering, how do they help their sponsors reach new markets? How do they talk to new fans?"
With Adelaide reconsidering ownership of Legacy, Callanan says there has been plenty of upside with the investment.
"One of the upsides for the Adelaide Crows, their team Legacy won the OPL and went to World Championships in Shanghai."
"They actually had more people watching the Legacy game in Shanghai last year, than say  their counterparts at Port Adelaide having a [footy] game in China."
While there is clear reasons to keep their esports team, Adelaide look likely to focus on footy for the time being, but Callanan does suggest that in this environment taking the long term approach to esports, is probably best.
One aspect of footy's relationship with esports, and gaming in general, that many consider to be a weak point is the lack of a suitable game.
Aussie rules has had many video games over the years, the first dating back to 1989 and the most recent, AFL Evolution 2, coming out last year. However, the more recent games have been met with negative or mixed reactions.
Australia doesn't have major video game developers like other countries, and they aren't funded as substantially. It also doesn't help that Aussie Rules is a hard sport to replicate in a video game.
Callanan says footy being a domestic sport prevents it from being an esports game.
"[Games] become esports when lots of people are playing them, so until lots and lots of people playing an AFL based game, then there's no chance of it becoming an esport," he said.
"There's lots of developers out there that try to build the next best esport. But it pretty much starts with, you need a lot of people playing.
"Again, it comes down to our population. Aussie rules is a native game, seven million Australians follow it, so only only a portion of them, probably four or five million of them are playing games, but they're probably not playing an AFL game."
A number of other sports like soccer and basketball have more acclaimed games, such as the FIFA and 2K series, which translate well to esports to an extent.
The A-League has an E-League, but in video game format is played on the latest FIFA game.
So there is potential there for AFL to have its own video game league, if it's game counterpart stacks up.
One thing sports teams and leagues have done is purchase esports teams or host events, where the video game doesn't relate to sport.
Like Legacy and Gravitas, who compete in the game League of Legends.
"As for the AFL and the NRL or other more traditional sports getting involved, that's really up to them," Callanan told Zero Hanger.
"You know, we've seen tennis hold Fortnite tournaments at the Australian Open, we've seen the NFL have a look at different esports... they don't really have a game title that translates well into an esport.
"So they have to look at other other titles and see where they where that fits."
This is why footy clubs and AFL will look outside the sport.
NBA has an NBA 2K League but teams have also looked away from the sport when it comes to esports.
Callanan says while the 2K League has a decent audience, there is a big market in other video games.
"It's the same reason why NBA teams are looking outside their own games... they also see that there's more opportunity in [for example], the Golden State Warriors having a League of Legends team, because there's more people playing League of Legends," he added.
"So it's moving outside your sport, in the same way AFL clubs are now. Some of them have netball clubs... baseball clubs. It's sort of like looking at esport and looking at different titles and seeing how they match and fit with your both brand and fan base."
The Bombers esports team once appeared on AFL programming on Channel Seven back in 2018, where commentator Brian Taylor (BT) looked to shed a poor light on the event.
The commentators' bemusement at esports and the team demonstrated an old school media or traditional sport vs a new medium.
As @essendonfc announce their exit from eSports today, it's the perfect opportunity to throwback to BT's amusing commentary on the "gadget type operators" and "computer type boffins" involved. Bombers statement here: https://t.co/w3qeQatk9b #esports #afl #gadgettypeoperators pic.twitter.com/PWy2CkpHeH

— Trishan Naidoo (@trishannai) December 2, 2019
When asked about this notion, Callanan had the following to say.
"I guess there's a lot of people who don't understand gaming and esports and aren't in touch with what younger people are doing, and people like BT are those people," he said.
"He's gonna go to that place, but what people in the know understand is, that if these sports don't make some connection with this younger audience, then they won't have an audience in 10 or 15 years time.
Esports has grown and is still growing exponentially. In 2011 a world championship event was held in a hall with 700 people. Today (prior to pandemic) events are held in stadiums world wide.
"Esports has been around for 10 years, and 300 million people will watch the world championships, so what would it look like in another 20 years time when the people who are playing the games, the 16 to 20 year olds now... are they going to want to watch their favourite esports team on Twitch? Or are they going to watch Channel Seven or Channel Nine and watch traditional sports?" Callanan asks.
Sports clubs will want to stay connected with their fanbase says Callanan, and the opportunities are there.
The AFL Gamers Network is a gaming channel on YouTube and across all socials, where several current and former players stream themselves playing game. This became a norm last year in lockdown, but this is a new medium.
This is a potential strategy for sports teams and clubs to reach their fanbase like never before and even reach new people.
"We're seeing a lot of AFL athletes playing games and starting to stream and those kind of things," said Callanan.
"So I think there's more than just esports but I think the world of gaming is going to open up and be an opportunity for AFL, NRL clubs and cricket, and the like."
Want to know more about Sports Geek or the League of Legends Circuit Oceania (LCO)?
You can also follow the Sports Geek podcast.
LCO, games are free to watch.