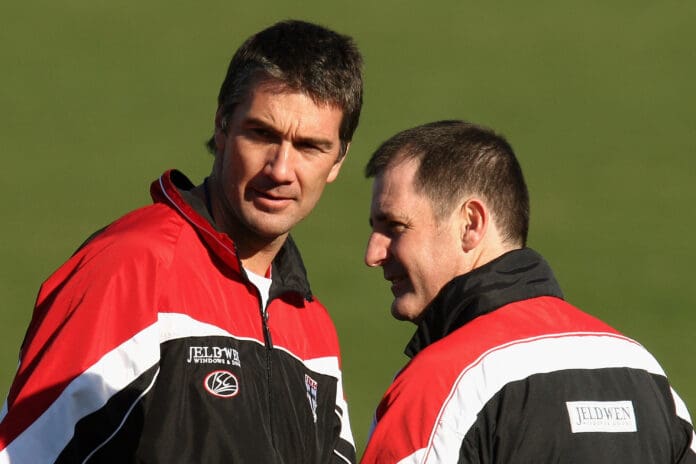 Stephen Silvagni has answered St Kilda's SOS, making his return to Moorabbin as the Saints' List Manager.
The Full-Back of the Century had previously called Linton Street home, working alongside head coach Ross Lyon as an assistant during the club's golden run between 2007 and 2010.
Silvagni's return was made possible following former list boss James Gallagher's resignation in December, with the former Crow citing a desire to spend more time with family in South Australia.
Since his departure, Silvagni has held list management roles with both GWS and his beloved Blues, bringing an array of blue-chip talents onto each club's roster.
The five-time All-Australian will be joined in the Saints' war room by Graeme 'Gubby' Allan, who was elevated to St Kilda's Head of Talent and Acquisition on Friday.
Both Silvagni and Allan are familiar with one another, having worked in tandem to help build the Giants during the club's fledgling days in the league.
The noted rostering architects are set to lead St Kilda's overall list strategy with the help of Recruiting Manager, Chris Toce, and former Hawk-turned-Recruiting Assistant, Jarryd Roughead.
Speaking on Friday, St Kilda CEO Simon Lethlean claimed he was wrapped with the club's latest acquisitions, stating that each would play vital roles in enacting St Kilda's blueprints for long-term contention.
"It is an exciting time for the club to have two highly experienced football administrators come together to support the program," Lethlean told Saints Media.
"Given Graeme's existing advisory role, his appointment to our Head of Talent and Acquisition ensures a smooth transition, while Stephen adds another layer of experience to the program.
"Given the pair's working history, I am certain they will be a great asset to the program, working closely with Chris Toce and Jarryd Roughead to continue to evolve the men's list profile.
"St Kilda has seen significant change to its playing list over the past four years, and to ensure the program has every opportunity to succeed now and into the future, we need to continue to invest in our recruitment strategy with a focus on bringing in more elite talent, whether that be through trade or draft.
"We look forward to welcoming the pair into their respective roles in mid-February."
While the fruit of Silvagni and Allan's work won't be seen until at least the Mid-Season Draft, the pair are set to get to work on February 15.
St Kilda will start their 150th season when Lyon's charges face off against his old side Fremantle at Marvel Stadium on Sunday, March 19.