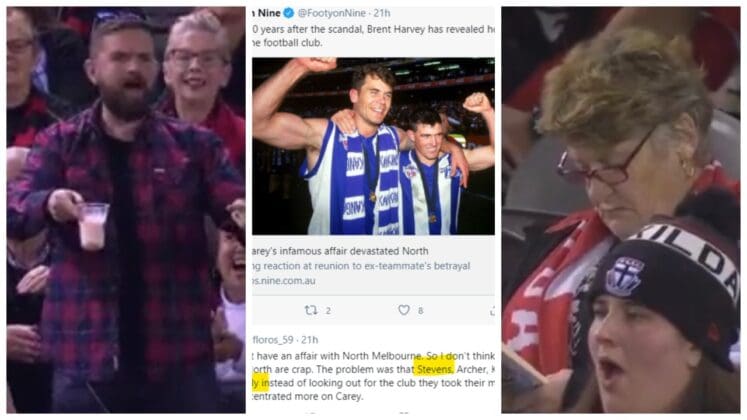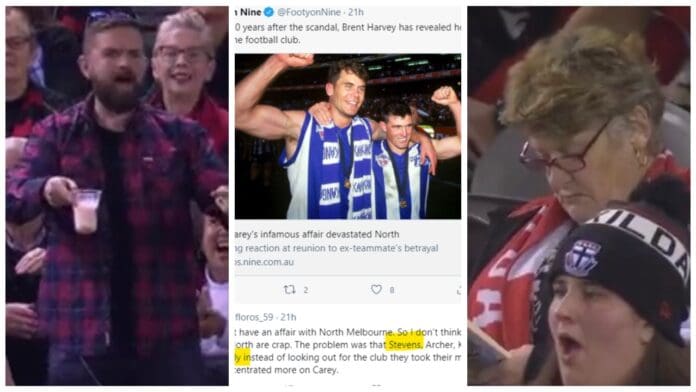 It's been a BIG WEEK IN FOOTBALL, or so they say. But what exactly have they been saying this week?
What have the Pies been training?
Collingwood coach Nathan Buckley revealed during his press conference this week that the Pies will be adding in a skills-focused session each week in the hope to fix up the consistent mistakes made on-field.
Uhhh....
You're kidding.

So what the eff have we been doing in the other three sessions during the week? Ffs 🤦‍♀️ https://t.co/D4LTX6YX2y

— Paige Cardona (@paigecardona) May 28, 2021
Focus on footy please
On a recent podcast, Brent Harvey has revealed just how much the infamous 'Wayne Carey scandal' from 20 years ago affected his North Melbourne Football Club.
The responses were exactly what you'd expect.
"The problem was that Stevens took it personally" pic.twitter.com/OtuUh4DAtZ

— n 1 c k (@nicksplitter) May 26, 2021
How do we feel about Holman?
After initially being reported for two weeks for a dangerous tackle on Geelong's Mitch Duncan, the AFL's MRO opted to throw out the charge in what was a big win for the game and its fans.
Most fans chose to commend the common sense approach, while others chose to look at the inconsistency.
See, now we don't know whether to be happy that it was overturned or angry that he was suspended in the first place.

— Ron I Am (@4NonRons) May 25, 2021
Lachie Plowman's suspension officially official
After losing their appeal earlier in the week to have Lachie Plowman's controversial rough conduct suspension thrown out, Carlton took to the AFL appeals board in a last ditch attempt to overturn the decision.
After a marathon sitting, it was determined that the suspension would indeed be officially upheld.
Some fans definitely didn't hold back in their thoughts on the decision.
AFL in 2022 pic.twitter.com/ZRn0UR56ik

— Daniel Edwards (@Daniel_0124) May 27, 2021
St Kilda "swing the axe"
After Saints coach Brett Ratten threatened big changes coming for their clash against the bottom of the table Kangaroos, the club responded in a way that wouldn't signal the same intent, omitting the big names of... Jack Bytel and Jack Lonie.
And the Saints fans weren't much pleased about it.
Live scenes of @stkildafc swinging the axe https://t.co/57Nu9NXzGD pic.twitter.com/g1oJuqaqvh

— Sir Cheesingtonz (@jakenotaro) May 27, 2021
Simply too much for some
While we're on the Saints, they were absolutely were slaughtered to approximately A TON OF POINTS by the Western Bulldogs last Saturday night, and for some fans, it appears there were more interesting things to focus on, but not sure there could have been a much more cutting response than this one, from The Front Bar and comedian Sam Pang.
"She definitely wasn't reading St Kilda'a Big Book of Premierships" - @MrSamPang #TheFrontBar pic.twitter.com/LrIvDpnXvd

— The Front Bar (@thefrontbar7) May 27, 2021
Ben's Bombers' Beer Bungle
Essendon convincingly beat North Melbourne by 72-points in round 10, but this Bomber fan is probably still not happy.
After chasing a ball destined for out of bounds, The 'Roos Ben McKay couldn't save it in time and headed over the railing, knocking over an Essendon fans beer in the process.
The MRO might look at the intent in this one.
9 bucks for a beer, I'd be filthy too #AFLDonsNorth #AFL https://t.co/hYIIbrltfE

— Ryan Long (@ryanlong1297) May 23, 2021
Apparently the beer "was pretty warm anyway."
.@BenMcKay_23 sent in a message after spilling a fan's beer 😂#TheFrontBar pic.twitter.com/HY4dyWaZdU

— 7AFL (@7AFL) May 27, 2021
Speaking of "intent" ...
After the umpire initially didn't deem anything wrong with Nick Murray's handball to the boundary line late in Adelaide's tight one-point upset win over the undefeated Demons, the AFL - as they do - conducted a further look into the decision and found that the call should have been a deliberate out of bounds, resulting in a Melbourne free-kick to potentially win the game.
Cue *total shock* from the fans on social media.
— Gil McLachlan CEO (@NOTGilMclachlan) May 24, 2021
Wonder what we're going to see next week?