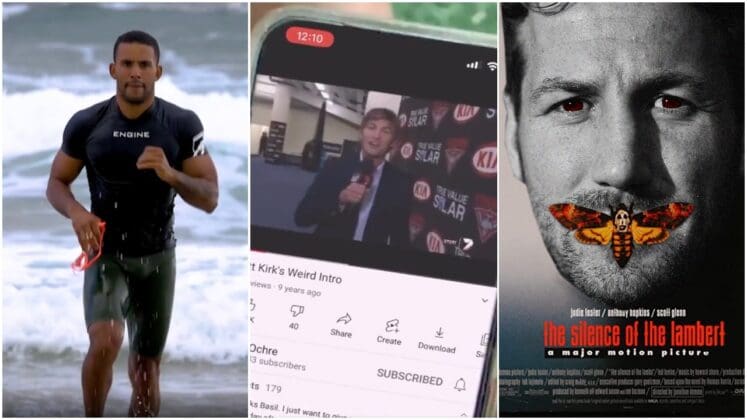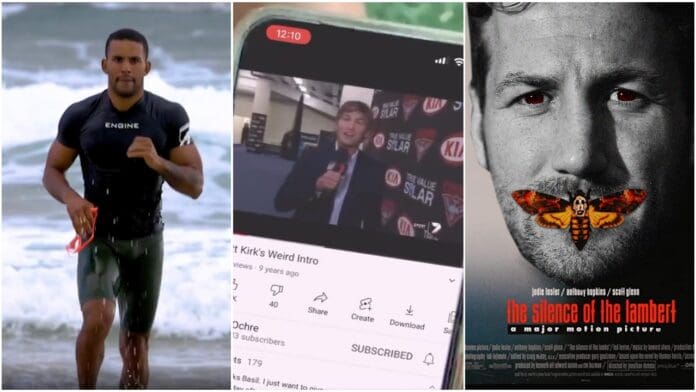 It's that time again to take a lighter look into yet another big week of AFL.
Here's what's happened this week.
Happy Halloween Footy Fans 🎃 👻 
To celebrate the spooky season Richmond and Hawthorn Football club have shared some halloween edits to the footy socials.
Richmond posted their favourite Halloween films to Twitter and Instagram with their own personal touch to the characters starring in these Halloween thrillers. The films include Edward Scissor Hands, The Silence of the Lambs, A Nightmare on Elm Street and I know what you did last Summer.
However fans believe the club may have missed a few notables, scroll below to see what they suggested!
You missed a few:
Nankenstein
Baltageist
Jackula
Dusty the Vampire Slayer

— Mark Stewart (@tonka52) October 31, 2021
The Hawks created this clever graphic for Halloween that fans responded positively to on Twitter.
Good job guys pic.twitter.com/UEG6eyX6dp

— Sharron Cincotta (@Dalyston1) October 31, 2021
Nathan Vardy's  New Premiership Ink 
Inspired by the scanning of QR codes, former West Coast player Nathan Vardy has crafted a QR code tattoo on his foot that links to Dom Sheed's 'iconic goal' in the 2018 West Coast Eagles premiership Grand Final.
Nathan Vardy got a QR code of Dom Sheed's iconic goal tattooed on his foot 🤣🤣 pic.twitter.com/3nsy5XaArD

— 7AFL (@7AFL) October 31, 2021
Take a look at what fans had to say on Twitter about Vardy's new tattoo 👀
Nathan Vardy's tattoo won't be so great when it links to a page that says 'This video is no longer available due to a copyright claim'

— Matt (@berihebi) November 2, 2021
Nathan Vardy comes through with the single greatest tattoo in human history.https://t.co/xnXood1lu7

— BigFooty Eagles Podcast (@WCEBFPod) October 30, 2021
Some fans adapted the video with other memorable AFL moments, check out this version where the tattoo on Vardy's foot links to Brett Kirk's famous footy introduction 😂
Glad to see Nathan Vardy got a tattoo to help us all engage with our minds and our hearts pic.twitter.com/8Crjf6Z5Jo

— Ethan (@ethanmeldrum_) November 1, 2021
Shane Mumford Retires 
GWS star Shane Mumford has retired after ten years of AFL footy. Haling from Bunyip, Mumford began his career as a mature-aged rookie who was picked up by Geelong and debuted at senior level in 2008.
He shared the news to his Instagram and said he looks forward to "cheering them [Mumford's teammates] on from the coaches box" as well as thanking the Cats for giving "a fat kid a chance."
Fans have paid tribute to Mumford on social media, check out this hilarious tweet by Heath Shaw of Mumford on Christmas day!
Shane Mumford retires the only AFL player to eat 20+ sausages in a sitting, play 11 years as a ruckman without winning a hitout and finally be the only person on Christmas Day not happy👇🏻@GWSGIANTS pic.twitter.com/XBV764s0Lx

— Heath Shaw (@LordHeathShaw23) October 29, 2021
Mumford also shared a collage of highlights from his footy career on his Instagram page.
And even Hollywood A-listers are a fan of 'The Mummy.' 😂
Check out what Tom Cruise had to say about Shane Mumford as a Mummy.
I love you too😘 @TomCruise https://t.co/lCp6mr9fq0

— Shane Mumford (@Mummy_41) June 4, 2017
Mumford described himself as a sausage eating king in his Instagram post and fans paid tribute to the legend by sharing pictures of sausages on social media. #putyoursnagsout
Congrats on the career @Mummy_41 #Putoutyoursausages @GWSGIANTS pic.twitter.com/DBa50LQhJL

— Liam Flanagan (@ljflannas) October 20, 2017
Everyone is missing the footy 🙁
Without the footy to follow each week many AFL fanatics have the summertime sadness... who else feels like this guy below? ✋
Collingwood celebrates the festival of Diwali!
Collingwood celebrated Diwali with Sundar Lyer from the Hindu Council of Australia. Lyer spent the day with players, educating them on the history of the celebration as well as sharing traditional food.
Suns hit the coast for a different kind of cross-training... perhaps the secret ingredient for a potential premiership 🤔 
Two days ago the Gold Coast Suns accompanied athletes from the  Surfers Paradise Surf Club for a group training session on the beach. The Suns along with three-time Nutri-Grain Ironman Champion Ali Day hit the sand to ramp up the off-season training.
After the training session, Sun's mid-fielder, Touk Miller told the Gold Coast Suns that he has a "whole new appreciation" for what surf lifesavers do in training.