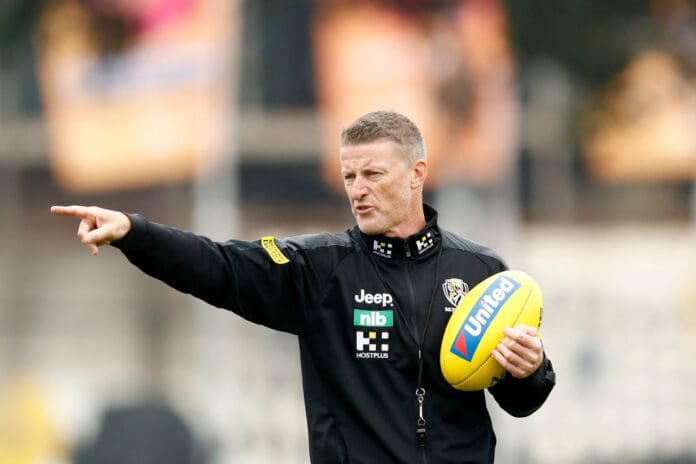 Richmond's past five years have seen a rise of epic proportions.
The benchmark of the competition have managed to win three premierships in the space of four years, with their revolutionary style of play a key point of difference in helping them achieve what can be considered as one of the most dominant runs in the modern era.
A shock 2018 preliminary final loss to Collingwood has ultimately been the only slip-up - and the only thing that stopped four-straight premierships - in what has been one of the most dominant four-year periods in recent memory.
SEE ALSO: If AFL players were Olympic athletes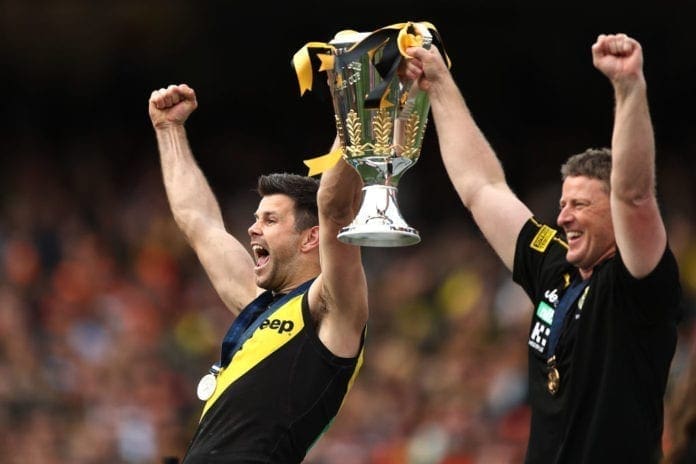 But flash forward to 2021, after winning what could be argued as their most memorable premiership in a COVID-affected 2020 season, those "slip-ups" are becoming more and more frequent. And ultimately, more and more costly.
Currently sitting outside the eight after 19 rounds, the Tigers are at a crossroads. Their best football is good enough to beat some of the premiership fancies as we saw in Round 18 against the Brisbane Lions.
The Tigers were rampant, led by the 300-game hero Jack Riewoldt, who kicked six goals in his milestone game. The win over Brisbane is where we all thought the Tigers were back and ready to push for finals.
That has soon proven not to be the case, with yesterday's 38-point defeat at the hands of Geelong showcasing that their best has been few and far between.
Their run of disappointing post-bye losses to average sides looks to cost the reigning premiers an opportunity to participate come finals.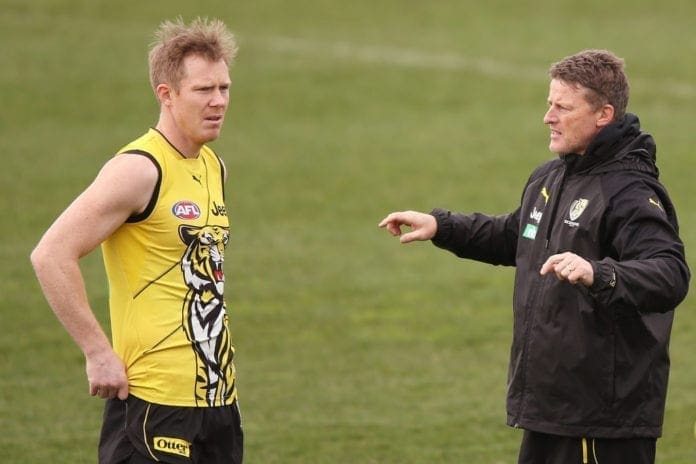 Richmond's unexpected drop off has caught many by surprise, with many analysts happy to write poor performances off by claiming the Tigers will come back to form as the champions usually do.
But with injuries to key players, Richmond find themselves sitting in a five horse race for eighth - half a game behind the Giants who currently occupy a finals spot.
The Tigers dynasty run looks to be all but over, so where does that leave Richmond for 2022?
A number of players are still yet to commit for 2022, with young superstar Shai Bolton among 19 Tigers who are still yet to sign. Age will also a factor for some, with of All-Australian defender Bachar Houli unsure of what his future looks like.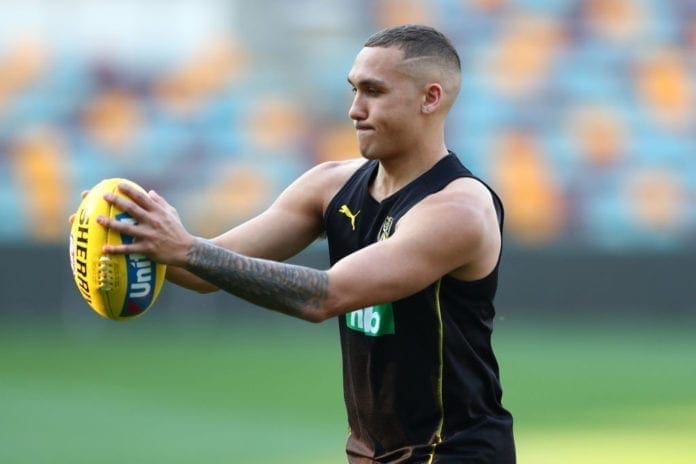 This all leads back to the coach Damien Hardwick.
'Dimma' has been at the club for over 10 years. After a rocky start saw him face a near encounter with the chopping block early, the Tigers installed faith in his vision, leading to Hardwick installing a dynamic and rampant style of play that has led the Tigers to be one of the best in the modern era.
FEATURE: Young Swans following footsteps of drought-breaking Dogs
Now as they sit outside the eight, with finals a tough task to even partake in let alone run it up similar to their 2017 run, questions over Hardwick's future have been asked. Not on whether he is the right person for the job, but whether he should consider leaving on top before a potential ugly split in the future.
Discussing on Fox Footy's First Crack, North Melbourne champion David King brought up whether Damien Hardwick should move on from the 'Dymmasty' he built at Richmond.
"Can we have a philosophical discussion without trying to sack anyone." King said on Sunday night.
"Damien Hardwick has been this club for a dozen years and been fantastic, absolutely bought success to a club that's been nowhere for 30 years and it's been unbelievable what he's been able to do.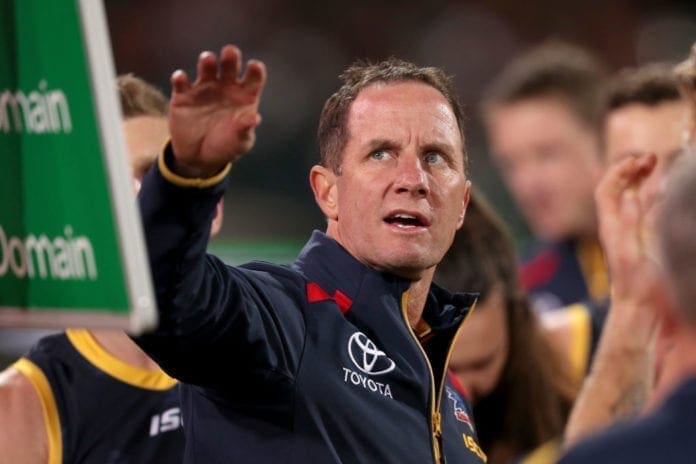 "But I thought the same thing about Don Pyke when he was at Adelaide Crows taking them to a grand final, a couple of years later he's gone. Nathan Buckley, they go to a grand final and a couple years later he's gone. Alastair Clarkson right now after four premierships with one club.
"I wonder whether Damien Hardwick sits back and says, 'Do I want to be in that situation, or do I make the decision that I've done enough with this group? I've been fantastic for the club, and they've been great for me', but there's a bit of tension around...
"Is it the time now for us to be mature as a fan base, to say 'Okay, why can't he go and coach somewhere else for another 10 years and reset, get the juices flowing again and have a fresh start, go again at a Carlton or Collingwood or wherever?' Clubs would come from everywhere to get hold of Damien Hardwick."
A similar model is also seen in American sports, with a coaching merry-go-round just an element of the NBA. Current NBA champions the Milwaukee Bucks signed coach Mike Budenholzer starting his career as an assistant to Gregg Popovich, leading him to a head coaching role at the Atlanta Hawks in which he led them to the number one seed in the East. He then later moved on before the downfall of the Hawks to join the Bucks and lead them to a championship during the 2021 season.
Hardwick, who seems to be at a similar stage of his coaching reign at Richmond, might consider looking into moving on to another club on the way up as a fresh start.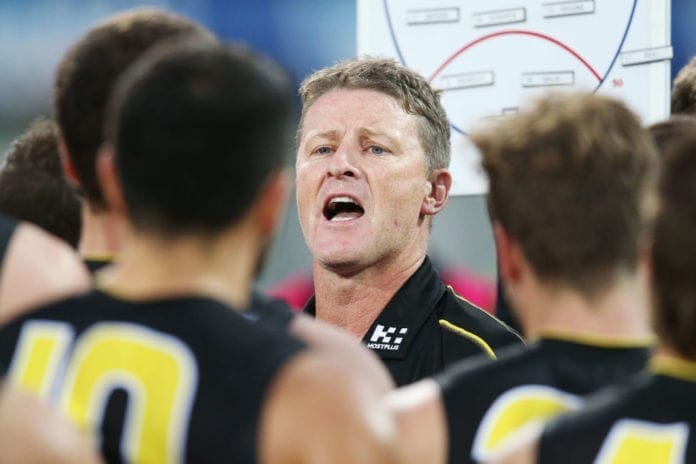 "What happens if in 20 years time we look back and say he coached five times and won eight flags and was fantastic?", King further said.
"I think that that's a realistic and viable option for Damien if he wanted to do that, and I think we can handle that."
Co-panellist Leigh Montagna agreed with the theory behind the suggestion but wasn't sure the AFL community were able to swallow the idea.
"I don't think as an industry we're mature enough - we seem to align our coaches to clubs. I'm with you, you look at every other sport around the world and all the great coaches move around from club to club, they carry success with them," he said.
"It's got some merit, but I don't think it will happen. I think that the coaches and the fans we still have that tribal loyalty about us and we want to keep the coach at the same club, but I think it is something that we should be OK with."
MUST READ: Ruck the trend: How twin towers are shaping the season
Although Hardwick has three years left to run on his contract, it might still be worth exploring for the Tigers' premiership coach.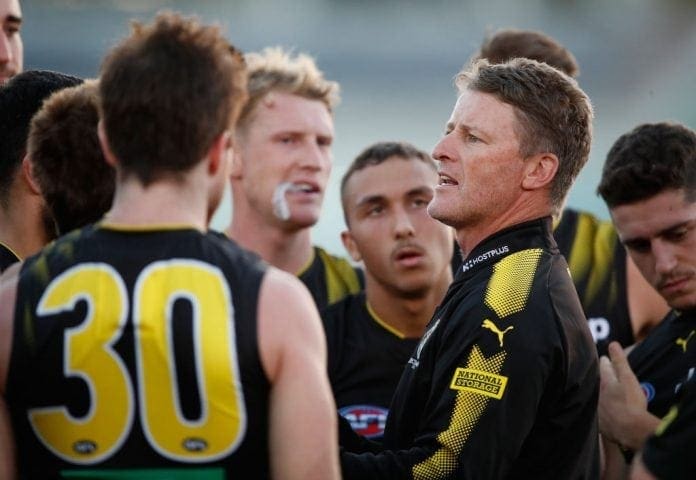 Despite an up-hill battle to reach finals, it's always hard to count the reigning champs out for the 2021 season. But with less and less opportunities to prove themselves in the home and away season, the Tigers look to be the first club to miss finals after winning a premiership since Hawthorn ('08-'09).
The Tigers look to bounce back from their disappointing loss to the Cats this Sunday against the Dockers in Perth.