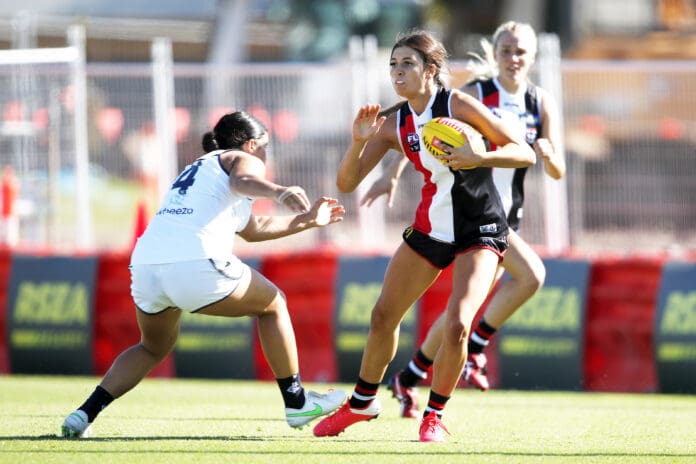 St Kilda's AFLW coach Nick Dal Santo will support his two-time best and fairest star Georgia Patrikios who revealed earlier this week that she is unvaccinated and has taken time away from the club to "continue to educate herself" before deciding whether to get the Jab.
Vaccination is compulsory for all AFL and AFLW players who wish to play in the competition and has recently seen players including Carlton's Liam Jones and Adelaide's Deni Vernhagen step away from the game.
Dal Santo said it is his responsibility "to educate, support and then at the right time challenge the behaviors and the actions" of his players.
"We're supporting all of them to the best of our ability. We're clearly working through it and maybe I'm a little bit naïve, but I'm still optimistic that Georgia gets to play football with us next year," he said on SEN. 
The 20-year old is a back-to-back St Kilda best and fairest winner and received All-Australian honours in 2021 selection.
Dal Santo continued by stating it is a "difficult situation", however, Patrikios is yet to be placed on the club's inactive list.
RELATED: Star Saint breaks silence on vaccination status
He said it was "disappointing that a superb player and a really good person at this stage isn't playing football at our club."
"Are we going to support her no matter what? Yeah, we will. She put out the statement yesterday with the support of the football club and we've supported Georgia and her family and a handful of her really close friends that play with her."
Still, the 260-game Saint held out hope that his champion midfielder would still have a role to play in the club's third campaign.
"We're clearly working through it and maybe I'm a little bit naive, but I'm still optimistic that Georgia gets to play football with us next year," Dal Santo offered optimistically.
Two-time best & fairest winner Georgia Patrikios releases statement ahead of AFLW season. pic.twitter.com/hnw9OvPjGN

— 7AFL (@7AFL) November 24, 2021
Georgia Patrikios released the statement on the St Kilda Football Club website.
She said she has "been taking some time away from the club to consider [her] options and dissect [her] own feelings about receiving the COVID-19 vaccine."
"At this time, I remain unvaccinated, however I'm committed to learning more, consulting with additional medical professionals and continuing to discuss this with my family before ultimately making a final decision, " she told saints.com.au on Tuesday.
"I recognize that my personal timeline does not align with the AFL mandate and as a result I am currently unable to complete my duties at the club.
"The Saints could not have been more supportive throughout this period, and I thank them all – from Board members, senior club leaders, my coach Nick Dal Santo to my teammates - for their support and patience."
St Kilda showed their support for the youngster with the club's CEO Matt Finnis releasing an adjoining comment.
He said St Kilda "respect Georgia's right to take her time in making this decision and she has our support while doing so" however said the  "Club also fully supports the vaccination requirements of the Victorian Government."
"The Club has opted to not place Georgia on the inactive list at this time, however we will obviously need to revisit this decision in coming weeks pending Georgia's position as the commencement of the AFLW season fast approaches," Finnis signed off.
Dal Santo and his side are set to commence their upcoming season in January of next year.
It is not yet known who the former Saint and Roo will go toe to toe with in Round 1 as the 2022 AFLW fixture is yet to have been released.