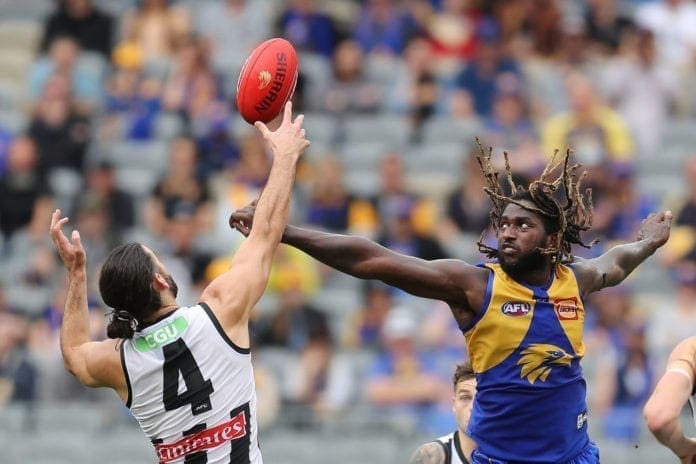 The resurgence of the ruckman in modern-day football has been remarkable. Every club wants that long-term figure who can not only win hit-outs but also become an extra midfielder once the ball hits the ground.
For the last few years, ruckmen such as Nic Naitanui, Brodie Grundy and Max Gawn have become some of the most valuable players in the league over their smaller counterparts, becoming more than just a towering presence.
Ruck duos are vitally important to teams in this age, having two players who can successfully swap for each other at the centre bounces. Having a dynamic duo can separate teams from each other.
Every offseason contains a ruck merry-go-round where rucks trade places at different teams between each other, showing how valuable proven ruckmen are to teams around the league.
Much like our winger duos list, we have again ranked the ruck duos at each club based on ability and influence as well as statistics.
Most clubs have a clear ruck set-up, so their performance on the field in recent times will weigh heavily on each club's position on this list.
18. Geelong
Ruck Duo: Rhys Stanley and Mark Blicavs
In recent years, the Cats' ruck set-up has been the subject of much discussion in their hunt for another premiership.
Regular ruckman Rhys Stanley has been serviceable in his seven years as a Cat and his athletic ability has shown glimpses of being a weapon against other ruckmen in the league.
However, the 31-year-old has struggled with consistency and injury in his time at GMHBA Stadium, especially after promising performances.
Stanley has averaged 13.3 disposals and 21.3 hit outs in eight games this season and while his ability to get around the ground is extremely useful for the Cats, he has struggled to put together a string of performances.
At the beginning of the season, Chris Scott had athletic forward/ruckman Esava Ratugolea as the second ruck but after an ankle injury in Round 3 against Collingwood, the 23-year-old hasn't been able to appear in the side since meaning ultimate utility Mark Blicavs has been given the job to shoulder some of the ruck duties.
With Ceglar and Ratugolea out, Blicavs has had to make the shift from fullback to the middle and has done a good job when called upon.
Blicavs freak endurance means he can run almost any ruckman off the park and despite being 5-10 centimetres shorter than his opponents, the 31-year-old acts as another midfielder with his ferocity and clearance work.
Blicavs has averaged 16.6 disposals, five tackles, 4.5 marks and 3.3 clearances along with 15.4 hit outs while playing a variety of roles in recent weeks.
Look no further than Blicavs' performance against both GWS ruckmen Matt Flynn and Braydon Preuss to see how much of a weapon he could be this season at the centre bounce.
Still, it is the steeplechaser and the ex-Saint that are bringing up the rear of this list.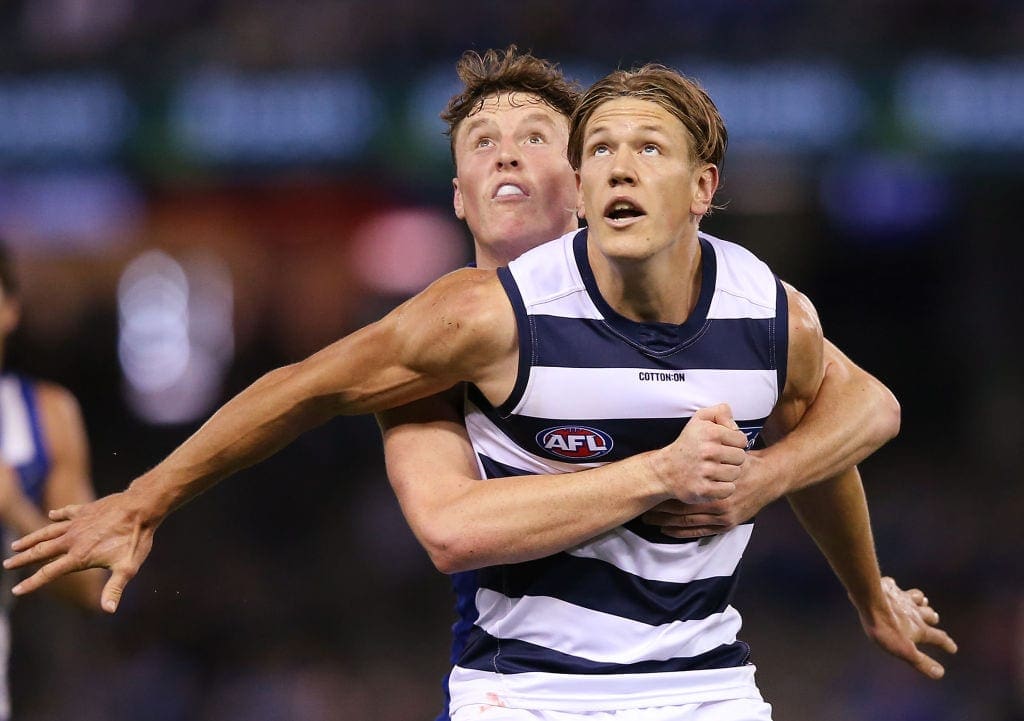 17. Essendon
Ruck Duo: Sam Draper and Andrew Phillips
The Essendon's 2022 hasn't quite gone to plan so far, with the Bombers opening the season with two wins from 10 games and sitting 16th on the ladder.
Sam Draper is their main ruckman this season, shouldering the load in just his third season and at 23-years-old, has shown the potential to develop into an intriguing ruckman in the future.
Draper has struggled with consistency this season despite showing glimpses through the middle and averages 9.4 disposals along with his 25 hit outs per game.
To help pinch-hit in the ruck, Essendon has gone with journeyman Andrew Phillips and youngster Nick Bryan, who both have played three games this season.
We've gone with Phillips purely based on experience here, with the 30-year-old averaging just 6.7 disposals and 14.3 hit outs in those games.
The lack of ruck power has definitely hurt the Bombers this season and will be hoping for consistency from Draper, Phillips and Bryan as the season goes on.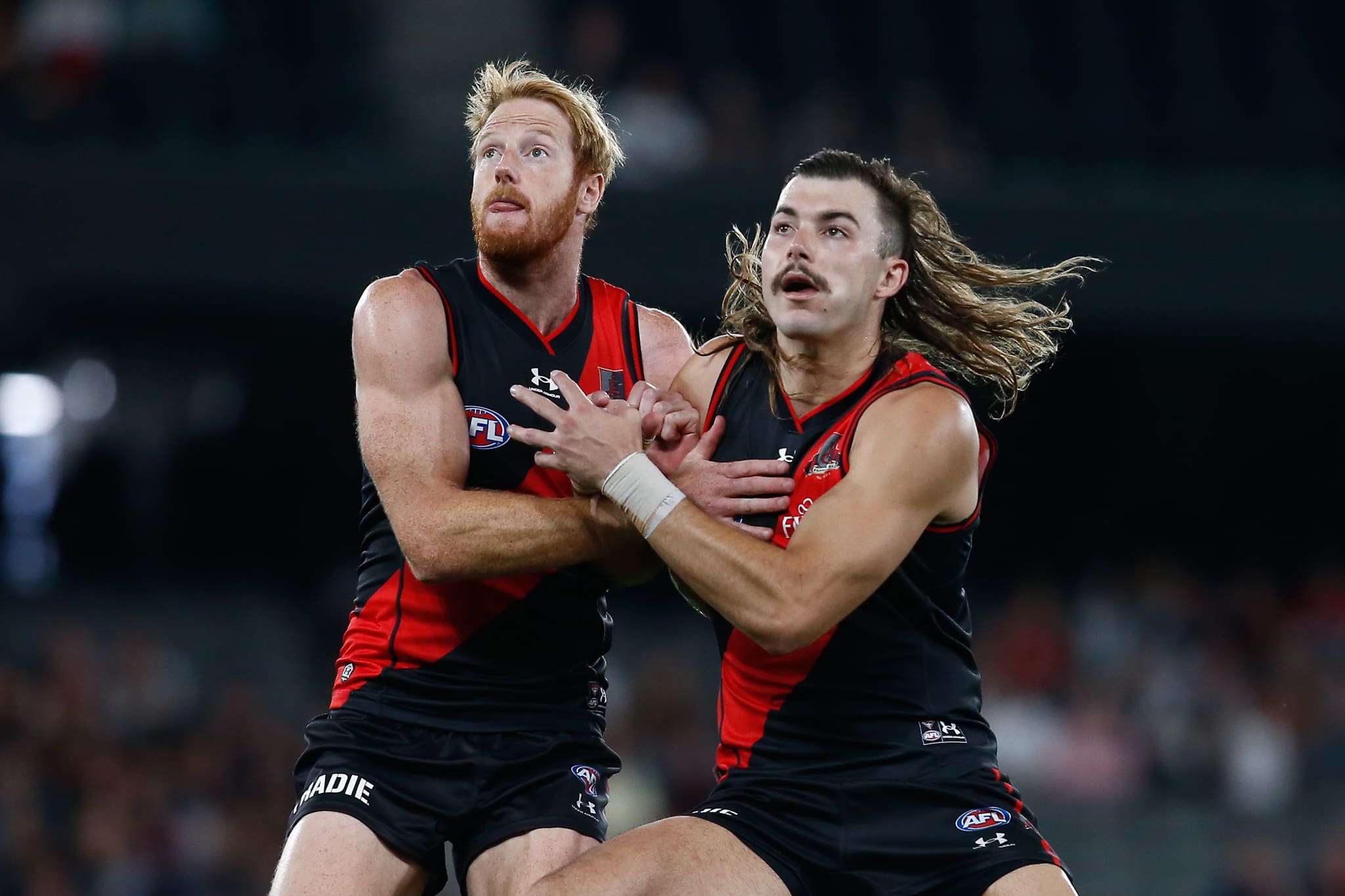 16. Hawthorn
Ruck Duo: Ned Reeves and Ben McEvoy
The Hawks have struggled to keep ruckmen healthy so far in 2022, with Ben McEvoy (neck fracture), Ned Reeves (shoulder) and now Max Lynch (concussion) all on the injury list at the moment.
This makes finding their best duo tricky but despite playing limited games, we've decided on Reeves and McEvoy as the best two ruckmen at Hawthorn, with Lynch snapping at their heels and pretty stiff to miss out.
Since his time at St Kilda, 32-year-old McEvoy has always been mentioned in the top bracket of ruckmen in the league and despite a switch to defence at Hawthorn in recent seasons, he played in the ruck in round two before his neck injury.
'Big Boy' racked up 14 disposals, 16 hit outs (11 to advantage), and four marks in a respectable shift while working in tandem with Reeves as the Hawks thumped Port Adelaide.
Reeves started the season as the Hawks' number one ruckman and played the opening five games of the season, with most of those being a solo ruckman.
The 23-year-old has averaged 22 hit outs along with 6.4 disposals and 2 marks per game. Despite his numbers looking average, his imposing 209cm figure made it hard for the opposition ruckmen.
Reeves looked set for a big day on Easter Monday against the Cats before suffering a dislocated shoulder which has kept him out since.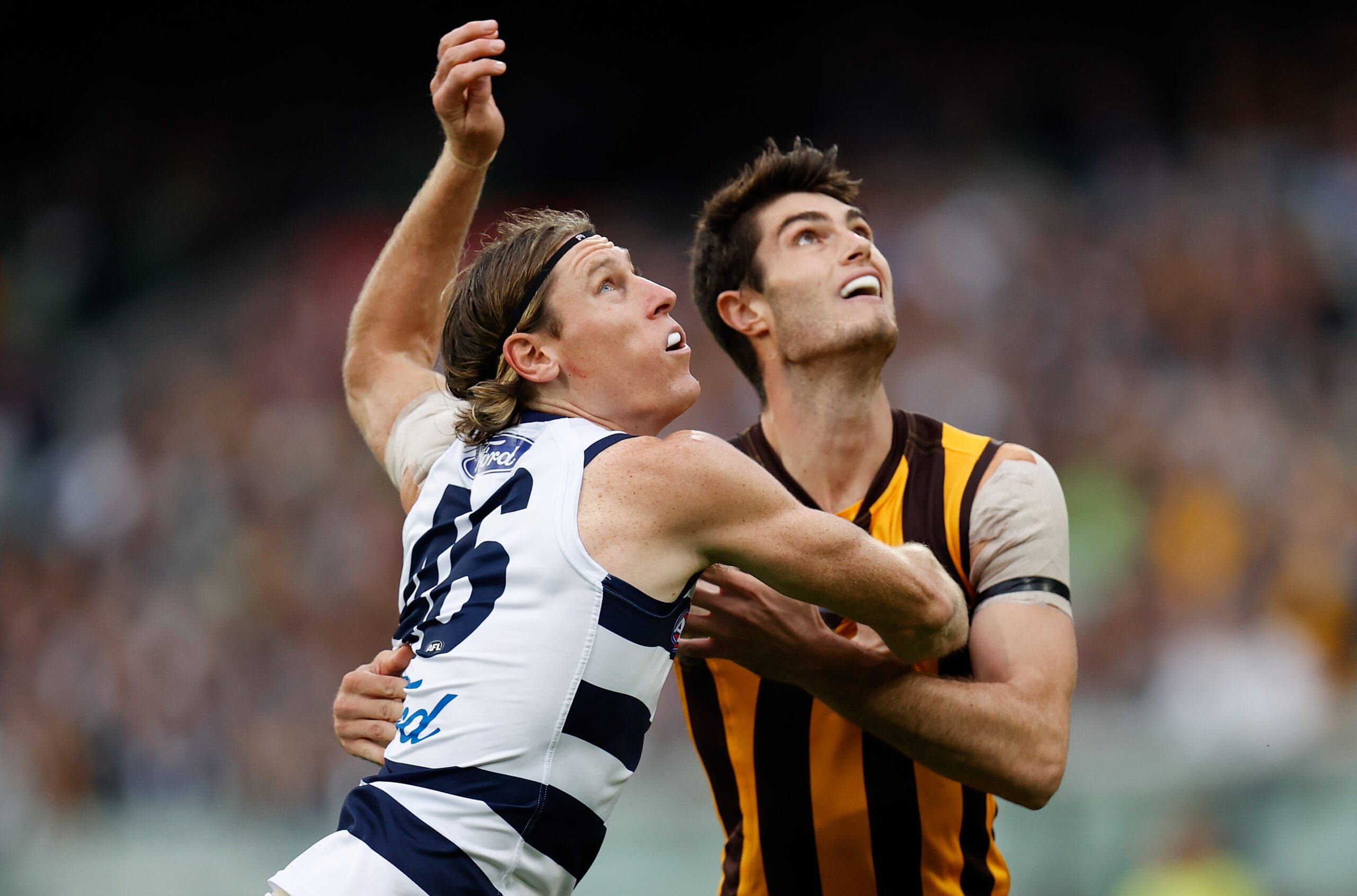 15. West Coast
Ruck Duo: Nic Naitanui and Bailey Williams
A season to forget so far for the Eagles, the constant rotation of their squad hasn't helped their form in 2022 and has affected their ruck stocks.
A premier ruckman himself, Nic Naitanui has played only three of the opening nine games for the Eagles this year meaning young ruck Bailey Williams has had to step up occasionally in his absence.
Nic Nat has averaged 13.3 disposals and 29.7 hit outs in his limited games this year, while Williams has averaged 8.5 disposals and 15.8 hit outs in his five games this season.
It may seem pretty harsh to have a player of Nic Nat's quality ranked so close to the bottom, but the unfortunate circumstances and limited game time see the Eagles come in this place.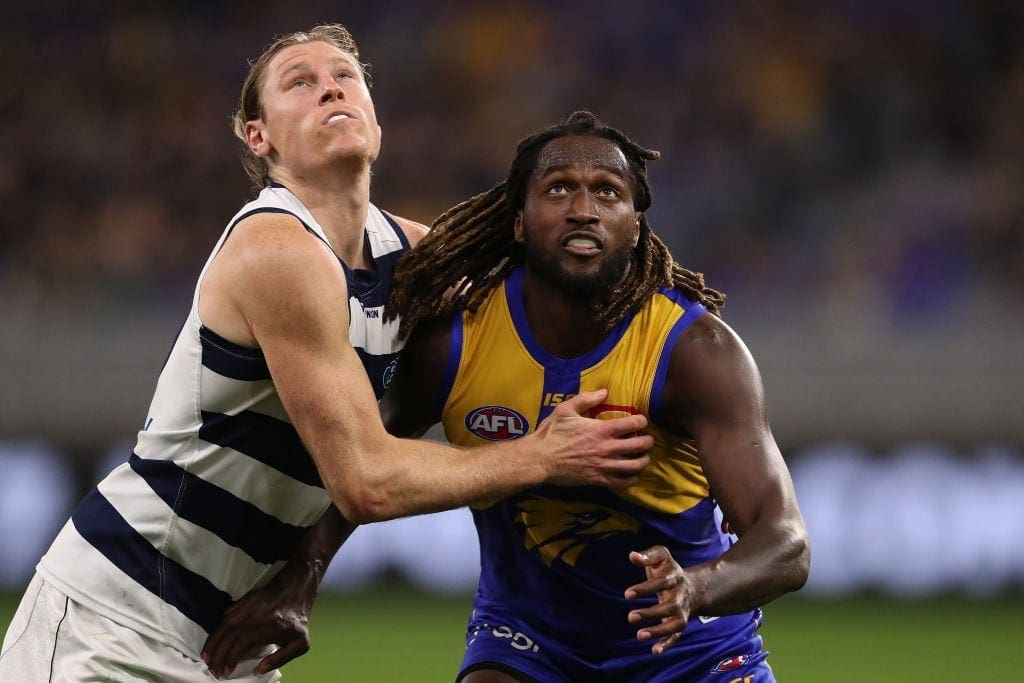 14. Port Adelaide
Ruck Duo: Scott Lycett and Sam Hayes
Another team with an emerging young ruckman due to the absence of their usual number one ruck, Port Adelaide would be excited by the performances of Sam Hayes in the ruck after Scott Lycett's shoulder injury, which is set to continue to keep him sidelined for another month or two.
Hayes, who is in his fifth season in the AFL, made his debut in Round 5 after Lycett's injury and has looked comfortable with the responsibility given to him.
The 22-year-old averages 30.7 hit outs a game, eight disposals, 2.7 clearances and just over a tackle and a mark per game in his six games this season.
In the opening four rounds, Lycett had averaged 14 disposals, 24 hit outs, 4.3 clearances and 2.8 marks per game before his injury.
They haven't worked in tandem yet, but their individual performances this season will give Port Adelaide confidence that they can rely on both or either for the number one ruck duties.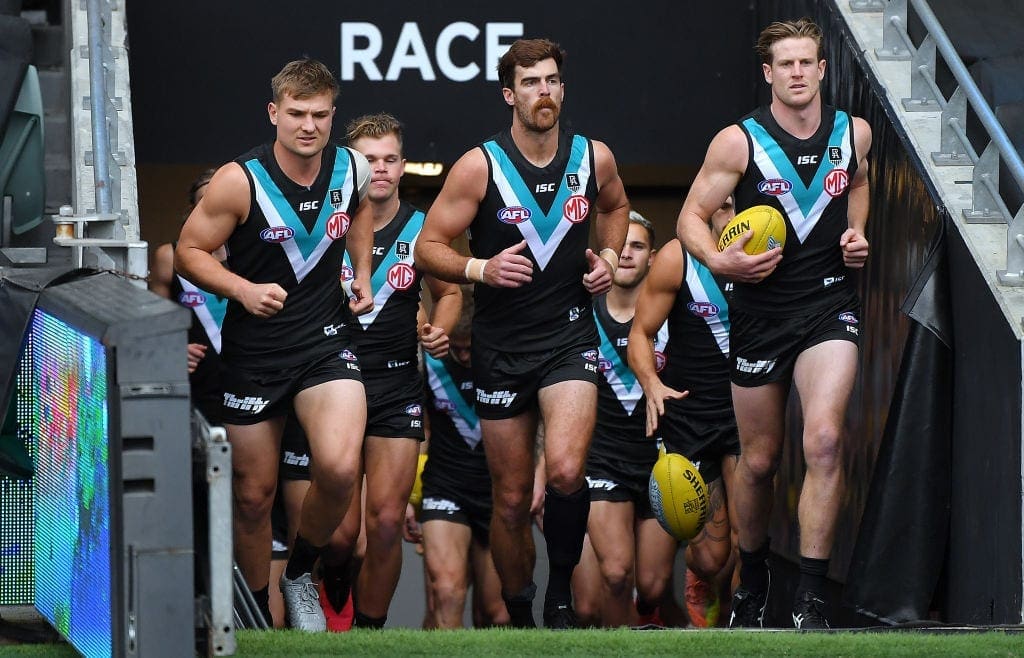 13. North Melbourne
Ruck Duo: Tristan Xerri and Todd Goldstein
Veteran ruckman Todd Goldstein has taken a back seat for most of the year in the ruck as North Melbourne looks to develop younger talents like Tristan Xerri and Callum Coleman-Jones in 2022 and beyond.
Once a premier ruckman of the competition, Goldstein's role has meant a drop in most statistics this season as he's averaged 12.1 disposals, 22.5 hit outs and 3.1 clearances.
23-year-old Xerri, who was on the brink of being traded to St Kilda in the off-season, has played seven of the Roos' opening 10 games.
Xerri has averaged 11.6 disposals, 21.4 hit outs and 3.1 tackles in his first year with big ruck minutes and will look to improve his performances now that he has returned to the side.
North's season has not started well at all but seeing growth in Xerri could provide some positivity for fans as Goldstein looks set to depart at season's end.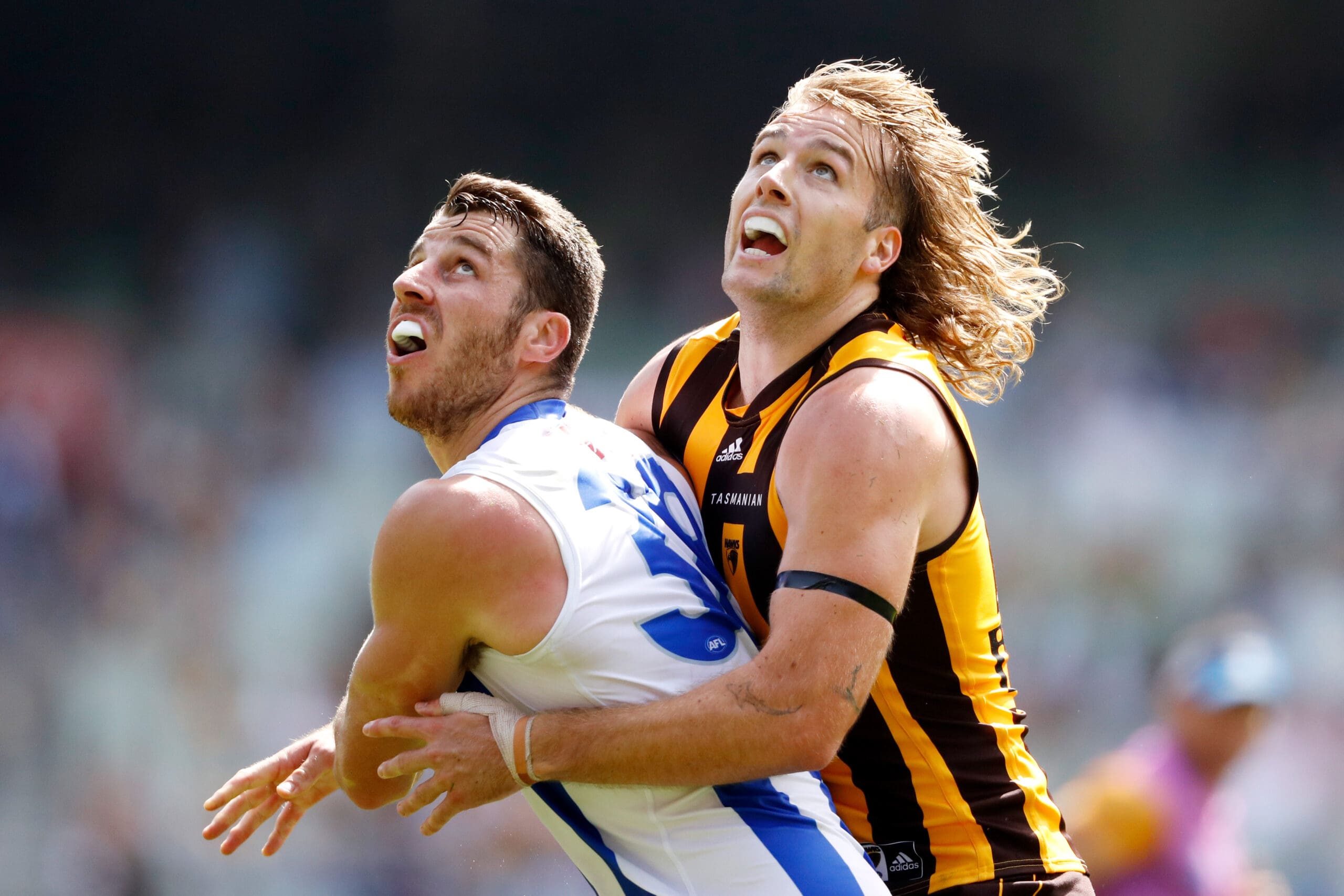 12. Adelaide
Ruck Duo: Reilly O'Brien and Kieran Strachan
The surprise dropping of long-time number one ruck Reilly O'Brien in recent weeks has meant Kieran Strachan has got the call-up as the club's number one ruck in the past couple of rounds and earned a place on this list.
O'Brien played the opening eight games for the Crows and is arguably one of the better, more imposing ruckmen in the competition but similarly to Matt Crouch's omission, O'Brien getting sent to the two's was a selection statement by the match committee.
The 26-year-old had averaged 12.4 disposals, 32.6 hit outs, 3.8 tackles and just under four clearances per game before being dropped. His recent SANFL performance on the weekend surely puts him back into the 22, after O'Brien collected 37 disposals, 11 marks, 13 clearances, 42 hit outs and kicked a goal in a monster game
Strachan, also 26, has only played in the last two rounds which brought his total career games to five and is obviously seen by the coaching staff as a highly competent first (or second) ruckman in O'Brien's absence.
Strachan has averaged 11.5 disposals, 20 hit outs, three tackles and three marks per game in his two appearances and will be hoping to remain in the 22 against Geelong this weekend.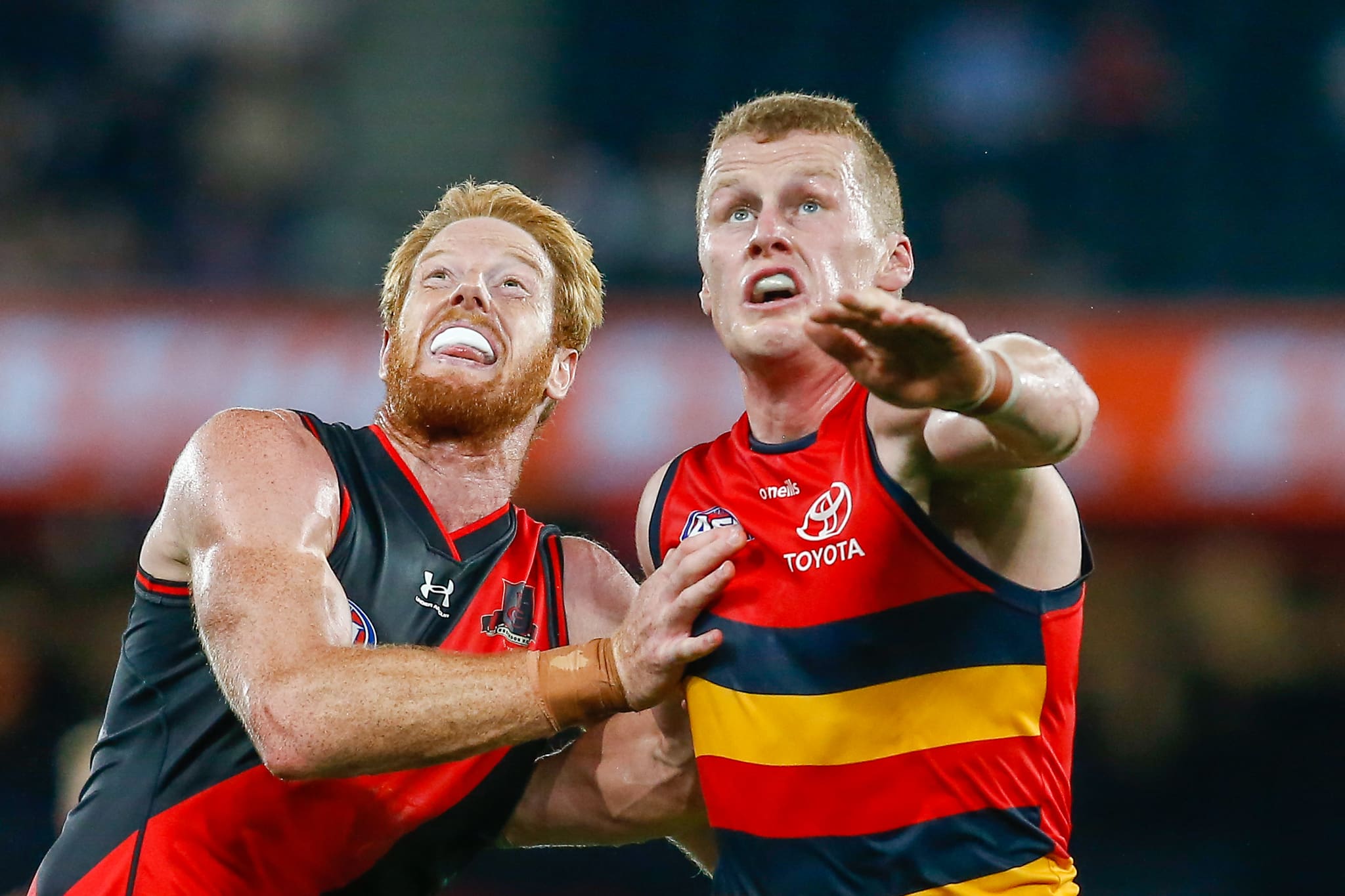 11. Carlton
Ruck Duo: Marc Pittonet and Tom De Koning
It seems like ruckmen have been falling down like flies this year so far and the same is the case for Carlton, with Marc Pittonet suffering a similar PCL injury to Grundy in round 6 as well.
Pittonet, like the Blues, started the season in great fashion with a star-studded midfield eager to feed off of his hit outs. Pittonet and De Koning shared duties but now they have been placed on De Koning following Pittonet's absence.
As is the same with Grundy, Pittonet is still expected to miss the next month or two with the injury.
The 25-year-old averages 10.6 disposals, 3.6 clearances, and 19 hit outs with those numbers skewed from the round six clash in which he was subbed out after only three touches and one hit out. His ruck craft during these opening games showed how important he is to the Carlton midfield.
22-year-old De Koning, who has played in nine of the 10 matches this season, has shouldered the load since round 6, averaging 10.3 disposals, 2.7 marks, 2.4 tackles and 14.8 hit outs.
However, De Koning's versatility and athleticism have caught the eye, regularly taking high-flying marks and applying pressure on the ball carrier in what have been promising displays.
The Blues will be eager to add Pittonet back in the mix with De Koning as the Michael Voss' side continues to impress in 2022.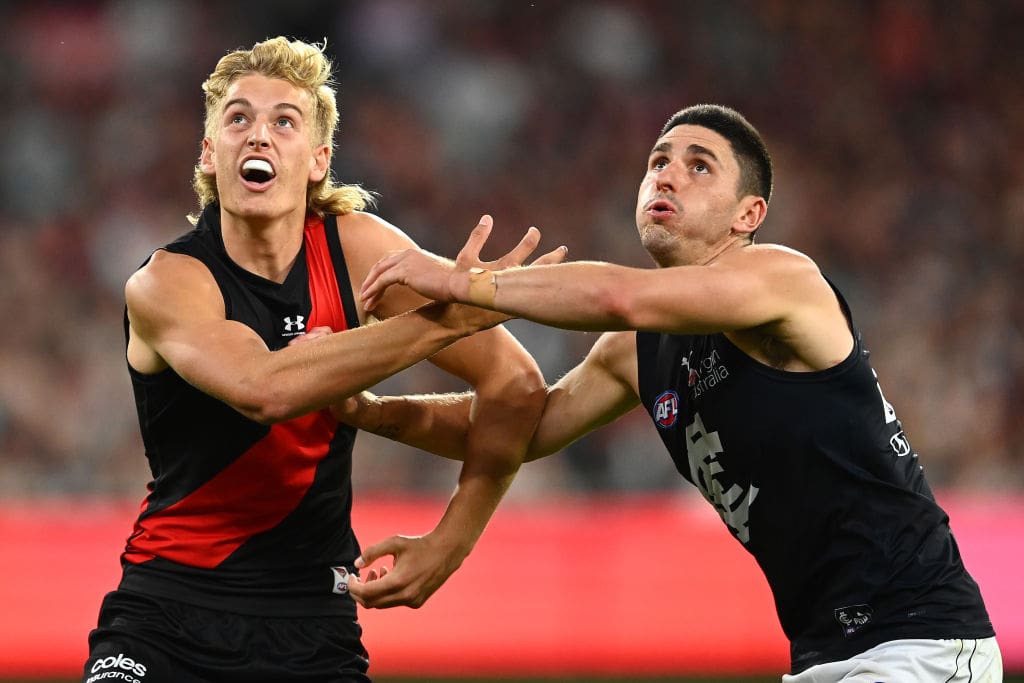 10. Collingwood
Ruck Duo: Brodie Grundy and Darcy Cameron
Yet another team this year that has seen a rise from their second in line ruckman, Brodie Grundy's injury has allowed for Darcy Cameron to blossom as the main ruckman.
Easily in the top handful of ruckmen at his best, Brodie Grundy's form hasn't been at the ridiculously high level we became accustomed to a few years ago, and even then he still is performing quite well.
The 28-year-old played the first six games of the season before suffering a PCL injury during the ANZAC Day clash against the Bombers, which has sidelined him for the past month and he is expected to remain out for at least another.
Grundy averaged 16.8 disposals, 5.5 clearances, 30.3 hit outs, and just under four tackles per game in the opening six rounds, and while not a dramatic drop, these numbers are lower than previous seasons.
However, Darcy Cameron has continued to string together some remarkable performances against more experienced ruck counterparts.
Since Round 6, Cameron has averaged 106 fantasy points per game while coming up against the likes of Jarrod Witts, Sean Darcy and Nankervis. For reference, between rounds 2-5, Cameron averaged 47.8 fantasy points per game.
For the season, the 26-year-old has averaged a goal a game, 11.3 disposals, 11.6 hit outs, three tackles and 4.3 marks per game demonstrating his influence around the ground.
With Grundy out, it doesn't look like Cameron is slowing down anytime soon.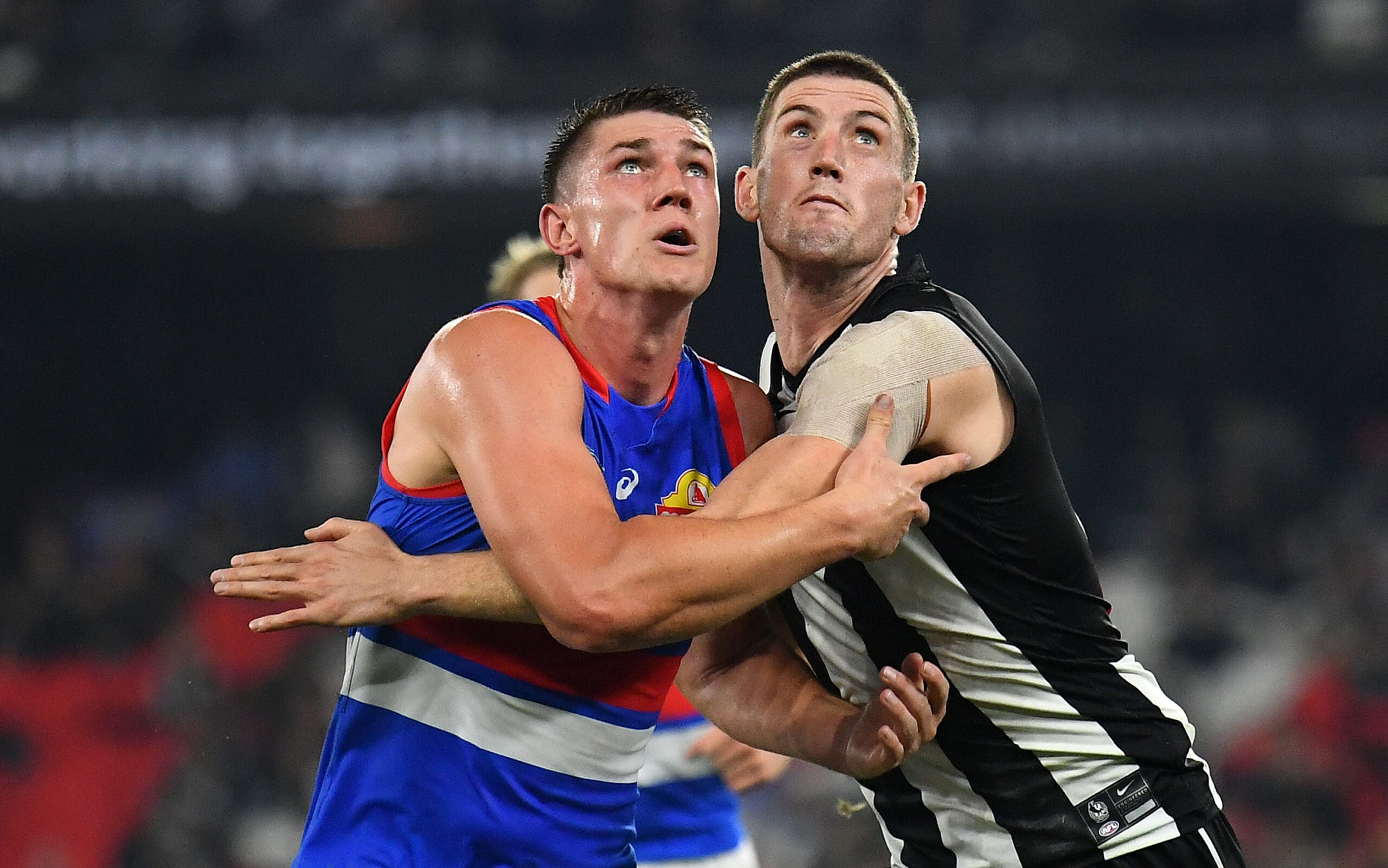 9. Sydney
Ruck Duo: Tom Hickey and Peter Ladhams
They've only played the last two rounds together, but the Swans' ruck duo of Peter Ladhams and Tom Hickey is experienced and provides a lot to the Sydney team.
It took Ladhams until Round 4 to squeeze into the Sydney team but after an injury to Hickey opened the door, Ladhams hasn't missed since.
Since moving to the Swans in the off-season, the 24-year-old has averaged 16.9 disposals, 3.6 marks, 21.6 hit outs and 3.3 clearances.
Ladhams' athleticism means he can help around the ground as well as taking the ruck contests and appears a handy pick-up for the Swans, especially with an injury-prone Hickey.
31-year-old Hickey has played five games this season but missed rounds 4-8 through injury, but his output continues to be useful for John Longmire's side.
Hickey averages 14.2 disposals, 3.2 marks, four clearances and 19.4 hit outs per game this season, with a stat line similar to that of Ladhams.
The two have shown in the past two rounds that they can work in tandem so it will be interesting to see how it pans out for the rest of the season.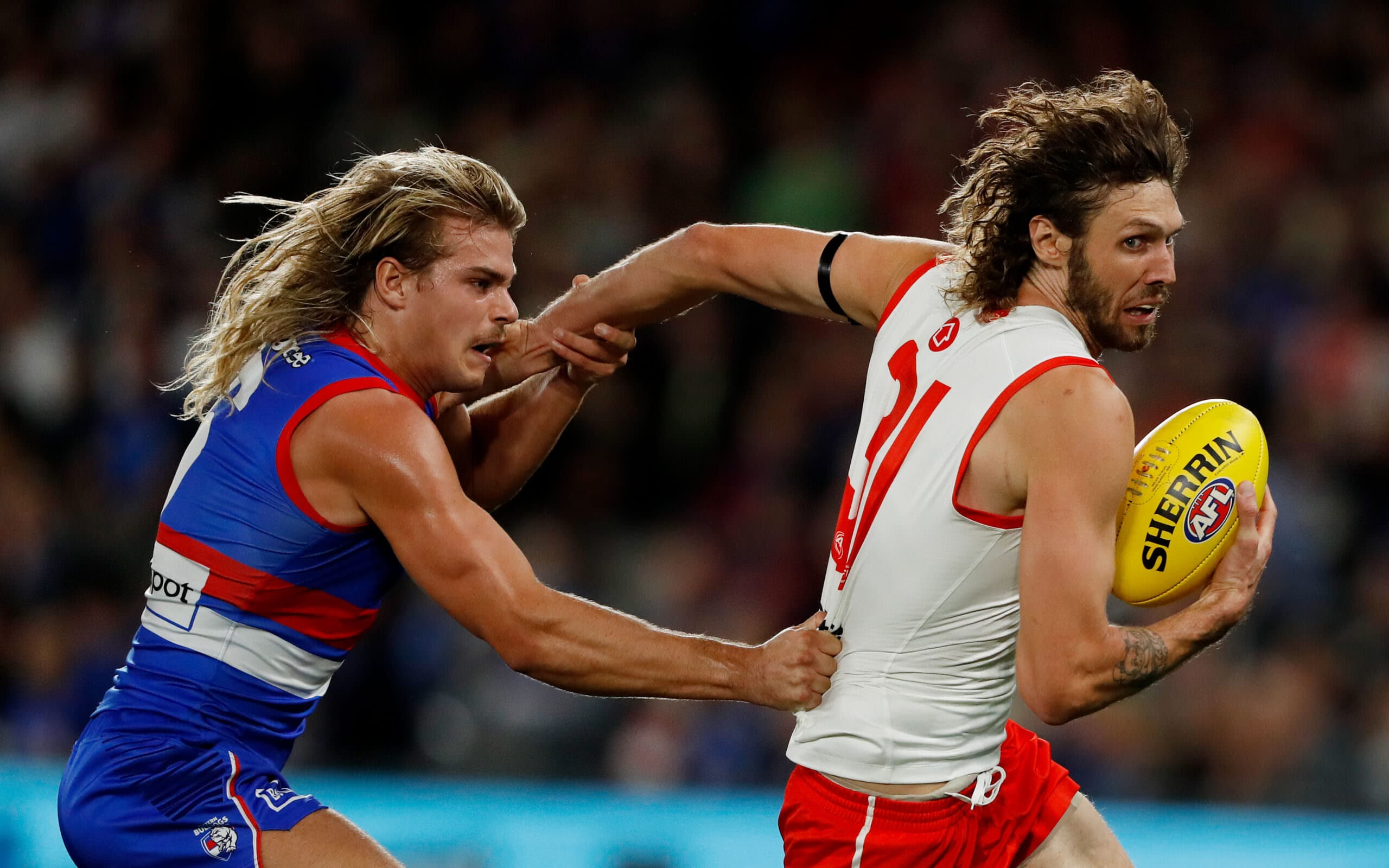 8. Richmond
Ruck Duo: Toby Nankervis and Ivan Soldo
The Tigers are blessed with two ruckmen who have shown that they can work in tandem perfectly, with both being part of the 2019 premiership team.
While Nankervis also was part of the 2017 and 2020 premiership teams, Soldo was not able to find a spot in 2017 and suffered a knee injury in 2020.
This season, Soldo has featured in seven games for the Tigers to open the season, averaging 7.1 disposals, a goal per game, 15.3 hit outs and 2.4 marks playing deputy to Nankervis.
His ability to hit the scoreboard this season means that Soldo is getting involved further up the ground when not doing the ruck work.
Nankervis, who is in his first season as captain, has started the season in fine form with an average of 16.1 disposals, 26.5 hit outs, 3.8 tackles and 3.5 clearances per game and continues to heavily influence games through his work in the middle.
The Tigers would be ecstatic with their ruck set-up, with both Nankervis and Soldo proven rucks that work well within their system.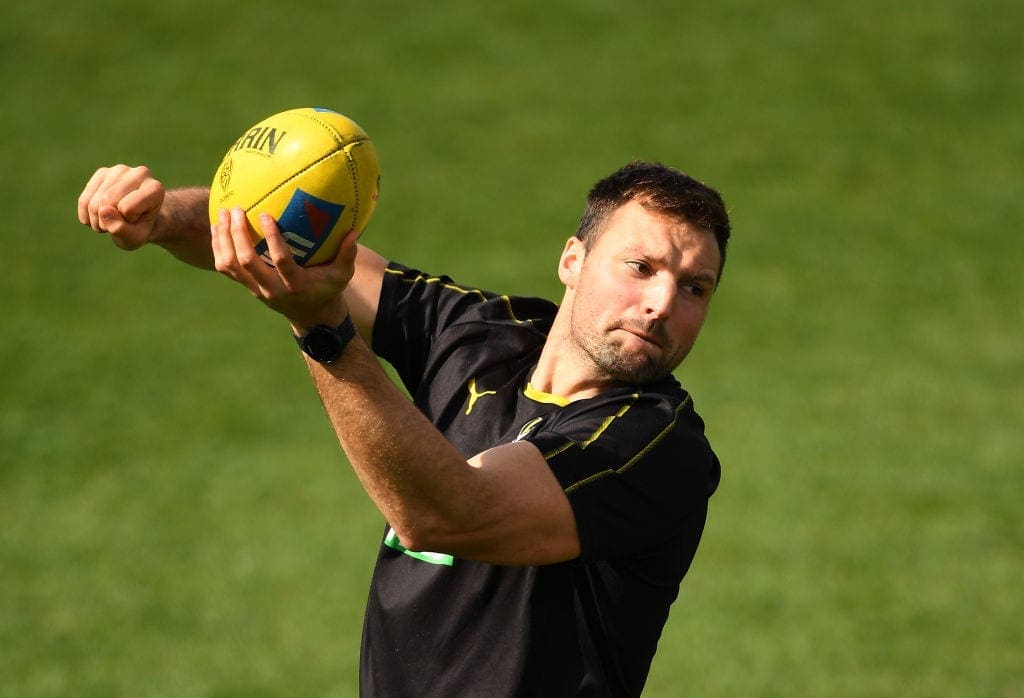 7. Gold Coast
Ruck Duo: Jarrod Witts and Mabior Chol
Probably the most consistent ruckman this season has to go to Jarrod Witts for his performances for the Suns.
Basically playing as the sole ruckman in this team, apart from occasional pinch hitters, Witts has dominated the ruck battle itself most weeks this season.
The former Pie has played all 10 games this season on the back of an ACL injury suffered last season and is currently averaging 12.8 disposals, 3.7 tackles, 2.8 marks, 4.2 clearances and 38.3 hit outs per game.
On top of this, Witts has attended 758 ruck contests this season, with second place being Reilly O'Brien's 605, which shows just how much Witts is doing in this Gold Coast team.
While Witts clearly doesn't share the ruck load too much with others, we've gone with new recruit Mabior Chol to complete the duo.
Chol has slotted into this Suns team seamlessly, averaging two goals, eight disposals, 2.6 marks and 6.3 hit outs a game and is second in ruck contests attended for the Suns with 162.
Witts and Chol are two of three players that have attended ruck contests with veteran forward Levi Casboult attending 22 himself.
Witts' dominance in the ruck field and Chol's ability to pinch hit and kick goals grabs them a lofty spot on this list.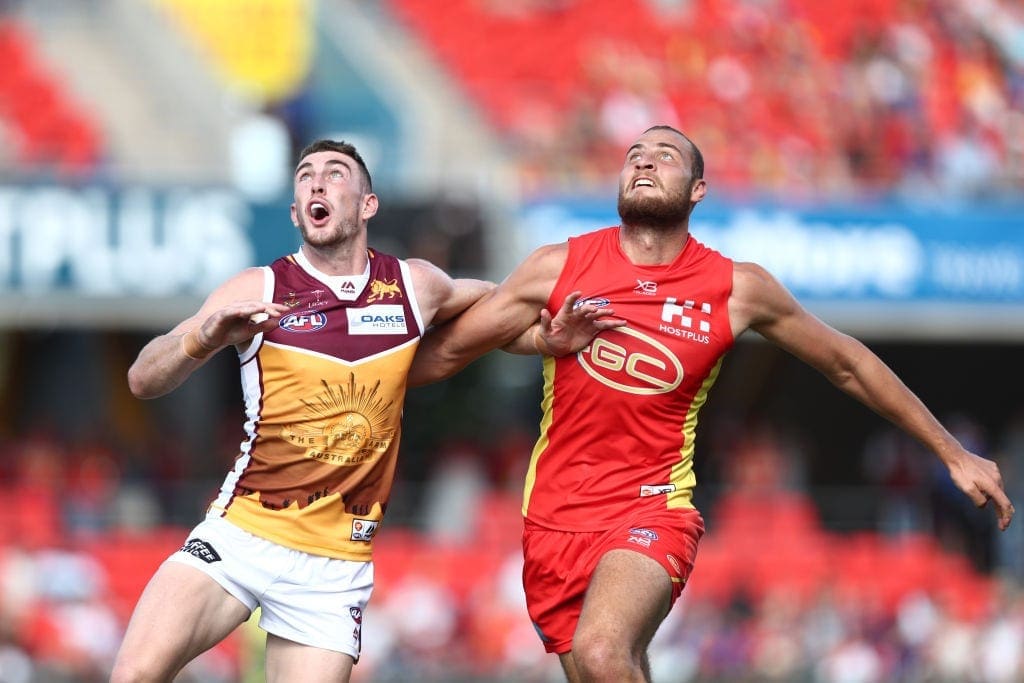 6. GWS
Ruck Duo: Braydon Preuss and Matt Flynn
Another duo who have only played together a few times, Braydon Preuss and Matt Flynn could be one of the more underrated ruck one-twos in the league.
Preuss didn't get to make his debut for the Giants until Round 3 this year despite crossing from the Demons at the end of 2020.
Despite feeling like Preuss has been around for ages, the 26-year-old had only 18 games to his career tally before playing six this season.
Preuss has taken the ruck duties with both hands at the Giants since coming into the side, averaging 36.8 hit outs, 14.2 disposals, 4.8 marks and three tackles per game.
One of the more in-form ruckmen in the competition this season, Preuss' hit out ability, strength in the contest and contested marking have been a highlight as he looks set to become the Giants' number one ruckman.
Deputy ruckman Matt Flynn is also extremely serviceable when called upon to the Giants' 22. His ability to play forward when working with Preuss shows the flexibility this duo have.
In his second season of playing AFL football, Flynn has averaged 10.7 disposals, 3.1 marks, 2.3 tackles and 25 hit outs per game in the seven he has played this season.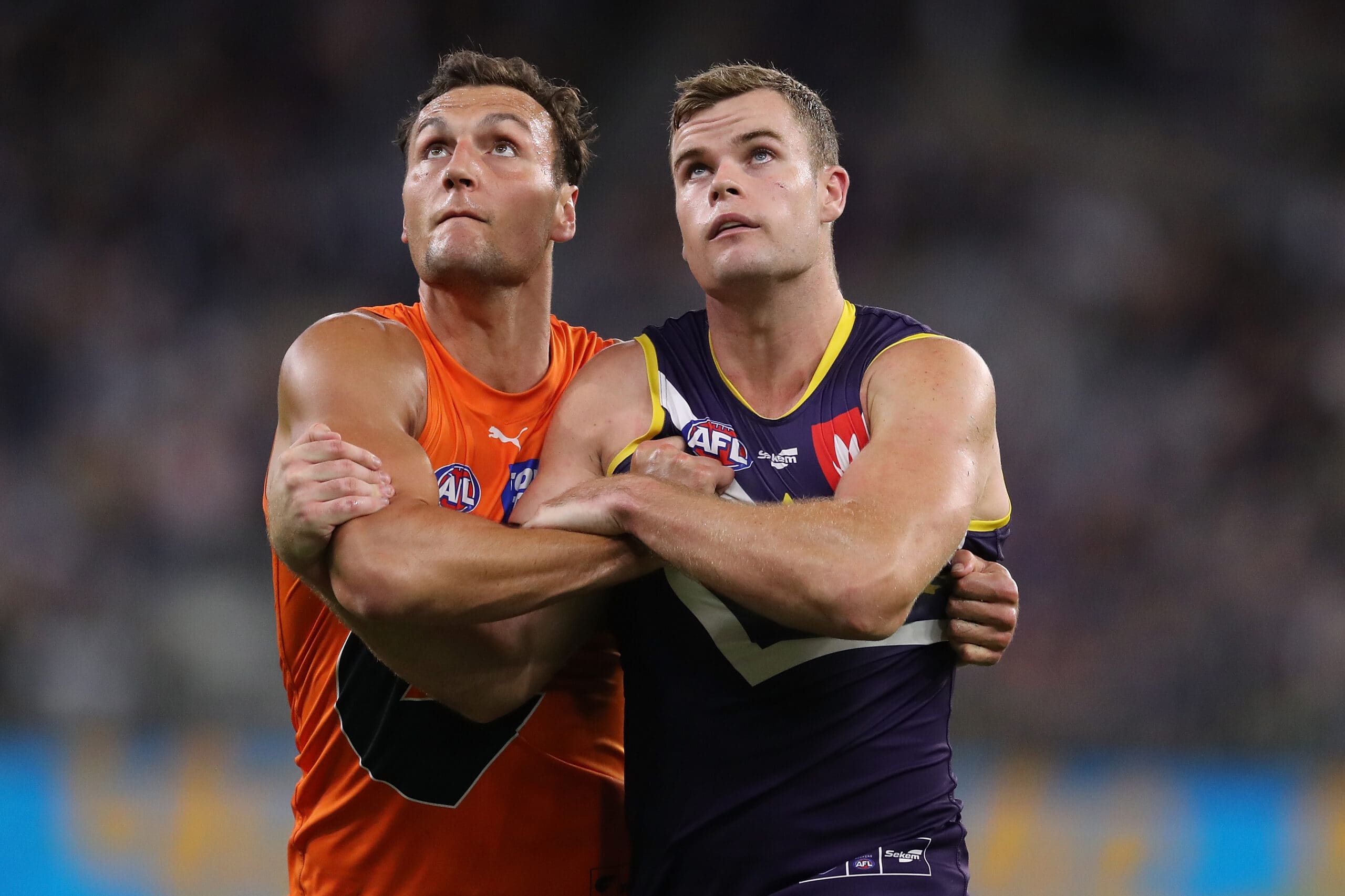 5. Brisbane Lions
Ruck Duo: Darcy Fort and Oscar McInerney
Darcy Fort and Oscar McInerney have played nine of the opening 10 games together, with a one-week suspension for McInerney the only game the pair missed out on linking up.
Both Fort and McInerney are proving to be a terrific ruck duo, with Fort's ability to play up forward a handy option for Chris Fagan.
After struggling for game time at the Cats, Fort has finally got his shot at the Lions, averaging 11.3 disposals, 2.4 marks, 19 hit outs and just under a goal a game this season.
For McInerney having another ready-made ruck counterpart has proved useful. 'Big O' has averaged 11.7 disposals, 3.1 tackles, 25 hit outs, 4.3 clearances and also just under a goal per game.
Both players' stat lines are pretty impressive for a duo working in tandem every week and are a big reason why the Lions sit in second after 10 rounds.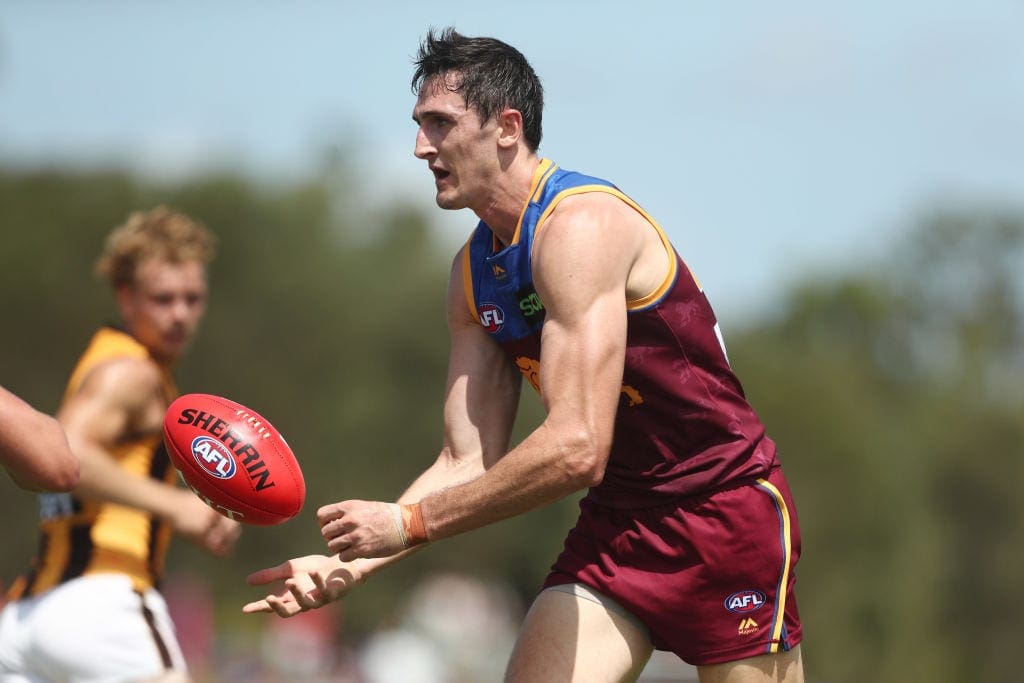 4. Western Bulldogs
Ruck duo: Tim English and Stefan Martin
Before diving into these two, a special mention to Jordon Sweet who has taken the ruck duties in the last two rounds without English and Martin available.
Now, this is an interesting one, Tim English's ruck ability itself probably wouldn't be up there in the upper echelon but his ability to become an extra midfielder makes him one of the more dominant around the ground ruckmen.
English in his five games this season has averaged 22 disposals (ranked elite), six clearances (ranked elite), seven marks (1st in the league for ruckmen), and 22 hit outs per game.
An outstanding player and still just 24-years-old, English's around the ground ability is elite and there's no doubt about that.
His 22 hit outs are ranked as average by afl.com.au, so if he can add more ruck dominance to his game, he can become the best in the league by a long way.
However, English has been out since round 5 due to a hamstring injury and illness but looks set to return for the Dogs this week.
Veteran ruck Stef Martin has only played three games this season in English's absence and he isn't the ruckman he once was, while still putting in serviceable shifts at the Dogs, while English continues to develop.
Martin has averaged 12.3 disposals, 20 hit outs, 3.3 clearances and 2.3 tackles in his appearances this season while filling a reasonably big hole.
They haven't played together this season but the luxury of having an experienced ruckman like Martin to come in for English is pretty handy for those down at Whitten Oval.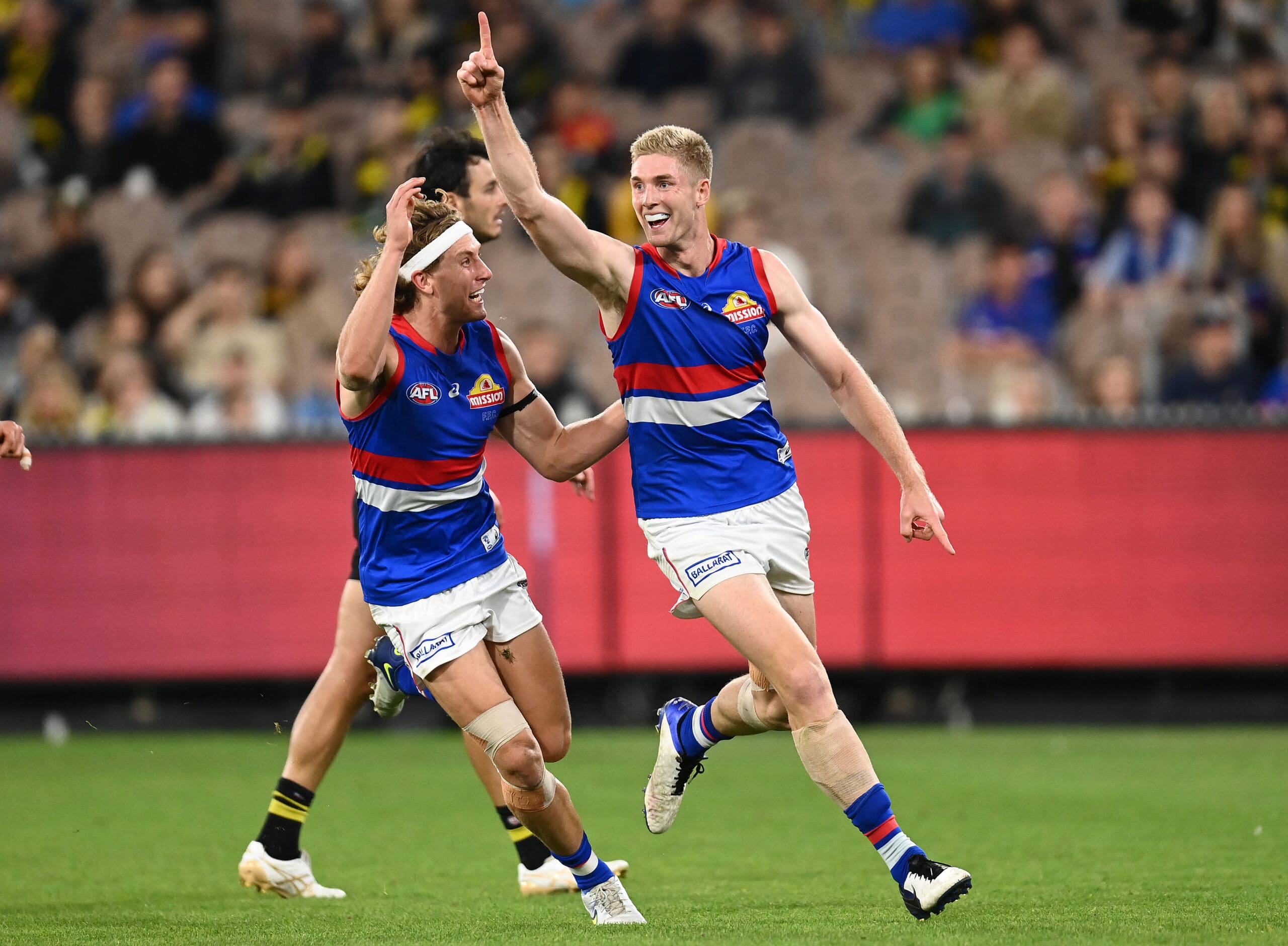 3. Fremantle
Ruck Duo: Sean Darcy and Lloyd Meek
Fremantle is another side that boasts solid ruck depth that has been handy as they contend for a top four spot after an exciting start to 2022.
Sean Darcy is one of the best ruckmen in the competition and, at only 23, has a big future ahead of him if he can keep himself healthy.
The Geelong Falcons product has averaged 14.3 disposals, 30.1 hit outs, 0.9 goals, 4.9 clearances and 3.6 marks per game in his seven appearances for the Dockers this season.
Even with these stats, it still hasn't felt like Darcy has fully reached the peak of his powers that we saw last season.
Lloyd Meek has only played the four games this season but, as alluded to earlier, has shown that he is comfortable in the ruck role at the Dockers, including an inspired performance in their win against the Cats at GMHBA Stadium.
The 24-year-old has averaged 11.3 disposals, 22 hit outs, 2.8 tackles and 2.3 marks in his second season of AFL football.
With Darcy and Meek at ages 23 and 24 respectively, the Dockers not only have a good ruck duo now but hopefully will for years to come.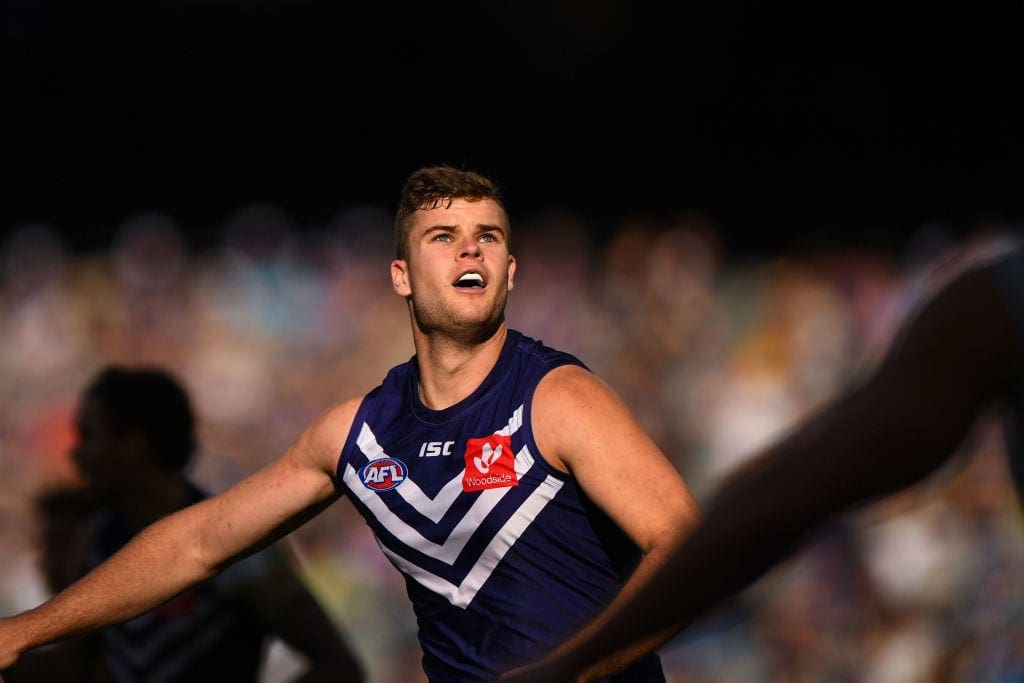 2. St Kilda
Ruck Duo: Rowan Marshall and Paddy Ryder
The Saints boast a pretty impressive ruck duo, with veteran Paddy Ryder continuing to have some great games and Rowan Marshall continuing to prove himself as one of the better ruckmen in the league.
Marshall has played nine games this season and has averaged 13 disposals, 18.6 hit outs, 3.2 clearances, 3.4 marks and 3.8 tackles per game. Marshall's around the ground impact is highly valuable for the Saints and he has become a fan favourite after multiple consistent seasons.
Ryder, 34, has averaged 8.8 disposals, 3 marks, 23.2 hit outs and 2.5 clearances for the Saints this season in his six games.
The veteran also averages 1.2 goals per game, providing a good forward option in the smaller Saints' forward line.
To see how well these two can work together, watch the second half of their comeback win over Geelong in Round 9.
Ryder kicked three goals, Marshall had one and some of the ruck work to set up the Saints' 3rd quarter goals was textbook stuff.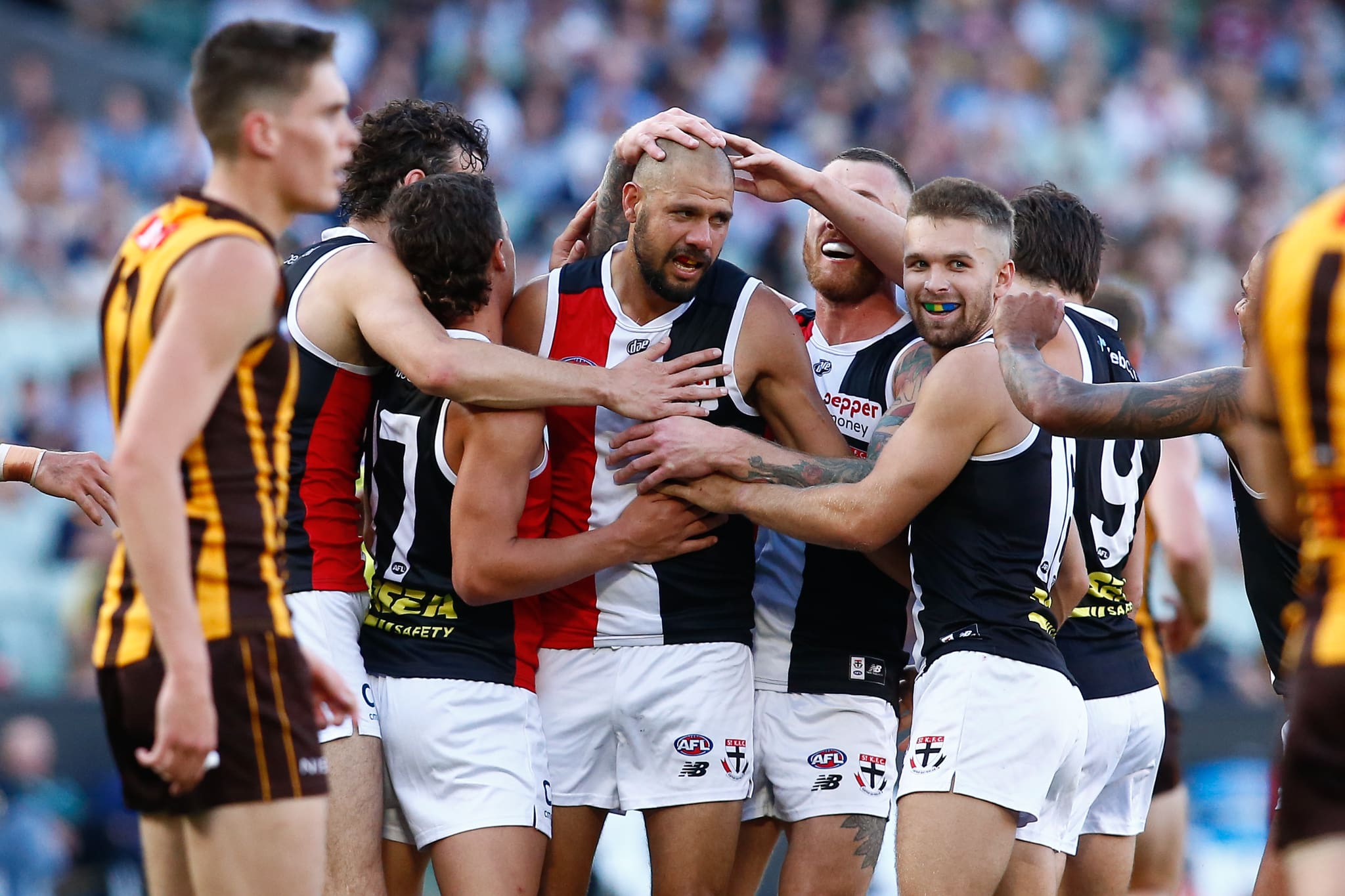 1. Melbourne
Ruck Duo: Max Gawn and Luke Jackson
Just like our winger's list, the winner in this catalogue comes without too much question.
While other teams' ruck duos are much closer in quality than their wingers, the duo of Gawn and Jackson has been an almighty success after their premiership-winning season last year.
On ability, Max Gawn is the best ruckman in the league and has been for the last few seasons.
Gawn has played all 10 games this year, averaging 19.1 disposals, 5.4 marks, five clearances, 25.8 hit outs and 0.8 goals a game.
The bearded skipper's ability to influence not only the ruck contest but everywhere else around the ground makes him such a luxury for the Demons.
He can become an extra defender, midfielder or forward whenever called upon ... scary stuff!
Last year's Rising Star winner Luke Jackson continues to make himself a star of the competition as he develops into another ruckman/midfielder/forward.
Jackson has missed the one game this year due to COVID Protocols, but in his nine games, he has averaged 14.8 disposals, 3.7 marks, 2.6 tackles, 10 hit outs and 2.4 clearances.
At only 20, Jackson looks set to be a difficult match-up for teams and he is relishing in his role as Gawn's deputy in 2022.
Both could be set to become dual premiership players if the Demons' scarily good start to the season is anything to go by.