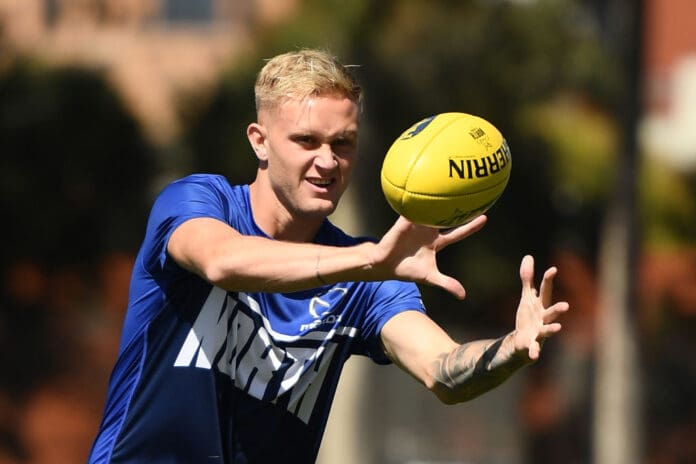 North Melbourne midfield-forward Jaidyn Stephenson has been dropped from the team for the second time this season.
The former Magpie has underperformed this year, having not kicked a goal since Round 5 and notching no more than 20 disposals since Round 4.
Kangaroos great and development coach Brent Harvey shared his thoughts on the 23-year-old's situation.
"His footy hasn't been great and he's first to admit that, he's a very honest guy," he told RSN.
"I do a little bit of work with him during the week, just on some fitness stuff, and he's the first to put his hand up and say he hasn't been playing great.
"Does he deserve his spot in the team? Probably not. He knows that."
Players getting dropped from the AFL side is common place, but for a player in his fifth season it could be worrisome, especially given the fire start to his career that saw him play in the 2018 grand final.
"'Stevo' needs to go back and play some really good football in the VFL, get some confidence back and come back in and then contribute because we've seen his talent, his talent is super when he's up and going," Harvey added.
The AFL record games holder says AFL listed players should stand out in the reserves, but North Melbourne may struggle as their VFL side has been underperforming as well.
The Kangaroos' reserves have seen a small amount of AFL listed players in the team, with Harvey suggesting it would be hard to hone ones skills in that case.
"These players that get dropped from the AFL team need to back to the VFL, and absolutely dominate," he said.
"We haven't had too many players go back and do that. Again though, we have only had five players playing VFL in the last couple of weeks."
Supporters have clamoured for Stephenson to up his defensive game, but Harvey doesn't see the need, given the his more attack style.
"People say we want Jaidyn Stephenson to do more defensive stuff, but he's an offensive player. So his skillset is offense first of all," Harvey said.
"We want him to get the ball down the wing, take three or four bounces, have a couple shots on goal. It's hard to do that in the VFL when you have three AFL listed players [in the team]."
'Boomer' suggests that the position played by Stephenson is the most difficult in today's AFL landscape, especially in an underperforming side.
"The hardest position to play on the football field is the half forward role, if you're not a tall you don't get the ball kicked to you all the time," he said.
"Now imagine playing that right now, unfortunately, in my team, the Kangaroos. It's hard. You're a by-product of what happens up the field, and we are having 30 inside 50s, its bloody hard.
"It will be hard playing as a half forward in today's football, and extremely hard playing as a half forward in the.... Kangaroos."
The 2018 Rising Star winner's near future may be very important in terms of the rest of his career, with Harvey saying he needs to perform, otherwise things could be looking bad.
"His next 50 games are super important for his career, because if he doesn't perform there's going to be ramifications for everybody."
North Melbourne's reserves will enjoy a week off this week in the VFL before facing Sandringham next Sunday afternoon at Trevor Barker Oval.