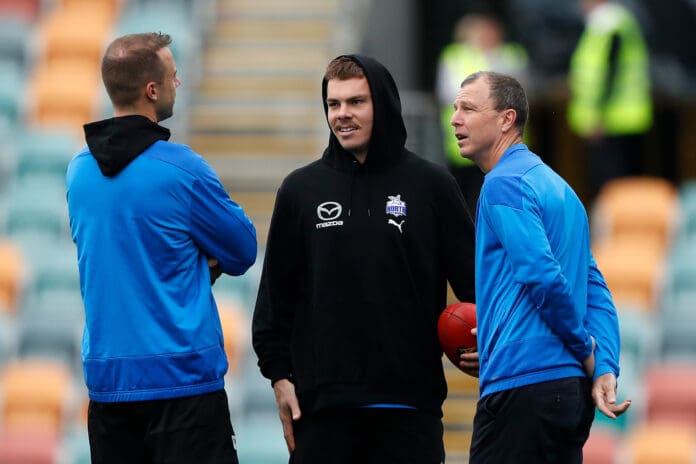 North Melbourne assistant coach John Blakey is understood to have been left ruffled by the club's decision not to notify him of Leigh Adams' appointment as caretaker coach at Arden Street.
In the wake of David Noble's departure, Adams was promoted into the interim role from his position as the Kangaroos' VFL side, taking the reins for the remainder of the 2022 season.
The Roos are set to begin their search for a fourth coach in three years, with Brad Scott, Rhyce Shaw and Noble having all left the top job. And while the hunt begins, Adams has been tasked with leading the struggling side and seeing out their tumultuous campaign.
But while the 104-time North Melbourne representative will look to implement his own gameplan for the last six rounds, his appointment reportedly came as some shock to senior assistant Blakey.
According to SEN's Sam Edmund, Blakey was perplexed he was not told of the club's move to appoint Adams as their caretaker.
"Senior assistant John Blakey is most unhappy that initially that he was not chosen to be interim coach and then it wasn't communicated to him that he was being overlooked for Leigh Adams," Edmund told Crunch Time.
"You would assume that considering they got him out of Sydney and are paying him a pretty significant wage as a senior assistant, that most of the time he would be the one that would step up as the interim coach.
"It was more the method of the communication…he was (not told) from the powers that be that he wasn't going to be the interim coach.
"He heard it from someone else and he wasn't thrilled with that either."
Blakey has been with the Roos since the end of the 2020 season, joining from Sydney after 13 years with the New South Wales club as a coaching director and head of development.
Adams' shift to the senior side has seen recently retired rookie signing Tom Lynch take on the coaching shift for North Melbourne's VFL team, who, like their AFL affiliate, have also struggled in 2022.
The Kangaroos have their first contest under Adams' watch on Saturday against Richmond, with the match to scheduled for 4:35pm (AEST) at Marvel Stadium.