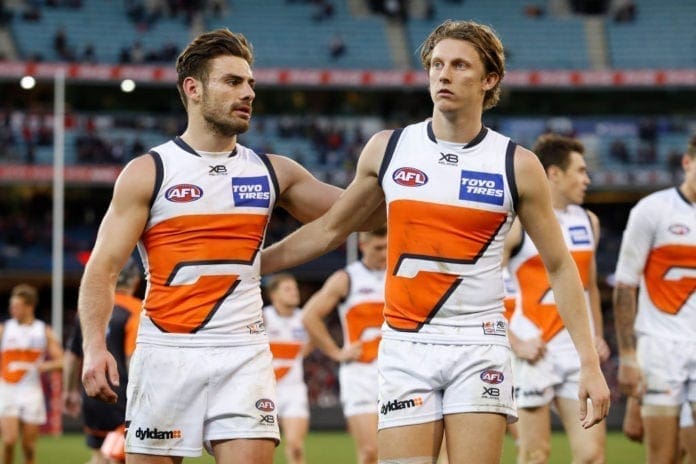 GWS Giants defender Lachie Whitfield is reportedly being monitored as a potential trade target, as clubs weigh up the prospect of absorbing the back end of his lucrative contract.
Whitfield signed a seven-year contract extension at the end of the 2019 season, stretching his time at GWS until at least the conclusion of 2027.
The defender was said to be earning approximately $900,000 per season, however, during the back-end portion of that contract Whitfield is set to earn around $1.1 million.
According to The Herald Sun's Jon Ralph, rival AFL clubs are understood to be considering the idea of absorbing the hefty amount remaining on Whitfield's contract in order to not have to part with an early draft selection in a potential trade for the line-breaking defender.
Per Ralph's report, while rival clubs are tossing up the idea, the Giants do not feel obliged to offload their smooth-moving backman at the end of this year, as their cap situation is much improved following the departures of midfield trio Tim Taranto, Jacob Hopper, and Tanner Bruhn during last year's trade period.
Among the cap-rich teams mentioned in the report that could be intrigued by a contract-absorption scenario are Hawthorn, Essendon, and North Melbourne, with the Hawks said to be particularly interested in a situation similar to the Jack Bowes salary dump of last year.
Whitfield is about to turn 29, which may throw a spanner in the works for some clubs, pertaining to comparative age demographics.
Irrespective of age, though, such a proposal should be enticing to many clubs, as the opportunity to land a difference-maker off half-back for little draft capital is a rare circumstance in any case.