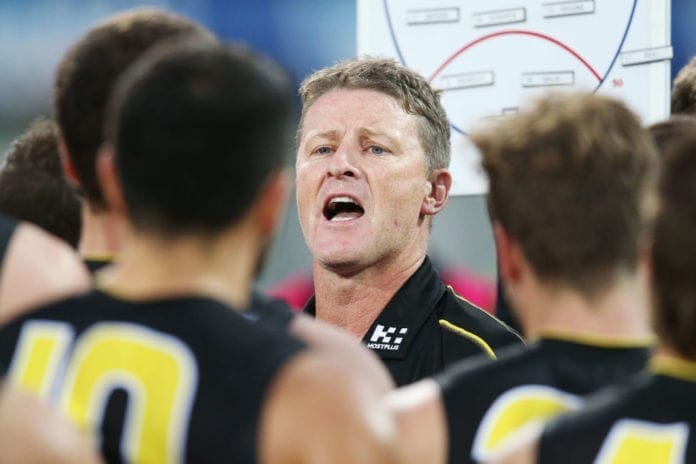 Richmond CEO Brendon Gale has stated the club will look to "find the next Damien Hardwick" as it looks to find the triple premiership coach's successive at Punt Road.
Hardwick confirmed his decision to resign on Tuesday morning, revealing he entered the 2023 season believing it would be his last at Tigerland before deciding to pull the pin on his decorated career after 10 rounds into the campaign.
The modern-day coaching great noted he wasn't "100% in" midway through the year, deciding to end his stint with Richmond after 307 games in the coaches box.
The shock decision has led the Tigers to commence a coaching search through the back-half of this season, with assistant Andrew McQaulter taking on the interim duties for the final rounds of the year.
While the call to step down may have come as some surprise to most, Gale admitted he had prepared for the day that Hardwick would knock on his door and end his reign as senior coach.
The Tigers chief said while bidding farewell to his champion coach won't be easy, the opportunity to find a new senior coach for Richmond presents "a really exciting opportunity".
"I've done a few contracts over the years with Damien and he's always said 'when I'm done, I'm done I'll tell you' irrespective of the contract. That's how it's been realised," Gale told reporters on Tuesday.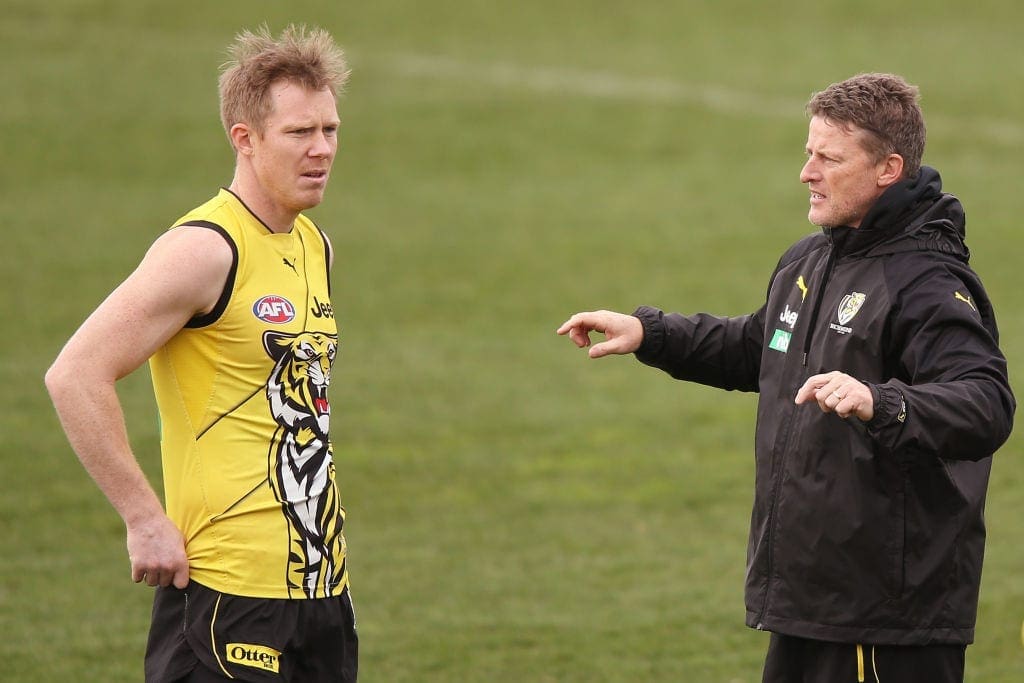 "It's a measure of Damien that he's always put the club first. This is just an occasion, but it's also a measure of the club and the strengths of our shared leadership as well.
"This is sad, don't get me wrong, I love this man and a lot of people do. We'll celebrate him and acknowledge his incredible contribution, but onward and upward.
"We're looking forward to writing the next chapter of this incredible story of the Richmond Football Club. We've got an incredible team on and off-field.
"That's a really exciting opportunity that will energise all of us."
The Tigers are set to weigh up a field of coaching candidates that will offer experience or untapped potential as Gale and co. prepare to lead the search, with Richmond looking to make their first coaching change in 14 years.
A thorough process is set to take place over the coming months before a decision is reached, with Gale seeing the yellow and black as an "attractive proposition" for candidates to consider.
Speaking on the club's hunt for a successor, Gale said a new face will thrive with the club's list, environment and culture.
"We'll look through that, redefine the attributes to be the Richmond coach for the next 10 years," he said.
"The game's evolving, we want to find the next Damien Hardwick. We think we're a pretty attractive proposition, a strong club with a strong culture.
"We're pretty confident that we've got an environment where a coach can thrive in our football club.
"Because of (Hardwick's) selfless decision, he has given us the opportunity to get ahead of that."
Richmond's post-Hardwick era will commence on Sunday at the MCG, where they'll host the in-form Port Adelaide at 1:10pm (AEST).