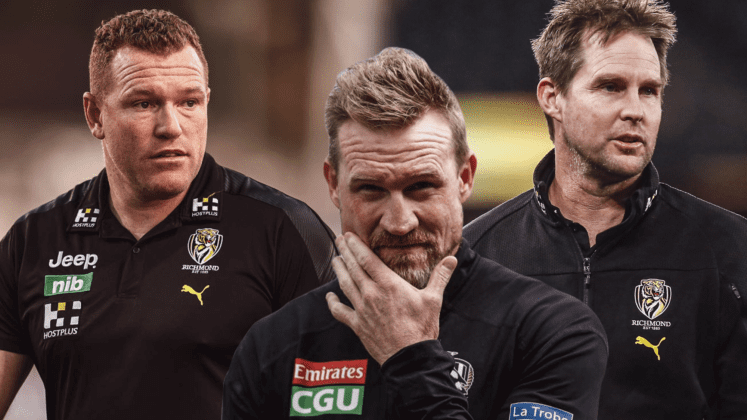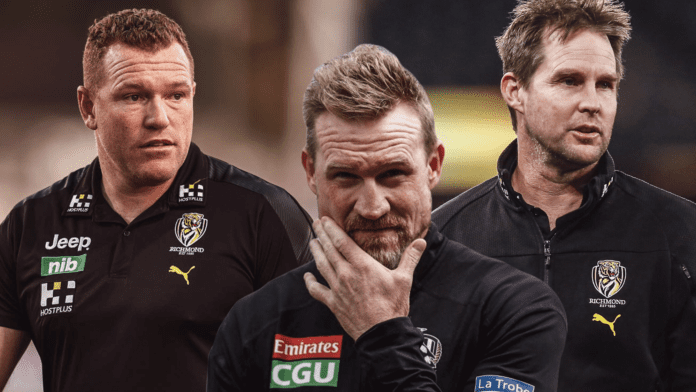 Richmond will be searching for a new coach for the first time since 2009 following Damien Hardwick's shock mid-season decision to depart the Tigers after 307 games and three premierships with the Victorian powerhouse.
The decision has seen the first coaching call of the 2023 season made, with the Tigers now considering a number of avenues in finding their 39th coach.
Do they look in-house and within their own coaching ranks to find a successor? Would an experienced coach be the answer to turning the Tigers' tide? Or would an untried assistant from elsewhere, much like they did in rolling the dice on Hardwick?
We've assessed the coaching landscape and weighed up 10 potential candidates Richmond would consider.
Punt Road's own
Andrew McQualter - Will take on the interim coaching duties for the remainder of the season in what is his 10th season at Punt Road. The former Saint and Sun first joined the Tigers through their VFL program in 2014 as a player and development coach.
He has since stepped into senior assistant roles - his first being as the club's midfield coach in 2016.
Should an impressive caretaker stint arise in the second half of the season, McQualter's name is sure to be in consideration.
David Teague - Would the former Blues coach consider a return to a top AFL job? Teague took over the senior coaching role at Carlton after a promising two months in the caretaker role following Brendon Bolton's sacking midway through 2019.
His two full years with the Blues wouldn't be as successful however, with Teague tallying just 15 wins before being sacked with a year to run on his contract.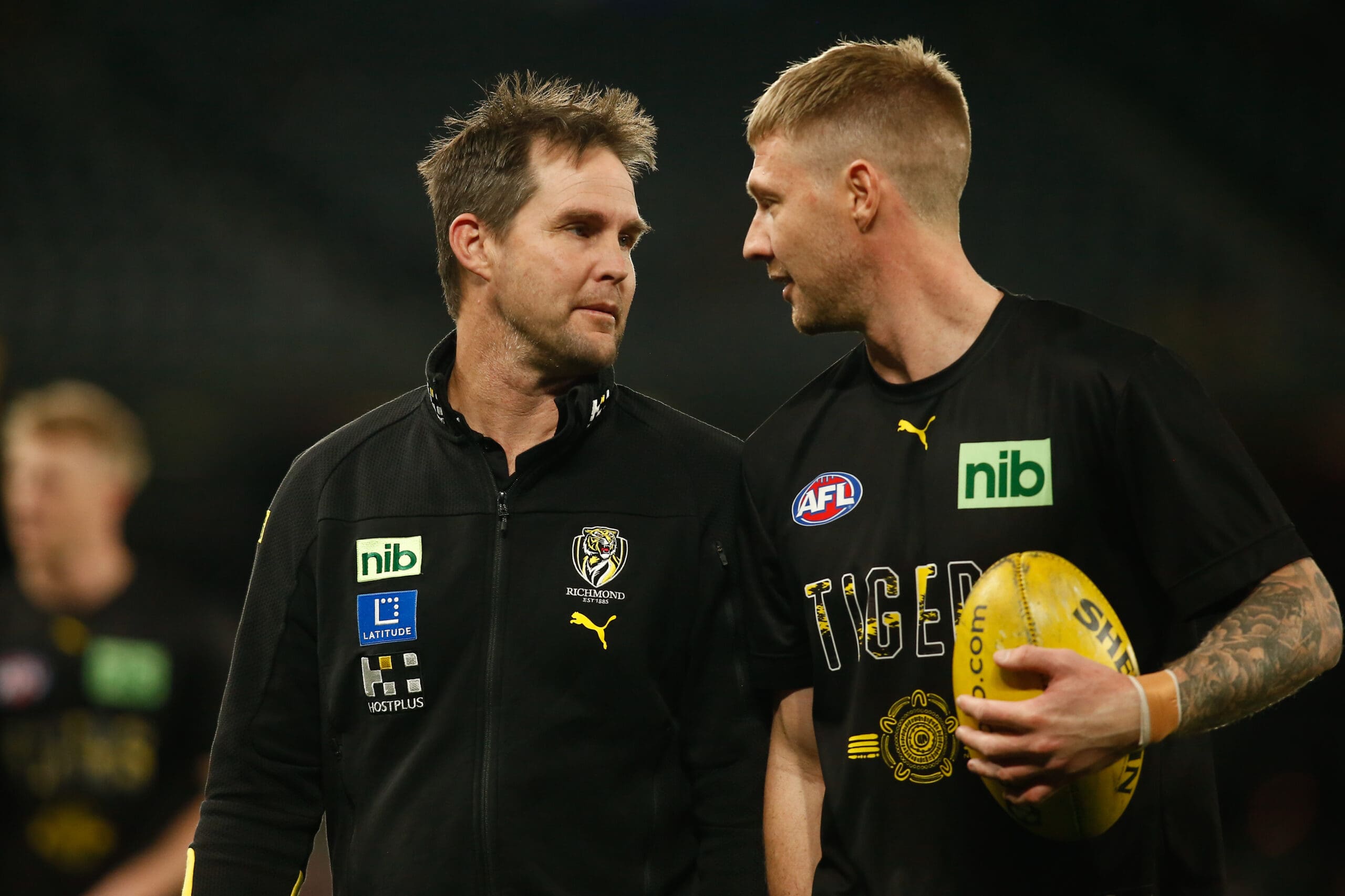 Ben Rutten - Much like Teague, Rutten turned to the Tigers after being cut from his old club - having been stunningly axed by Essendon in a messy end to their 2022 campaign.
In making the move to Richmond, Rutten returned to a familiar home on Punt Road after building his case as a viable senior coach for the Bombers to consider across four years with the Tigers.
He would eventually be named as the successor to Essendon mentor John Worsfold in a coaching handover for the 2021 season, with Rutten amassing 17 wins across his two years with the Bombers.
Experience from elsewhere 
Justin Leppitsch - A move from Olympic Park to Punt Road would see the Brisbane great and current Collingwood assistant land at Tigerland for the third time in his coaching career, having first taken on an assistant role in 2009.
Leppitsch would eventually land the top gig at the Lions to succeed Michael Voss at the end of 2013, while his first coaching move after being sacked by Brisbane would see the now-47-year-old join Richmond and play a key role in their 2017 premiership campaign in his return.
Come the end of a successful five-year stint with the Tigers, Leppitsch swapped the yellow and black for the black and white to join old teammate Craig McRae at Collingwood, with Leppitsch again being seen as a key contributor to the club's rise with his immediate impact.
Nathan Buckley - On multiple occasions last year Buckley was forced to address his coaching future as vacancies at GWS and North Melbourne opened up midway through the 2022 season, with the Collingwood champion and ex-coach stating he didn't see himself back in the hot seat anytime soon.
Now 12 months on from those calls and almost a further year on from his own resignation at the Magpies, Buckley is sure to be of interest to the Tigers if his name was to be thrown into the ring.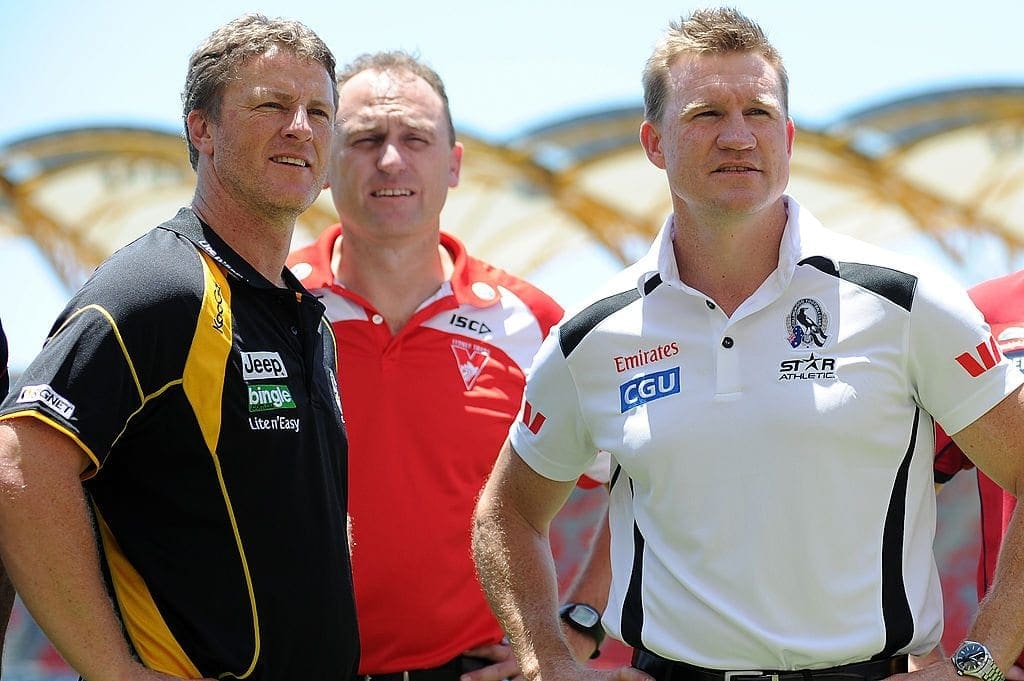 Don Pyke - Sits among the small handful of assistant coaches that hold senior coaching experience, with Pyke's reputation done no harm in his role under John Longmire at Sydney since departing Adelaide in 2019.
Hasn't placed himself back in the coaching limelight since heading to the Harbour City despite openings at Collingwood, Carlton, GWS, North Melbourne and Essendon across the past two seasons.
Others to consider: Ken Hinkley, Brendon Bolton, Leon Cameron
The untried 
Adem Yze - Missed out on a pair of senior coaching vacancies last year at both GWS and Essendon, with Richmond assistant Adam Kingsley and former North Melbourne boss Brad Scott landing the roles respectively.
Has built a promising CV across successful stints as the right-hand man under Alastair Clarkson and Simon Goodwin at the Hawks and Demons, however his losing record at interviewing for top jobs may be concerning.
Nevertheless, Yze's role in bringing success to the Demons can't be understated.
Jaymie Graham - Has been part of several coaching races in recent seasons, having run for recently vacated roles at North Melbourne after Rhyce Shaw's departure from Arden Street, Collingwood after Nathan Buckley quit, and reportedly turned down interest from GWS last year.
The Fremantle assistant has gained backing from Justin Longmuir to take the next step, having impressed since making the switch from West Coast, where he was assistant under Adam Simpson for their 2018 premiership run.
Blake Caracella - Has continuously flagged his interest in stepping into a senior coaching role and could see a return to Punt Road as his avenue to do so. Caracella worked under Hardwick for the Tigers' two premierships in 2017 and 2019, having brought over premiership experience to Punt Road following his tenure with Geelong from 2010-2016.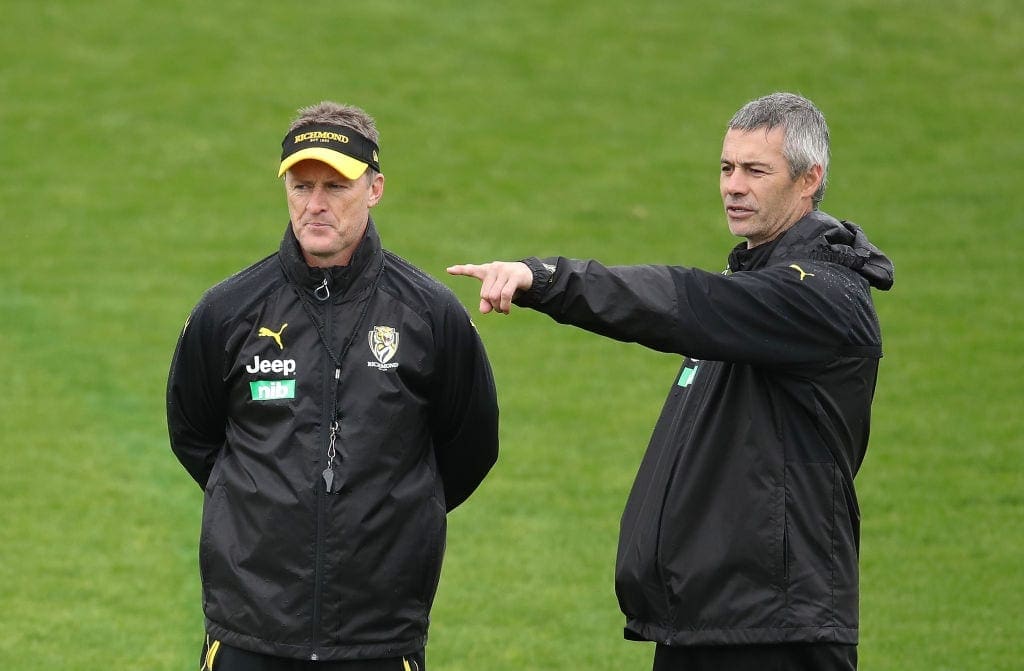 Caracella has worked under John Worsfold, Ben Rutten and now Brad Scott since making the move to Essendon, with 17 years of coaching experience now under his belt across stints with the Magpies, Cats, Tigers and Bombers.
Ashley Hansen - Would the Tigers strike right as the pressure is building on Blues coach Michael Voss?
Hansen made the move from the Western Bulldogs to Carlton as Voss landed at Princes Park, bringing with him a heralded nine-year stint with the Dogs to be seen as one of the leading assistant coaches in the land.
A member of West Coast's 2006 premiership, Hansen led the Dogs' VFL outfit to a flag in 2016 and was another candidate reportedly in GWS's sights last year before deciding to remain at his current club.
Others to consider: Daniel Giansiracusa, Hayden Skipworth, Josh Carr