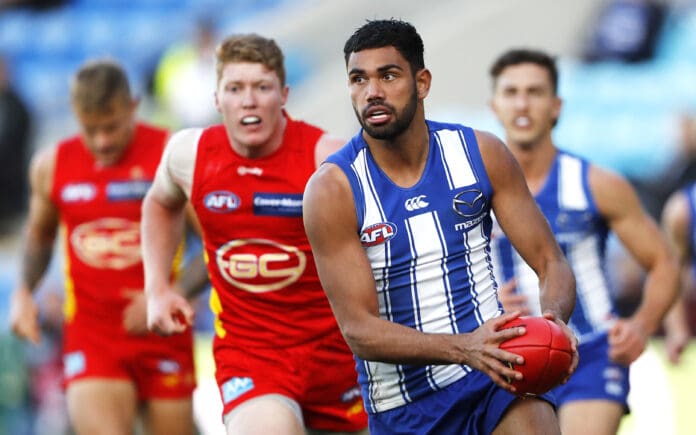 North Melbourne youngster Tarryn Thomas is set to return to training at Arden Street on Monday following his decision to step away from the club in the wake of recent allegations made against the 22-year-old.
The Kangaroos confirmed Thomas would take time away from the club after harrowing allegations were made against the midfielder by multiple women.
The claims included harassment and threatening behaviour Thomas allegedly directed toward a number of women, with the AFL also needing to cooperate with a family violence investigation unit.
With the allegations coming to light, North Melbourne stated Thomas would undergo the needed training and education to assist with his behavioural issues, while the Tasmanian would also be on leave.
The club confirmed on Saturday that Thomas would return to training but would not be eligible to play until his behavioural program was completed.
"I've learnt a lot about myself over the past few weeks," Thomas said in a club statement.
"I'm working hard to improve my behaviour and language towards women and the programs I'm completing have really helped me.
"The club and my teammates have continued to support me and I hope to repay them, the club and our fans on my return.
"I'm still working through some legal issues and I'll have more to say once they are behind me."
North Melbourne are set to face the Western Bulldogs at Ikon Park for their final pre-season clash of the season, before they clash with West Coast for their season opener at Marvel Stadium on Sunday, March 19.
The young midfielder is set to face court at a later date after being charged by Victoria Police with one count of threatening to distribute an intimate image, a matter unrelated to the aforementioned allegations.