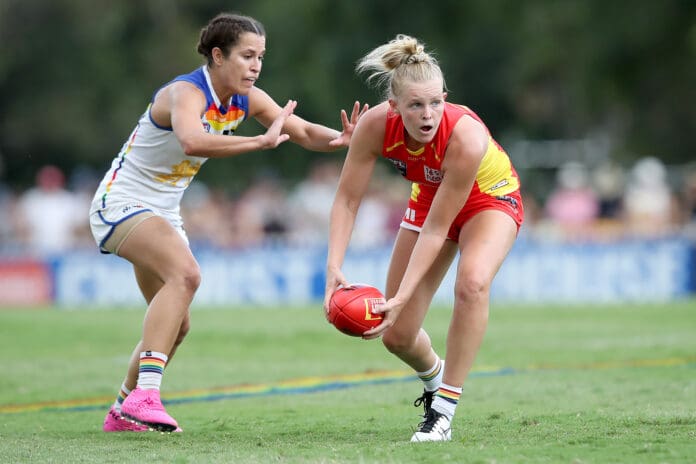 Gold Coast defender Serene Watson has shared her experience in becoming the first-ever player drafted to the Gold Coast Suns' women side and now the youngest member of the club's leadership group.
Watson admitted that she didn't play football as a young girl but once she moved to the Gold Coast at age 10 she followed in her brother's footsteps and started kicking the footy around.
In an interview on the After the Siren Podcast, Watson explained the honour she felt to be the Suns first-ever draft pick.
"I had multiple discussions with the Gold Coast Suns that year and we were both pretty happy to commit to each other so I knew where I was going," Watson said.
"It was just an unbelievable experience, I guess you don't really understand the feeling of it til your name gets actually called out.
"As soon as that happened, like walking up on the stage I just remember looking at my parents and they were just smiling so much, that was probably the most heartwarming part of it all."
After just two seasons of playing AFLW, Watson earned the honour of joining the Suns' leadership group.
She is now working alongside Sun's Captain Hannah Dunn, vice-captain Bess Kearny and Jamie Stanton.
"It's pretty inspiring to be able to be a part of the leadership group with them they're amazing mentors and I absolutely love working with them," Watson added.
"I get along with all three of them super well and could easily go grab a coffee or chat to them about anything.
"I think it's such an amazing experience to be able to bond with a person so much off the field but also learn so much from them on the field and I know the respect comes from both ends."
At just 20 years old, Serene explained the importance of gaining the respect of her teammates and how she approached this when joining the leadership group.
"When Joycey (Cameron Joyce) actually told me that I was in the leadership group I guess I took it as 'what an honour' but at the same time I want to earn the respect of my teammates before I just walk in bossing people around.
"I am pretty loud and on the training track I'm definitely one of the loudest voices you'll ever hear, but I made it a real focus of mine to make sure that I earned the respect of my teammates so they actually valued what I was saying.
"The hardest thing you can do is get people to work for you."
The Suns have enjoyed some positive form in 2022 with a win-loss record of 3-2 to currently sit just outside the top six.
Serene has averaged nine disposals and 1.2 marks across five appearances in 2022.