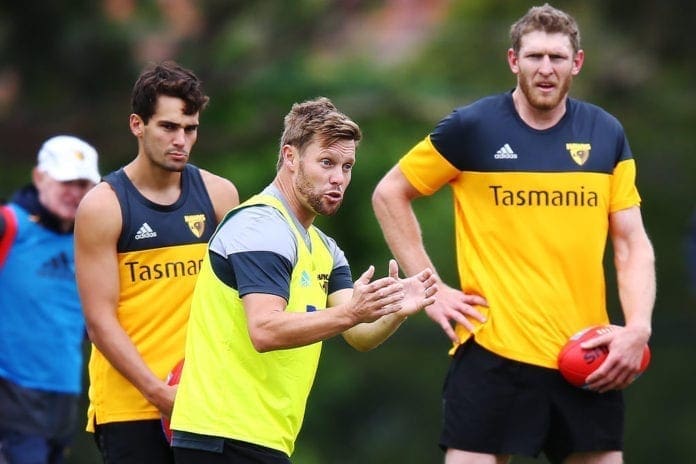 A report surfacing from The Age's Sam McClure has claimed that Sam Mitchell wants 'clean air' from current coach Alastair Clarkson from the end of the current season, as opposed to the arranged 18-month succession plan, which would see Mitchell take over from Clarkson at the end of the 2022 season.
Journalist Caroline Wilson made the claims on Channel Nine's Footy Classified on Monday night that tensions in the coaching department at Hawthorn stemmed from a 'mediation session' with Mitchell and Clarkson last week, also featuring Head of Football, Rob McCartney, and Leading Teams boss, Ray McLean.
"I'm told that during that meeting it became clear that Sam Mitchell would rather have clean air, to have a fresh start next year without Alastair Clarkson by his side," Wilson said.
Hawthorn President Jeff Kennett was quick to refute Wilson's claims, while Melbourne champion Garry Lyon said on on AFL360, it would be a bad look for Hawthorn - and Mitchell himself - if the whispers are true.
"Sam Mitchell sits alongside him and says 'Yeah, I'm looking forward to the 18 months...' [and] a week later we are led to believe, according to those reports, has made it clear a week after agreeing to this handover that he wanted to be coach, and prefer Clarkson not be there," Lyon said on AFL 360.
"One week after he sat there and agreed - and Hawthorn had shown this unbelievable faith in him by removing the great coach and saying 'We trust our club with you in 18 months', he says 'What a great honour, what a great thrill, I accept that' - now we're being told a week later he's saying 'I want him out'."
"I don't know that to be true - if it is, Sam Mitchell is the wrong man to coach Hawthorn."
"I don't know that to be true - if it is, Sam Mitchell is the wrong man to coach Hawthorn."

Garry Lyon was 🔥 on #AFL360 > https://t.co/xT6wLHEN5h pic.twitter.com/Zk3KDyUkEz

— Fox Footy (@FOXFOOTY) July 20, 2021
Lyon also claimed that he had spoken to sources close to him, who informed him that the claims about Mitchell were not true.
"I want to be fair to Sam - my understanding is he hasn't said that. That is what I'm being told," Lyon explained.
"If in fact it was, then he's not the man to coach. To go back on an agreement in the space of a week and be belting the table is poor from Mitchell."
The 53-year old would like Mitchell to have a media conference to address the claims that have been reported, in order to keep both Mitchell and Hawthorn's positive image intact.
"If Sam came out tomorrow and said 'Can I just be very clear on this, the opportunity for me to spend 18 more months with this man is going to be invaluable. I know Hawthorn have made a show of faith in me, I will use that time, I will suck every little bit out of this, and then 'Clarko' goes, and then I'll be in the hot seat myself, move on,' is that not a plausible and feasible concept?" Lyon asked.
"Those comments that were made last night, I don't know if they're true or not - it would stagger me if they were - so that is why I want to hear from Sam."
Alastair Clarkson is still contracted until the end of the 2022 season, with Sam Mitchell set to take the head coaching role from 2023 onwards.