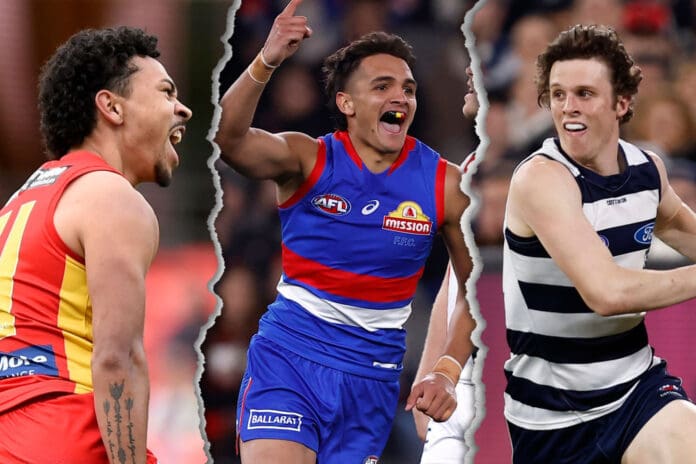 Following their earliest years in the AFL, players will break through the ceiling above them and shine like never before, showing signs of the star they can be.
Sometimes it's the beginning of a star in the making, other times it's an anomaly. Sometimes it's a player at the dawn of their career, other times it's a player with a handful of seasons in the bank.
Here are 10 players we predict will take their game to the next level in 2023.
1. Riley Thilthorpe
Adelaide could potentially have the most dangerous forward line in the making.
The emergence of Darcy Fogarty last season, in tandem with veteran Taylor Walker, who will be supported by young small forwards Izak Rankine and Josh Rachele, makes for an impressive forward line.
Riley Thilthorpe could follow suit with Fogarty and make his name in this potent forward line to be this year's breakout player at West Lakes.
The second overall pick in the 2020 draft had a frustrating 2022, with injuries keeping him to 11 games.
But the ruck-forward hybrid has enjoyed an uninterrupted pre-season after his first didn't go to plan, with there now some belief he's on track for a career-best season.
This belief and discipline from the 20-year-old has him in good stride for this season.