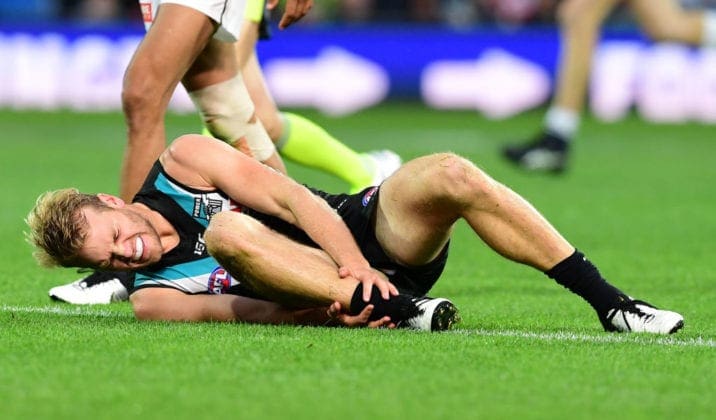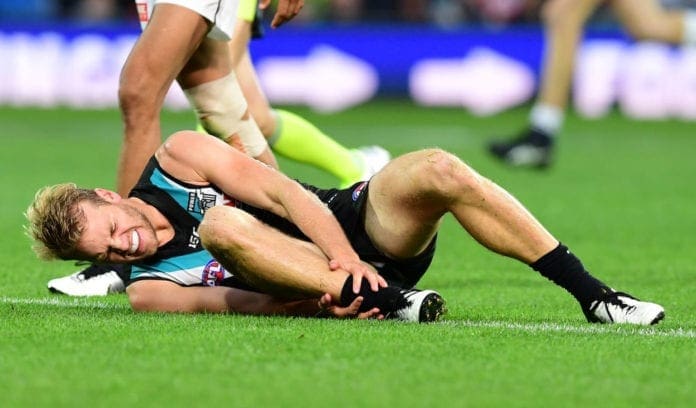 Jack Watts' leg became trapped as he was tackled by Carlton's Dale Thomas during Port Adeliade's clash against Carlton. Breaking his fibula and partially dislocating his ankle, Watts' was taken off field in a medicab while Port Adelaide went on to secure a 16-point win over their opposition.
While Port Adelaide's head of medical services Tim O'Leary says it is "too early to be putting a specific timeline on his recovery", General Manager Chris Davies believes the key forward could make a return by the end of the year.
"We're hopeful that Jack will play again this year," the Power footy manager told SEN SA Breakfast on Monday.
"(We) certainly think if his rehab all goes to plan, there's a really good chance that he plays a good month before the end of the season.
"But unfortunately with this type of injury, the rehab can go slowly at various points of time, as we've seen with Charlie (Dixon).
"We're hopeful right now but it's probably better off leaving us to get over the initial stages and give you some information probably in a month's time."
Unfortunately, Watts was not the only Port Adelaide player to endure an injury against Carlton, with Karl Amon suffering a medial sprain to his right knee.
The pair will miss out on round three as Port Adelaide sought to win against the also undefeated Brisbane Lions at the Gabba.