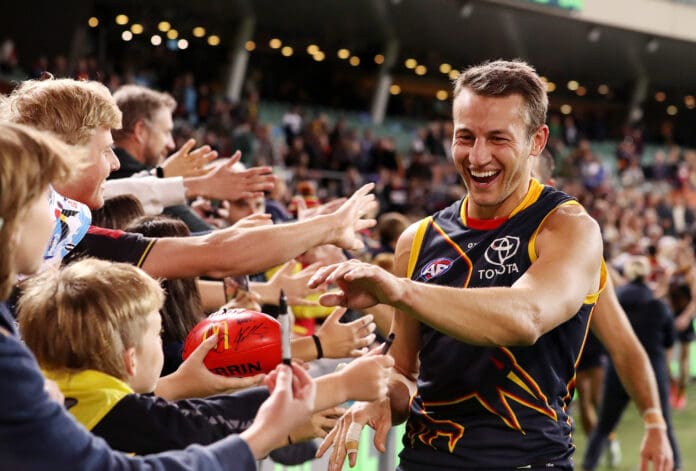 It was billed as a genuine corker. A fixture with more mouth-watering one-on-ones than options at a five-star buffet. One worthy of opening such a monumental long weekend.
At the coalface, Patrick Cripps' reunited Blues stood toe-to-toe with Jordan Dawson's rising flock; both sides desperate to improve on their clearance numbers to start the season.
Ahead of the ball, Dawson's offensive unit had begun to earn their share of plaudits after racking up more than 26 scoring shots each week across the opening month of the season - a feat they would repeat and beat on Thursday before a sardine-squeezed crowd.
Alongside the ilk of the 'Fog', 'Tex', Rankine and Rachele, stood Carlton's able defence. Tall, short, fast and sure, while all bases appeared to be covered, the Blues' rearguard proved more Swiss cheese than Swiss Army, leaking a season-high 118 points in the 56-point loss.
It was supposed to be a ding-dong battle between gun extractors, silky outsiders and commanding spearheads, however, nobody told Matthew Nicks' unheralded back-six.
After Carlton's roosters, Charlie Curnow and Harry McKay, kept the scorer's busy for a 10-goal outing on Good Friday - the duo's high watermark since combining forces in 2016 - many had the twinned pillars pencilled in to hold sway once more.
Yet, as the pomp, procession and pyrotechnics of the carnival's opening night faded, the pair of Coleman medallists were humbled by a gang of young names, recycled names, unheralded names and an intriguing free agent.
On a night when the football world converged on the City of Churches, all with the aim of partying in mind, Jordon Butts, Nick Murray, Brodie Smith, Mitchell Hinge, Max Michalanney and Tom Doedee played the collective role of poopers, holding Carlton to just 62 points.
While the 28 scoring shots and 18 majors at the other end of the ground will act as the headline of the Crows' commanding win, Nicks heaped praise on his unacclaimed defenders, stressing their deeds laid the foundation for the fun had at the other end.
"At half-time, that was where we went straight away as a coaching group and made sure that our players knew it," Nicks told Zero Hanger in the aftermath of the 56-point win.
"They just never give up. We didn't want to give up score. That was across the board.
"I don't want to talk about too much of what we do in-house, but I can tell you there's a few happy boys in that room at the moment that that number was 62.
"That number is a lot more important than the number we put up."
Initially tightlipped about the power such a stingy total presented, Nicks - now in his fourth season at West Lakes - let slip that his charges had earned a bonus for plucking Carlton's roosters during the prime time slot.
"I gave them Wednesday off actually ... 62 points," Nicks said with a grin, a point and a nod of acknowledgement.
"At the end of the game, we had a chat around a couple of things. But we have a 10-day break this week, so there's a fair bit of flexibility in what we can do.
"They don't know that, so don't tell them."
Entering Thursday's statement win, Adelaide's back-six gave few hints that utter domination would be the first dish served at the Gather Round smorgasbord.
Ranked 11th in the league for intercepts (68.8 per game) and 13th for rebound 50s (38.5) over the course of the opening month, the Crows eclipsed these markers with ease, racking up 43 rebounds and scoring 10 goals to 2 from intercepts.
And after conceding upwards of 100 points across the opening fortnight, Adelaide's backs tightened the screws, yielding cascading scores of 86, 72 and 62 points between Rounds 3 and 5.
With Hawthorn (A), Collingwood (H), Geelong (A) and St Kilda (H) ahead of Adelaide before the bye, stern examinations await as external expectations mount. But if Thursday's litmus test is to act as a precursor, very few of Nicks' murder will be losing sleep as the bar begins to rise.
Though still months out from September with everything still to play for, Adelaide's April form has made fools of many pre-season predictors, leaving the vast majority with the first sign of yolk on their faces.
And while this miserly defensive status quo will need to remain if they are to topple the likes of Lewis, Breust, Mihocek, McStay, Cameron, Hawkins, Membrey and their slew of offsiders, these Crows aren't flying under the radar. Not anymore at least.
The score, or lack thereof, is on the board.