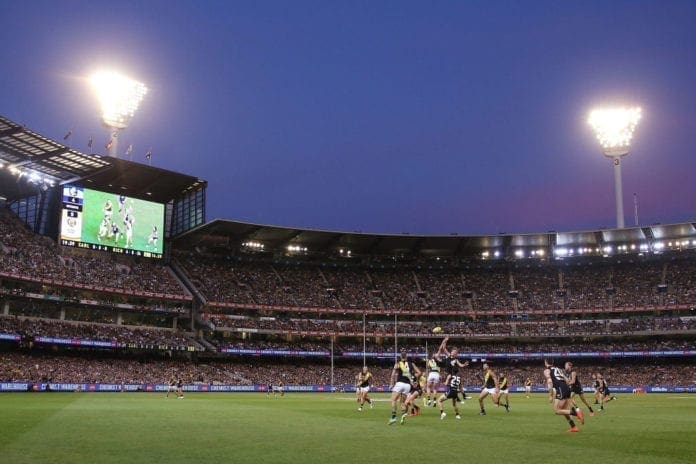 It seems we're hellbent on resuming the AFL season.
This hubs plan is fanciful – and, in my humble opinion, not very realistic. But footy is important, damnit. If we genuinely want it back, we need to think laterally and take decisive action.
So, here's the question: how can we resume the AFL season while the lockdown is in place and COVID-19 remains a threat?
Here's another question to also ponder: if we had a second spate of infections, how can we make the season foolproof so it doesn't have to stop again?
Then it occurred to me.
When the Olympics are on, we have an Olympic village where all the athletes stay.
We now need to do the same thing for the AFL – an AFL village where all the players, coaches, officials, staff, and even journalists stay. Much like the hub idea being thrown around. These people need to be separated from the public and set up within their own little colony.
Here's the beauty of this plan: we are prepared everybody in the AFL village to become infected.
We also lobby state and federal governments that the medical community prioritise the AFL village over the rest of us – well, at least as far as the players and the coaches are concerned.
But players are more important than you and me – Joe and Jo Public. What's more important? Seriously? Our health? Our lives? Or football? I don't think we need a poll to work that one out. I know if my funeral conflicted with a Collingwood game, that's going to wreak indecision among my Collingwood-barracking family and friends.
This COVID-19 is as unpredictable as an AFL Tribunal hearing. And, unlike the AFL Tribunal, it doesn't discriminate.
While being young, healthy, and fit should stand an AFL player in good stead should they, the reality is that there are young, healthy, and fit people dropping off. So there is still many risks.
Statistically, though, the majority should – should – be able to weather it and emerge the other end healthy and immune. They are bullet-proof for the immediate and near future.
I estimate this immunisation process will take about one month.
While this is going on, we need to set up a Pre-Resumption Season Draft, where clubs can replace any players who get infected.
The AFL already have a formula for compensating clubs who lose players to free agency. This can also be applied in regards to players who lose the virus. It's really the same thing, isn't it – a club loses a player?
Now that we've immunised everybody in the AFL village, we can resume the season as was scheduled, picking up from Round 2 at the beginning late June early July.
Complementing this is the plan to reintroduce fans. If somebody has been infected by COVID-19 and overcome it, we register them on a smartphone app database, where they get a digital certificate through that same app.
They can then attend any game, presenting their membership and their digital certificate at the stadium turnstiles.
Whereas everybody is refusing the possibility of Government keeping track of them through a smartphone app if lockdown restrictions are lightened, I figure nobody will have a problem with a similar app giving them access to the games.
Of course, this is going to be a slow process reintroducing fans to games. To date, we've had only approximately 7,000 reported cases of COVID-19.
Here's an important question: how many of them are football fans?
I don't know because we're stupidly querying them about their symptoms, where they've been, and who they've been in contact with, rather than whether they're football fans or not. It's lunacy.
For the time being, we're only looking at maybe a few hundred people attending each match – not a lot, obviously. It'll be just like a North Melbourne game.
But it's a start, and that's the important thing. It's a start we can build on. Or just not worry about fans for now.
This plan can be a test-case, a microcosm in how we tackle COVID-19 moving forward.
If it works – and I can see no reason it wouldn't – we could then apply it to the AFLW, so they can resume their finals race; to the VFL, so clubs can get their reserves back; and then to Auskick, so we can get the Little League happening and make sure we're not missing out on half-time entertainment.
After these successes – this strategy has neither a ceiling on success, nor a floor on failure – we can then begin moving other industries onto the immunisation timetable, while patenting this recovery strategy and selling it to other countries.
We'll have Australia up and running in no time.
And it's all thanks to our national sport - footy.