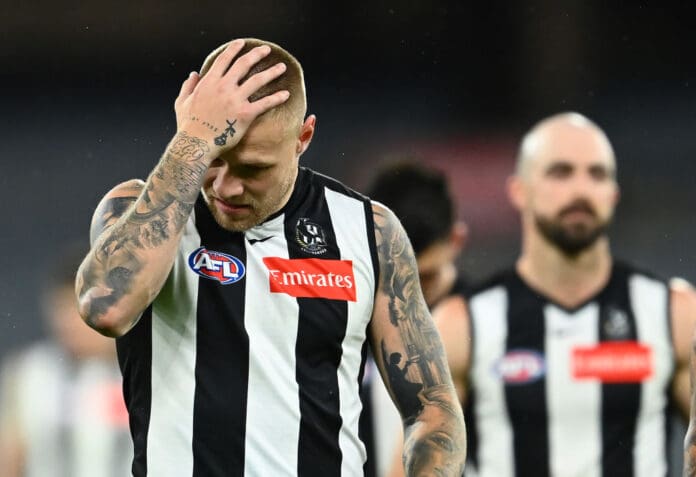 Controversial Collingwood name Jordan De Goey may yet be afforded the right to virtually attend his New York court date set for December 8.
According to reports from Ben Cotton of Fox Sports, the 25-year-old's legal team, headed by Jacob Kaplan of Brafman & Associates, are currently pressing for their defense of De Goey's assault charges to be heard online.
Should Kaplan prove successful in his pursuit, the embroiled sharpshooter is expected to be able to make a return home in the near future.
While a fixed date for a flight back to Melbourne has not been set, De Goey is likely to feel confident given Kaplan's firm has successfully defended the likes of rappers Jay Z and Shaun 'P Diddy' Combs in the past.
Although the Collingwood had previously remained silent after standing their star down earlier this month, the club's General Manager of Football Graham Wright stated on Wednesday that De Goey's off-field behaviour remained a worry at the Holden Centre.
"That behaviour over a period of time has found us in a situation where we felt it was the right thing to do for the football club to stand him down three or four weeks ago," Wright said on 3AW.
"It's a concern and a concern that he's found himself in a situation where the absolute best scenario for him is he's been in New York and got into a barroom fight that's seen him arrested, regardless of what happens with the court case."
While Wright and the Magpies' management team haven't yet sat down with De Goey as he remains on the ground in California, the 53-year-old claimed that some home truths were set to be delivered.
"We're really disappointed in it, we've obviously stood him down until we get face-to-face with him and see where the court case goes and what's happening with that," Wright continued.
"We're in that sort of holding pattern at the moment."
De Goey is currently contracted to Collingwood for the 2022 season, however, the Oakleigh Chargers product is set to become a Restricted Free Agency at the cessation of his next campaign.
It is not yet known what this latest legal battle is set to do for his potential market price or whether he will even be afforded the chance to see out the remainder of his black and white deal.