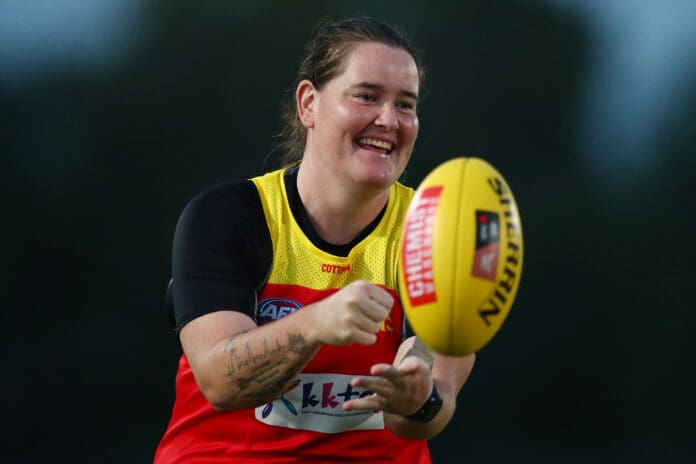 Throughout much of 1988, those within earshot of radio waves were reminded time and again that the only way was up by British pop star 'Yazz'.
The bleached blonde vocalist announced routinely to the world that not only had she been broken down and at her lowest turn, but that there was no fun to be found in being on the bottom line.
While a synthesiser and a series of smiles initially betrayed the pain in this verse, by the time the chorus had come and gone on six occasions, even the most dejected of listeners were sure to have become believers.
Despite more than three decades having passed since the smash hit went gold at home and abroad, the deeds of the sunken Suns were all the proof needed that the Londoner's message is timeless.
After failing to taste victory in any of their nine contests under David Lake, Gold Coast's 2021 campaign represented just the second time in AFLW history that team had finished an entire season without a win.
With an average score of 19.5 points on the board per week, 34 being leaked at the other end and a percentage of just 36.5, the Carrara club was well and truly fixed to the ladder's bottom line.
Across the course of the off-season, Lake left, as too did co-captain Sam Virgo and veteran Leah Kasler, with an array of personnel replacements being hunted and injected.
Prior to new broom Cameron Joyce being plucked, the Suns selected Charlie Rowbottom with the first pick of the 2021 AFLW Draft before adding Ashanti Bush, Giselle Davies and Teagan Levi before night's end.
And after turning an eye to the secondary leagues and their rivals, Gold Coast also gained the services of Alana Barba, Shannon Danckert, Jacqueline Dupey, Vivien Saad and Claudia Whitfort.
However, it has been a recruit secured at the eleventh hour that has truly shifted the Suns' song from bluesy to balladic.
While able to finish 2021 as Gold Coast's leading goalkicker, Sarah Perkin's seasonal haul of three majors was a far cry from her 11.8 slotted during her debut campaign as a Crow.
But as her trifecta represented 12 percent of the Suns' entire output in front of goal, it was also clear that the finalists from the previous year had broken down.
Still, skip forward to the present, and not only has Perkins surpassed her markers from last summer, but the rising Suns are within a sniff of the six.
Currently sitting at 2-1, Gold Coast's dramatic gains have left plenty of pundits agog. But when speaking to Zero Hanger ahead of Round 5, Perkins revealed that it was a simple tweak in plans that allowed the Suns to start building towards their crescendo.
"We've made it a real focus in the off-season that we want to be a scoring team and in order to do that, we all need to bring our own strengths and then work as a unit," the former Crow and Demon divulged.
While the likes of Tori Groves-Little, Kalinda Howarth and groundball threat Kate Surman all joined Perkins in returning after the lows of last season, the 28-year-old stressed that recent additions were also key to the forward unit's successes.
"Between myself, Tara and Kate, and then Ashanti Bush, 'TGL' [Groves-Little] and 'Kindy' [Howarth], we've all got our strengths and weaknesses, but we're working on being able to score more which is our game plan that we want to bring," Perkins continued.
"But I think we're all quite unique in the forward line."
Given these added avenues to goal, it is no surprise to see the Suns' scores jump by more than two straight kicks this season.
And with names inside forward 50 that can cover every stylistic need, those with offensive minds on the glitter strip have been granted a license to riff from time to time.
"Most teams have a structure that they want to stick to, but sometimes you need to move away from the patch of grass that you've been told to play in," Perkins explained.
"You obviously want to be really structured and have that connection to be really predictable to each other, but sometimes we need some flair and we've got some girls down there who bring that for us, which is really exciting.
"We all have a little bit of an 'X-Factor' that we can bring."
Now within her sixth AFLW season, Perkins is one of the most experienced names at Joyce's disposal. Yet, while the spearhead expressed a desire to simply play her role on a weekly basis, there also remained an excitement in knowing she had so much to impart.
Having proven deadly with a stat line of seven touches, two-and-a-half marks and more than a goal per game this season, the Victorian has more than held up her end of the bargain.
And with so many flourishing around her within the arc, it isn't just herself that Perkins has helped strike the right note.
However, if pressed, there isn't much mystery as to who her favourite pupil is at the minute.
For someone who hates PDA… i seem to love cuddling my teammates after a goal 🥰🥰 https://t.co/9Uf37vcF8N

— Sarah Perkins (@sarahperkins28) January 30, 2022
After being repetitively overlooked by every club in the competition, Tara Bohanna was forced to bide her time at VFLW level for a number of winters.
Following early successes with the Eastern Devils after transitioning from the hardwood to bladed ovals of Melbourne, the 26-year-old then shifted down Wellington Road to join the Southern Saints in 2019.
With 29 goals from 28 games during her two seasons in red, white and black, Bohanna capped last season by winning the Saints' best and fairest by a comfortable margin.
And while only journeying to the Gold Coast as a last-minute replacement to cover the loss of Annise Bradfield (ACL) and the Levi sister's inactivity, the former utility has become the face of the Suns' increase in volume.
Still, as the pair had previously spent time in the same huddle during their days at Mulgrave Reserve, Bohanna's rise has failed to surprise Perkins.
"I'm not shocked at all," Perkins said of the sharpshooter's red-hot form.
"I love watching Tara play. I've followed her journey from when she was my teammate at the Devils and work really hard before moving to the Southern Saints and now get her chance up here on the Gold Coast.
"It's probably a fair statement for me to say that I think there is still a lot more to come. I think she's a really exciting prospect and a really exciting forward. I'm glad she gets to wear the red and yellow every week and that she's on my team, so I get front row seats."
Throughout Gold Coast's opening three clashes in January, supporters of the expansion side saw six separate names combine to slot 15 goals.
But even if this spread is more than enough to buoy those once at their lowest turn, this growing group will need to be singing from the same sheet during their upcoming clash against Melbourne.
In spite of the fact the Demons have proven deadly for much of this season, and that winning at Casey Fields has often been a cross too big to bear for travelling sides, the leader of the Suns' forward line believed her side was up for the assignment.
"They're coming off a tough loss to Adelaide and we're coming off an exciting couple of wins for the footy club, so I think it's a really good chance for us to go up against the best and see where we sit," Perkins said optimistically.
"That's the exciting thing as a young group, you want to know where abouts you sit in the competition and to be a really competitive force."
Though local knowledge and a battle-hardened unit will have the Redlegs as the punter's pick on Saturday, win, lose or draw, Joyce's message to his rays must be to continue their upward strides.
But with Bohanna's penchant for blasting 80s bangers whenever acting as team DJ, the odds also suggest that a one-hit wonder will have delivered this message well before the first-year coach.