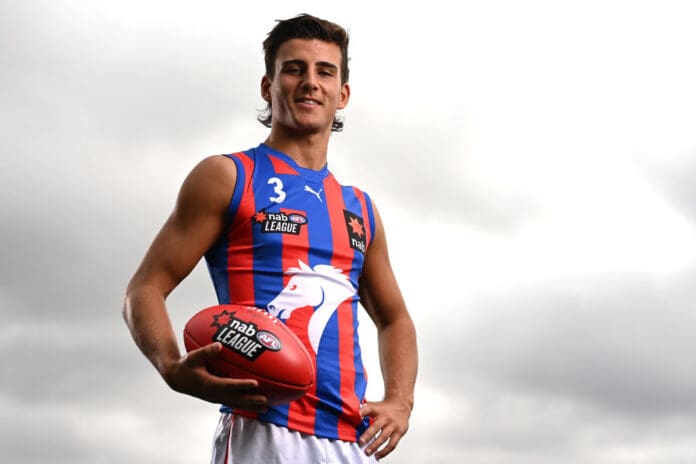 North Melbourne will head into the 2021 National Draft with the first selection having finished at the bottom of the AFL ladder, but they must use that pick and all of its power on draft night.
It is becoming increasingly likely the Kangaroos will select South Australian Jason Horne-Francis with the number one selection. But there are other options for North Melbourne.
Oakleigh Chargers star Nick Daicos has lit up the NAB League when given the opportunity to play and would be a deserving number one selection. However, he has indicated his desire to get to Collingwood under the father-son rule and the Pies have the picks to match an early bid for the son of the great Peter Daicos.
Another father-son prospect expected to be bid on in the early rounds is Sam Darcy- son of Western Bulldogs champion Luke Darcy.
With both Daicos and Darcy set to get to their boyhood clubs no matter when they are bid on it would be easy for North to select Horne-Francis and award him the prestige of being the number one selection.
However, it's time that teams begin treating draft night as competitively as any of the 22 games played during the home and away season.
Especially when it comes to father-son selections in the first round of the draft. Now that Next Generation Academy players can't have a bid on them matched inside of the top 20 picks, the only somewhat unfair advantage that can be gained on draft night is through the father-son rule.
The Bulldogs are the perfect example of this. Having played finals in 2020, they then recruited Jamarra Ugle-Hagan with the number one pick having matched Adelaide's bid. In 2021 they played off in a Grand Final and will likely secure Darcy early in the first round as well.
But North Melbourne owe it to their fans and members to make it as hard for teams above them to gain an advantage on draft night.
The competitive thing to do would be to bid on Daicos with pick 1, and then when Collingwood matches that bid they should then select Darcy with pick 2. Daicos may be worth pick 1, but Darcy isn't worth pick 2.
However, you can almost guarantee that the Bulldogs would raise the points needed on draft night to make sure they get Darcy.
Then with the third selection of the night, they can select Horne-Francis. They get their man and they force Collingwood and the Western Bulldogs to pay a premium for their young stars respectively and surrender some of the advantage they did very little to earn.
Collingwood made the choice last year to trade away their first-round selection. That pick stands at pick 2 and would likely be enough on its own to secure Daicos on draft night if he weren't a father-son prospect.
There's no reason North Melbourne shouldn't punish Collingwood's poor list management and trade performance from last season. Especially given the fact that Collingwood only finished one spot above North Melbourne this season.
The number one draft pick does receive a cool $10,000 bonus from NAB, and that would go to Daicos in this scenario, but that surely can't be an issue for a future star like Horne-Francis.
To play devil's advocate for a moment here, let's say Collingwood don't match the bid. North wouldn't lose much if anything by securing Daicos.
If the Bulldogs don't match and darcy goes to Arden Street, it may be a bit of a body blow, but with the Dogs needing another young ruckman and having committed to drafting Darcy already, it's almost certain they would match the bid.
It's not a move without risk but it is one that would change the system and the structure of draft night forever. It's a move that would signal North's intent to be competitive in every aspect of the game.