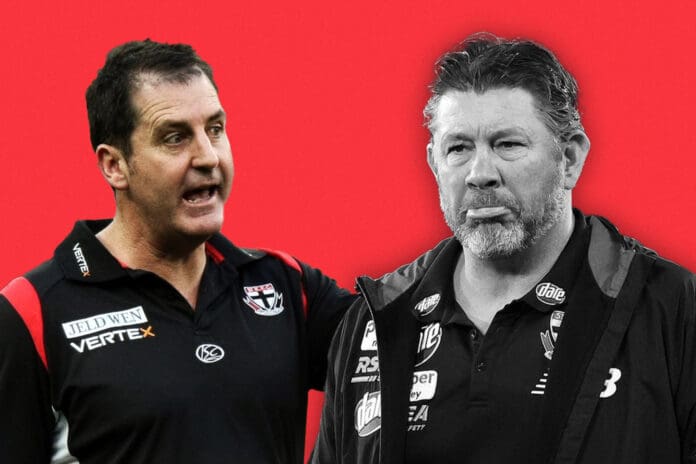 If American sitcoms have taught us anything, it's that getting back together with an ex is an exercise fraught with danger.
From the couches of Central Perk to Scranton's infamous annex, the choice to test previously chartered waters has seen mixed success, with overly invested audiences cheering, or cringing, all the while.
Since the late John Elliott flipped through his Rolodex to lure David Parkin back to Princes Park, AFL clubs have avoided the dance of Ross and Rachel, opting for new names at the helm over returns to the same well.
Yet, less than 100 days after squatting down on one knee and committing their future to Brett Ratten, St Kilda severed ties with Parkin's former pupil, trading their jovial partner for a future with their past.
When first wandering before cameras in 2007, at first glance, Lyon's nasally drawl, inimitable gait and endless stream of meme-able expressions made it challenging to see him as anything other than a goofy fringe character.
But for Saints fans, routinely asked to subsist on sugar hits rather than anything of substance, reports that the 55-year-old would be back on set after an 11-year absence has sent many hearts aflutter.
Sure, Lyon's initial departure from Linton Street created a chasm between him and his many disciples. But as a ratings hit across multiple seasons of St Kilda's endless dramedy, and the club's contemporary cast in dire need of some zest, these same viewers have turned their coats back at warp speed.
As the old adage goes, 548 weeks is a long time in football.
With everything old appearing new again at Moorabbin, the Saints' call to cull Ratten hasn't just put the ilk of Billings, Butler, Clark, Gresham, Higgins, Hill, Jones and King on notice, it has asked a wider question of the coaching caper itself.
With the conspicuous choice to opt for Lyon's ferocity over Ratten's friendliness in mind, have old-school coaches become trendy again?
Domineering, demanding and bordering on despotic, stewards from the yesteryear ruled with an iron fist rather than open arms. And though out-and-out tyrants have gone the way of the dodo in the coaching realm, there is still room for top-down leadership at clubland.
While Ratten's out-of-the-blue replacement was signposted by St Kilda CEO Simon Lethlean's desire to create a "ruthless commitment to football excellence", they came in the wake of similar moves at Ratten's old home.
Though his train was derailed in more conventional circumstances, Carlton's choice to trade David Teague's geniality for Michael Voss' grunt last year acted as a warning to the new-age members of the coaching fraternity.
In a zero-sum game, the buck has always stopped with the chief in the coaching box. And with tenures judged by results alone, wins are hunted by hook or crook.
In decades gone by, this blinkered approach saw the likes of Norm Smith and his protégé Ron Barassi combine for 10 flags before sharing statuses as legends in the game's Hall of Fame. But just as eggs require cracking to make an omelette, 'The Red Fox' and 'Barass' put plenty offside in their premiership pursuits.
For Smith, publically berating star players was a trademark during the Demons' golden years of the 50s, while for Barassi, these chidings came behind closed doors, pushing Brownlow medallists Keith Greig and Malcolm Blight to the limit.
But while Lyon's own sprays, performative or otherwise, have become the stuff of legend, they were keenly lapped up by those within his inner circle.
Abrasive at times, usually post-game with those seeking a headline, Lyon has always preferred the front foot to hesitating on his heels. This trait has served him well on both sides of the boundary line, adding successful media and property posts to his CV in recent years. It has also won him lifelong admirers, even if the cups never came.
"His number one asset is his ability to create a high-performing environment where there is such strong accountability and buy-in from the playing group," St Kilda legend Nick Riewoldt told Triple M last year.
"There's a hard edge to Rossy as a coach, which isn't for everyone … but those that are really going to dig in and be the core of what you want to achieve are pretty strong disciples.
"He's got incredible attributes, as a coach, and as a leader of men, most importantly."
Brendon Goddard's bond with Lyon remains unbroken, despite more than a decade apart spent during stints elsewhere within the competition.
"I'm a massive advocate and fan of Ross," the outspoken ex-Saint told The Herald Sun last week.
And when quizzed about whether his mentor of five years still had what it took to take the reins back at the Saints' redeveloped base, the dual All-Australian's loyalty came to the fore.
"There's no reason why he wouldn't be perfect for it, really. The game hasn't changed that much (since Lyon left the Dockers in 2019)," Goddard added.
"He still watches it and he still loves footy and his methods and his plan around how to build a culture, that hasn't changed."
With the endorsement of these club colossi ringing in their ears, it is little wonder why success-starved St Kilda supporters have steeled themselves to be hurt again by the ex that departed over a decade ago.
However, it cannot be forgotten that this same jaded congregation also went into bat for Ratten, recently citing his warmness as the Saints' edge in their amble to bring their drought.
But even if giddiness has been the order of the week in Melbourne's Bayside suburbs, an underlying dissonance still requires airing.
As the man that took St Kilda within a whisker of the mountaintop, Lyon's name holds clear weight on Linton Street. Still, with many of the Saints' most outspoken members conveniently forgetting the coach's chequered past, despite previously claiming that Jordan De Goey had no place within their fold, the line between right and wrong is clearly malleable.
They're often a weird mob at Moorabbin, though.
Born on November 8, 1966, those that share a birthday with Lyon and those that followed share a stark commonality - none have ever seen St Kilda salute on grand final day.
Having watched on as the Bulldogs, Tigers and Demons broke their respective hoodoos in recent seasons, the choice of powerbrokers aligned with the competition's most torturous club to overlook Lyon's past and focus on the future hasn't been made lightly. There is a body count, after all.
But for an entity on the verge of its 150th birthday with only one cup in the cabinet, the status quo cannot be accepted when a genuine blueprint for success is available.
Although terse themselves when the chips are down, Damien Hardwick and Luke Beveridge have been hailed for toeing the line between autocracy and inviting anarchy. Under the duo's watch, not only have their troops flourished but a genuine togetherness has forced it to, with those inside the bubble asked to let their guards down.
This blending of old-school direction and new-age sensitivities has delivered four flags and five grand final appearances since September of 2016. And with Lyon on the Saints' hook, his own brand of prompting buy-in can soon be shared with a group that was all at sea after the bye this year.
As St Kilda's High-Performance Manager between 2008 and 2011, David Misson played an unheralded role in delivering Lyon a roster ready to scale the competition's summit. Though the Saints' flag would fall short of the peak, Misson's role inside the club's four walls gave him a prime vantage point to watch the coach's cogs turn.
Within his fly-on-the-wall tome 'The Bubble', spent documenting St Kilda's 2010 season, Misson wrote that in the lead-up to that year's drawn decider, Lyon's thirst for a flag wasn't born of his own self-worth, it was instead fired by the full-stop it would add to his player's legacies.
"To me, it summed up his approach to coaching. It had nothing to do with his ego or his record as a coach. And it wasn't so much about the club as an entity. It was about his players. He understood them, what they had sacrificed and how hard they worked for success. He was hard, demanding and not afraid to be brutally honest with them. He knew what made them tick, knew how they hurt and knew what inspired them. For all his hardness, abruptness and challenging directness, he had a depth of feeling and genuine care that connected him with his players."
Pour through the league's list of premiership coaches, and you will need to go all the way back to Bob Davis in 1963 to find the last unequivocally nice guy that finished first.
Like anything subjective, plenty will disagree with this view, however, it is worth bearing in mind that in spite of the unity forged inside their lockerrooms, none of Scott, Goodwin, Hardwick, Simpson and so on were employed to sing pitch-perfect renditions of Kumbaya.
Some may also suggest that with his handshakes, cheeky grin and arsenal of amusing anecdotes, the rise of Craig McRae at Collingwood acts as the friendly finger in this dike. Yet, with his choice to chide his Pies' demeanour after their recent qualifying final defeat, there may be more to 'Fly' than first meet the eye.
In tandem with having the eyes and ears of the playing group, imparting a vision is integral to success in the coaching caper. And while Ratten is said to have been adored by his boys until his death knell sounded, it appears that Lennon and McCartney were wrong. Sometimes more than just love is necessary.
With his own quirks, including his consistently skewed cap and his smiling eyes, there are few, if any, in footy circles that don't love Ratten. Never one to step on toes deliberately and always one to apologise profusely if he accidentally had, it isn't hard to see why.
But, in the end, this personability proved to be his fault. When his game plan was pierced and his patchy list was punished, the jolly steward was left looking exasperated and devoid of ideas; barely breaking character when pleading for more.
Whether in agreeance with Ratten's dismissal or not, there is no denying that irrespective of traits or talent, he deserved better from St Kilda's suits. But if the message of Lethlean and President Andrew Bassat was to hold weight, it needed to exhibit the very ruthlessness they still seek.
Only 14 months on from Teague's termination at Carlton and eight days from Ratten's at Moorabbin, it is far too early to tell whether these dual dismissals are symptomatic of a wider trend.
But with the sterner hands of Voss and Ross replacing them, shifts back to the old-school could soon become vogue right across the competition. Because as with fashions and fads away from the playing field, everything old becomes new again, eventually.