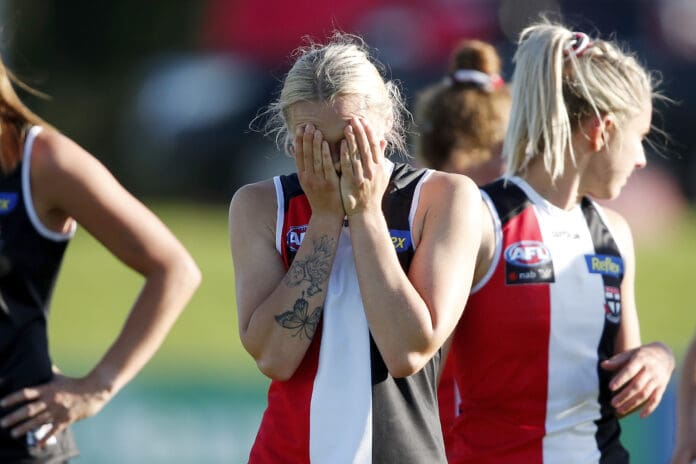 With time running out during their rescheduled Eagles clash played in an unaccustomed Tuesday timeslot, a familiar, sinking reality was setting in for St Kilda's most ardent supporters.
Despite the best efforts of those in red, white and black battling to send the ball forward in flurried, final thrusts, both time and their opponents had them beat at the final bell.
While the cameras, quite rightly, focused on West Coast's wild celebrations which arose after breaking a pair of droughts away from home, the Saints, in turn, slunk defeated from an oval bearing the name of a club legend who was often acquainted with the feeling.
After an interrupted month on-field and a devastating lead in off it, there aren't exactly a sea of eyebrows cocked at St Kilda's predicament ahead of Round 5.
Yet, with the Moorabbin convocation's latest loss coming against a displaced side still seeking to stake a claim away from the West, if there is a tri-coloured panic button somewhere, it's sure to have been pressed this week.
Add in the fact that the Saints were coming off a 17-day break, with their guests having played less than a week earlier, and the circuits on this same switch are almost certain to have been shorted.
At 0-4, any optimism that Nick Dal Santo's debut season would be capped with a finals berth is sure to have evaporated, but with a further five clashes left to run on the calendar, the St Kilda great and his side can still salvage something from the season.
While the odds are stacked against the triple All Australian and his thinning roster, there is also more than a myriad of ills that need correcting to swerve the club's 28th wooden spoon.
And with a date against the reigning premiers set to take place in oppressive temperatures this Sunday, the side from Linton Street are, once again, on the wrong side of the clock's hands.
Although it's easy to take the low road and stick knifes into the back of a struggling team, it's far more neighbourly to remove them and help heal the wounds.
However, we can't promise some won't be twisted on the way out.
The numbers
While their zero wins and four losses are the most damning numbers currently facing the Saints, there are plenty of figures below this surface that have led to their winless start.
With 16 quarters behind them, St Kilda currently trail their opponents in disposals (-95), clearances (-38), hitouts (-33), inside 50s, (-24) and contested possessions (-23). Their only statistical win has come via a +48 win in the tackle count; however, this is merely a symptom of failing to secure the Sherrin at any considerable rate.
Given these depressing bottom lines, it is little wonder why the Saints have turned sinners on the scoreboard, with a mean total of 20-points scored each week and 47 being posted against them throughout the first month.
As Richmond, Collingwood, Melbourne and West Coast have also moved the ball into their forward arc at a collective rate of 28.5 occasions during their dates with the Saints, it is crystal clear that the expansion side have problems right across the park.
Though the several holes in Dal Santo's roster have both widened and deepened as the season was worn on, there is still enough talent available to help fill in them.
The group
At the cessation of the 2021 AFLW season, Moorabbin was the home of three former All Australians and a league-leading goalscorer.
However, ahead of their loss to the Eagles, former Lion Kate McCarthy remained outside of the 21, Caitlin Greiser was yet to register a major and Georgia Patrikios was off conducting her own vaccine research.
Though it could be considered be unfair to use these three as totems for the club's current position, but with all three either faltering or falling away entirely, it's hard not to see their collective positions as a perfect indicator of where the Saints are standing themselves.
Throw in the shaded brushstrokes from Tyanna Smith's pre-season ACL injury, and an already gloomy canvas has become irrefutably bleak.
While 2021 was the Dandenong Stingrays product's first season in the league, the currently propped up midfielder made some amazing strides, finishing with averages of 13.5 disposals and seven contested possessions across her nine games.
And even though relying upon a 19-year-old to carry the club's can could be considered unreasonable, if Smith, a goalkicking midfielder, is available, she covers a number of bases that are currently sitting unmarked.
Last Tuesday's injury to Rosie Dillon in conjunction with Claudia Whitfort and Alison Drennan's successes away from Moorabbin have also shown that an ability to cross home plate standing up has, once again, been hit.
Still, even if the club's palate is currently spattered with deep greens, blues and some marks much darker, there are some pastel paints that have been uncovered at the bottom of the box.
Tarni White's elevation into the midfield has seen fruit bear amongst other bare branches, with the 21-year-old finding the Sherrin 11.8 times per game this summer.
At 25, Tilly Lucas-Rodd is as close to a veteran as the Saints have, and with an evident desire to bridge gaps and fill voids, the tattooed former Blue has been everywhere the ball has been.
Standalone skipper Hannah Priest has also had the ball on a string across the first half of the season with an average of 17 touches per week.
However, given the ever-present SANFL import is often camped on St Kilda's last line of defence, this detail is surely one the Saints could do without.
The game plan
As a side that seems desperate to surge the ball forward by any means necessary, it is unlikely to rankle many that St Kilda have racked up 117 more kicks (438) this season that than they have handballs (321).
And as a side that has had challenges scoring, and even bigger issues halting their opponents from doing so, the fact that three of the Saints' highest ball winners – Lucas-Rodd, Priest and Bianca Jakobsson – routinely call the defensive arc home won't have flummoxed many either.
With a total of 114 inside 50s conceded throughout the first month, these names, and those around them, are sure to be spent. But with a team disposal efficiency of 51.7 per cent, it's also little surprise why it keeps coming back in.
Since Round 1, St Kilda have sent the ball inside their own forward line on 90 occasions for just 17 marks and 10 straight kicks from 30 scoring shots. Without individual context, these figures indicate both erraticism between the arcs and inaccuracy when finally in reach of the goal mouth.
Although Dal Santo can be given a sliver of credit for promoting an attacking approach, the reality is that replacing this Jackson Pollock-esque approach to ball movement with the structure of a 'paint by numbers' program would likely make for easier reading on the scoreboard.
While unshackled expression can lead to masterpieces such as Pollock's 'Blue Poles', unless something more sustainable is provided by those in St Kilda's coaching box, the strain of splitting their own poles is sure to continue vexing the cellar dwellers.

The stewards
Since becoming the head coach at his old stomping ground in August of last year, the appointment of Nick Dal Santo has drawn plenty of ire from many on social media.
For some, the 260-game Saint turned pundit just didn't have enough runs on the board to take on such a role.
For others, the elevation of a man to replace Peta Searle in the hot seat on Linton Street was sticking point enough.
With a winless record so far, and few, if any, victories in a statistical sense, those with aired grievances have every right to feel vindicated in their stance. However, maybe a second thought will help temper the mood.
Speaking personally, I, along with many, hold the strong view that the desert-like dearth of women coaches in the women's game is an epidemic in of itself, but with Searle's exit coming under ambiguous circumstances, the answer of why the decorated steward is no longer leading the club is sure to lie with the playing group.
While I am not suggesting that a locker room mutiny saw Searle run out of her post, but with a relative silence emanating from those with numbers on their back since her desk was emptied, it cannot be entirely ruled out either.
Irrespective of whether Searle's departure came via a push, a nudge, a disagreement or entirely on her own volition, one thing is for certain, those under the former schoolteacher's tutelage have a greater idea of why 2021 was her last at the level than those of us on Twitter.
Still, with Dal Santo yet to open his account in Searle's wake, any shouts, biased or not, from beyond the boundary about obvious results and pontificated purposes certainly have merit.
The elephant in the room
Aside from the Suns following Ben King's recent ACL injury, it is unlikely that there is another football club in the land that has been, or will be, hindered as much by the absence of a star.
And for a supporter base that often spouts their happiness is hitched to a cursed entity, the news that Georgia Patrikios was unwilling to obtain any form of Covid vaccination was just another nail in a coffin that would never pass freely through a metal detector.
Since debuting alongside the club itself in 2020, the Calder Cannons product has fired a myriad of shots felt by all across the competition.
By the end of her second campaign, the midfielder has sewn up back-to-back best and fairest honours, an inaugural All Australian nod and a place in pundit's minds as a genuine chance to one day rule the competition.
Yet, with a crippling blow to these chances dealt out by her own hand, St Kilda fans of a certain vintage couldn't help but recall similar pains that have readily contributed to their cobwebbed trophy cabinet.
Although Dal Santo had claimed prior to this season's commencement that he held a hope that the 20-year-old would eventually backflip and roll up her sleeve, this same optimism was dampened after West Coast's win.
"Not as it stands, that's not my rules, that's the government's rules and it's the AFL's rules," Dal Santo responded when asked about whether Patrikios was set to return.
"I've spoken about her numerous times and she's still part of our squad, she's a listed player.
"We support her an an AFLW program and the club has been extremely supportive of her and her family, and we will try and continue those relationships."
While we can only take the coach on his word, with the season heating up and the Saints cooling down, one wonders just how long those sweating it out in Patrikios' absence will be willing to maintain such support.
The future
Given each of these woes, worries and lack of wins, there is no doubt that the Saints are at their lowest ebb.
And without their strongest winch to help haul them from this current quagmire, the task of aiming for silverware without being gifted kitchen utensils instead is tougher than a cheap steak.
While the brief nature of each AFLW season has long shown us that early trips can kill campaigns, St Kilda can still salvage something if they are able to dust themselves off and attack each of their five remaining barriers with gusto.
Despite naked form and numbers suggesting that clashes against Brisbane, Carlton, GWS, Gold Coast, Geelong and Adelaide are only likely to see more wounds created, a narrowed focus on selecting one of these games as their best opportunity to part ways with the gorilla on their back could well provide armour.
But with their studded boots currently cemented to the bottom of the table, even if an incremental rise can be found, it is worth remembering that this season is still a terrible time to bottom out.
As four new sides are set to enter the competition next summer, the upcoming draft will provide slim pickings for even the most unproductive of the sides currently within the competition.
With the announcement coming in December that Sydney, Port Adelaide, Essendon and Hawthorn will have rights to each of the first eight picks in their respective state drafts, even if St Kilda is to remain rooted in 14th place by season's end, their prize for their pain will be Pick No.9 in the Victorian Draft – their worst entry point in history.
Add in the fact that the Swans, Power, Bombers and Hawks will also be afforded free rein to pick the eyes out of other rosters, and the Saints could be attacking 2023 with little more than a husk.
Though this issue of tomorrow is likely to be beyond the minds of many today, those attached to the Bayside side will be losing slumber given the nightmares at hand.
However, one of the most comforting aspects of football is that when sleep is eventually found, dreams of brighter futures filled with flags can always unfold.
And even if life is not mimicking these imaginings right now, St Kilda fans that have always found strength from their loyalty will tell you that there is always next year.