North Melbourne has reportedly asked the AFL to monitor AFL Media journalist Damien Barrett's writing.
The Herald Sun's Mark Robinson reports the Kangaroos are disgruntled at Barrett's commentary surrounding the club, prompting the league to keep an eye on Barrett's content.
Robinson's report states that North Melbourne made the complaint late last year.
"Fed up with Barret's alleged criticism of the club in recent years, in particular towards chairman Ben Buckley and Archer, it prompted the club to privately complain to the AFL late last year," Robinson wrote.
"It is said the AFL is monitoring Barrett's commentary in his column."
It comes after Barrett last week reported in his Sliding Doors column that former coach Rhys Shaw wasn't given the support needed when head coach, which further upset North Melbourne.
"IF …there is a lot of doom and gloom about the Roos … THEN … it's justifiable, given the actions of the chairman and his board in recent years. An ugly 2021 looms. Hope the new coach gets the proper support the past two haven't.''
SEE ALSO: Caroline Wilson rejects "clickbait" accusations regarding Kangaroos-to-Tassie article
North Melbourne have argued they gave Shaw all the support he needed but whether that gives them the right to ask for a journalists content to be monitored is a different story.
Barrett has since come out and denied he is being monitored.
"It's a bit disturbing that that particular journo feels the need to refer to me and what I do," Barrett said on Triple M.
"That's probably the greatest take out of it… just to be clear on that, I am not being monitored, I never have been and I never will be for what I do at the AFL.com.au.
"It's just an obsession of that particular guy (Robbo) who wrote the article... I don't know what it's about actually."
"Just to be clear on that, I am not being monitored, I never have been and I never will be."@barrettdamian responded to Robbo's comments about him today.

LISTEN HERE: https://t.co/frAWRkVVCF pic.twitter.com/MN5C64pQaY

— Triple M Footy (@triplemfooty) March 24, 2021
Barrett said when North Melbourne started to search for a replacement for Rhys Shaw that he felt the committee had had its chance already.
"It is unthinkable for the North Melbourne footy club to have Glenn Archer as part of its committee to find another coach," Barrett said on AFL Trade Radio.
"I feel it is only marginally more logical to have Roos chairman Ben Buckley on that same committee as well. Buckley and Archer have had their chances with such tasks and have failed.
"They extended Brad Scott's contract as coach, only to ship him out with a year and a half to go. Then ran a cowboy process to find his replacement, making Hail Mary calls to a few of their old mates in Simmo (Adam Simpson), Horse (John Longmire) and Clarko (Alastair Clarkson).
"And all of those guys understandably said no in a heartbeat, all too smart to join their cowboy operation. The so-called thorough process then unveiled interim coach Rhyce Shaw as the man they were after."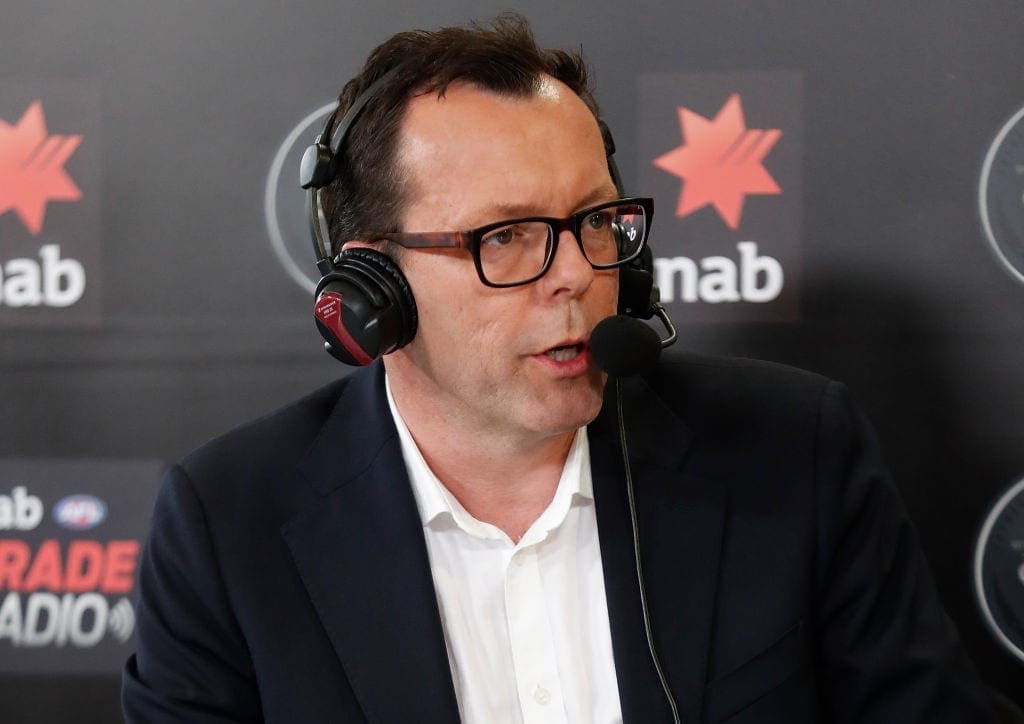 Barrett has long had a difficult relationship with the Kangaroos. It was revealed in 2016 that North coach at the time Brad Scott pinned Barrett to a wall in a New York Bar.
Hutchison said the he and Barrett met up with the Scott brothers in the bar and things turned sour quick.
"I looked around, it's Halloween by the way, it's actually a week out from Halloween but all the Halloween paraphernalia was up, and I looked around and how do I best describe this? The two of you are wrestling, wrestling in the bar, not a muck-around wrestle, a fracca had broken out between you and Brad Scott and you're tangled up in the Halloween cobwebs against the wall!"
Only last year Barrett claimed the Kangaroos were in as bad a way as anyone.
"In true North style, where it will second-guess itself the moment it is in the spotlight it craves but doesn't actually want, that doesn't mean he won't be on the list in 2021.
"This club is in as big a mess as Adelaide."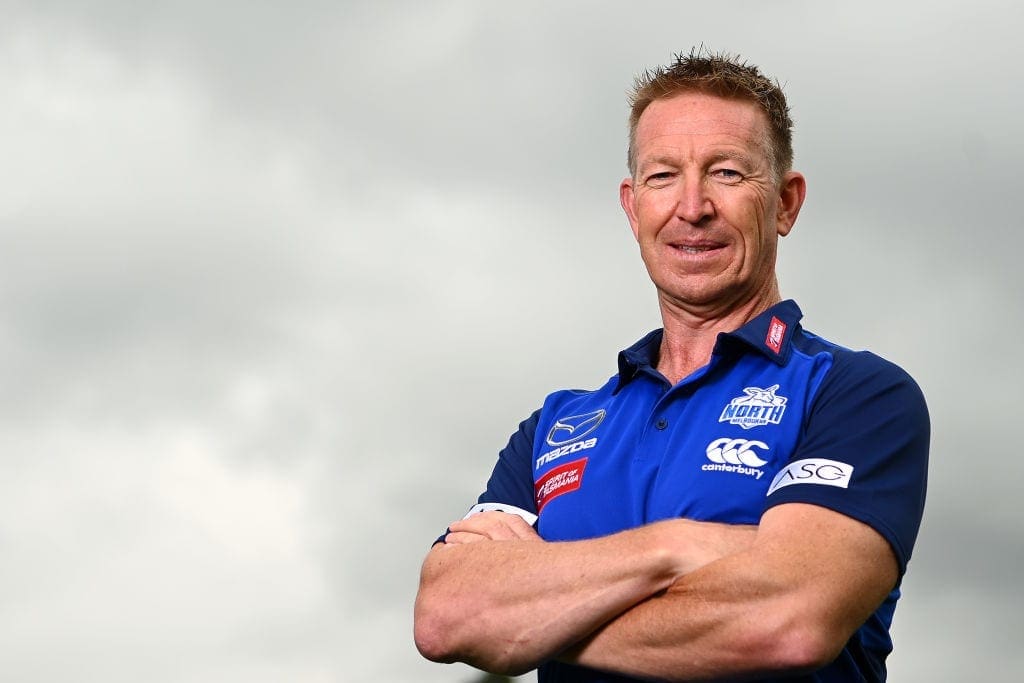 North Melbourne may feel unfairly targeted by the criticism of Barrett but they can't ask anyone to dictate what is written about them.
They must accept that there will be comments on the club that aren't always positive especially given its current position.
Barrett is entitled to an opinion and is paid to put that opinion into words, if his opinion is that North Melbourne are doing things wrong then he has a right to publish that.
Especially not at the behest of a club under the leagues banner, it risks the integrity of the work being done on the website.
Barrett isn't the only media personality North Melbourne have clashed with over time, they have long butted heads with Channel nine and The Age reporter Caroline Wilson.
North Melbourne would be better focused on the rebuild of the club rather then what is being said about them on the outside.