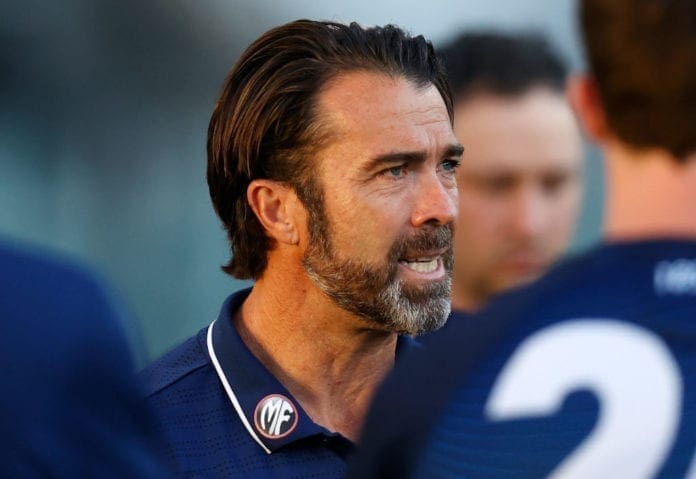 Geelong premiership coach Chris Scott has questioned the MCG's inconsistent playing surface after two heavy-duty music concerts took place at the venue ahead of the start of the AFL season.
Complaints surfaced subsequent to two Ed Sheeran music concerts that were held at the MCG in the short lead-up to the beginning of the AFL season, leaving the stadium's playing field in a soggy state with little time to rectify the issue.
On Friday, Scott's brigade surrendered victory to Craig McRae's Magpies in what was a fiery contest, however, the two-time flag conductor made it a point to raise the issues with the current state of the turf.
Speaking to the media post-game on Friday evening, Scott began by noting the conversation should be for the relevant authorities to have, before going on to pinpoint the core issue and criticise league executives for what Scott called an "own goal".
"I think it's an interesting discussion for others to have, it's distasteful when the coach of the losing team talks about the surface, but it's worthy of discussion, I think," said Scott.
"Again, I'm relaying this, I've got an opinion that I'm going to keep to myself, but the issue is that there are differences on the ground now, some bits that are really firm and you can keep your feet, and other bits that are really soft and you can't keep your feet.
"It's not my area, but it's been a long time since the Grand Final, it's the biggest game in the land, and it's the best ground in the world in my view. So, to compromise the surface is a strange decision to make voluntarily.
"Stuff happens, and the weather is beyond your control, fair enough, but it was an own goal, I reckon."
In something of a concession during the week leading up to Round 1, MCC CEO Stuart Fox appeared to lean towards the opinion that large-scale events shouldn't be held at the MCG so close to the commencement of the AFL season in the future.
"Maybe not," Fox said on considering hosting large events close to the AFL season again. "It did get a little tight.
"Maybe that one (extra) week with the Gather Round would've been nice."
Ultimately, Collingwood outmuscled Geelong to the tune of 22 points at the MCG on Friday, as key injuries occurred on either side of the ball, with Magpies intercept defender Jeremy Howe succumbing to a gruesome arm fracture, and Cats defensive general Tom Stewart falling victim to a knee injury after twisting awkwardly.