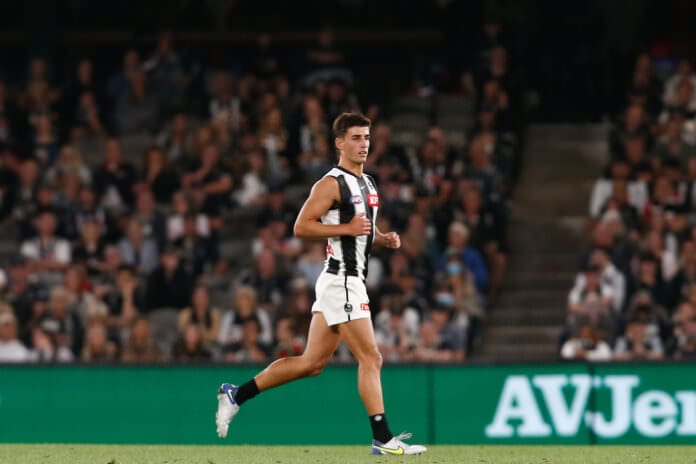 Collingwood have been a surprise packet for many this season, currently sitting at six wins and five losses, already equaling last year's wins tally at the halfway point of this season.
Craig McRae's Magpies have challenged and defeated the premier teams of the competition, and two consecutive wins over top four teams have them in the picture for a top-eight spot.
Some of this success can be thanks to the Daicos brothers, Nick and Josh.
Nick Daicos has come into the club as one of the most hyped draftees ever, and has done his part well. The 19-year-old has averaged almost 24 disposals a game and ranks elite in handballs.
Some may believe the No.4 pick in last year's NAB AFL Draft hasn't fully met the hype, however, the young half-back says he has been carrying an injury.
Speaking with 7 NEWS, Daicos revealed he has been dealing with an ankle injury since March.
"It's something that I'll probably have to carry throughout the whole year, just got my ankle caught under a player in Round 2," he said.
Included in the 7 NEWS interview was his older brother Josh, who has done well to not let his younger sibling overshadow him.
The 23-year-old is playing in his sixth season and has played his role in a new-look Collingwood outfit under McCrae this year, having been especially damaging in the early rounds of this season.
Daicos has yet to open talks on a new contract but says he's keen to remain a Magpie.
"I've really enjoyed the start of the year... I've loved Fly and the assistants and what they've brought to the club, so I'm looking to hopefully getting a deal done," he told 7NEWS.
In other contract news at the AIA Centre, Jordan De Goey has spoken on his future at the club, with the Magpies having an array of key names still unsigned on their books.
Collingwood will face Hawthorn at the MCG on Sunday as they chase a place in the top eight on the ladder.