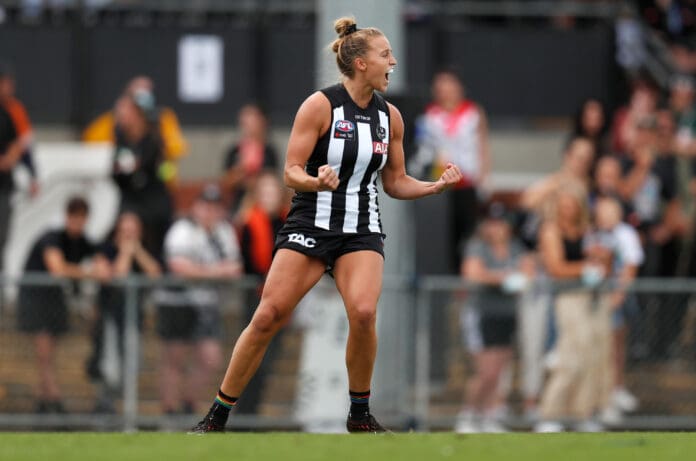 The 2023 AFLW season will begin on Friday night with a clash between the Melbourne Demons and Collingwood Magpies and will also have the Sydney, Western Australia and South Australia rivalries on show.
Zero Hanger has you all covered with every club's team for the opening round of the season.
Melbourne Demons vs Collingwood Magpies
Friday, September 1 @ Ikon Park, 7.20pm AEST
The Demons won't bring any new faces in this week however, they will be without Maeve Chaplin and Jordan Ivey, with the former missing the game due to concussion. 2021 AFLW Rising Star and premiership player Tyla Hanks will make her 50th AFLW appearance.
B: L.Birch 9 T.Gillard 17
HB: S.Heath 30 M.Gay 3 S.Goldrick 23
C: S.Lampard 8 O.Purcell 2 E.McNamara 22
HF: T.Harris 7 L.Mithen 14 A.Bannan 16
F: E.Zanker 29 K.Hore - C 10
Foll: L.Pearce 15 T.Hanks 5 P.Paxman 4
Interchange: B.Mackin 31 G.Campbell 1 E.West 11 C.Sherriff 18 M.Fitzsimon 24
Emergencies: G.Colvin 32 C.Wilson 20 S.Johnson 25
Collingwood has selected five players - Grace Campbell, Selena Karlson, Eleri Morris, Neil Morris-Dalton and Tarni White - to make their club debuts this weekend. However, the club will be without three key players: Lauren Butler, Jo Lin and Ruby Schleicher. All three players are currently sidelined with foot injuries.
B: S.Casey 22 S.Livingstone 12
HB: S.Sansonetti 16 S.Karlson 20 A.Brazill 10
C: J.Allen 6 B.Davey - C 3 T.White 29
HF: G.Campbell 13 E.Morris 21 E.James 2
F: N.Morris-Dalton 17 S.Rowe 7
Foll: S.Frederick 1 M.Cann 25 B.Bonnici 8
Interchange: A.Porter 9 E.Fowler 15 L.Brazzale 24 T.Brown 26 A.Sheridan 14
Emergencies: I.Barnett 4 C.Blair 28 E.Smith 33