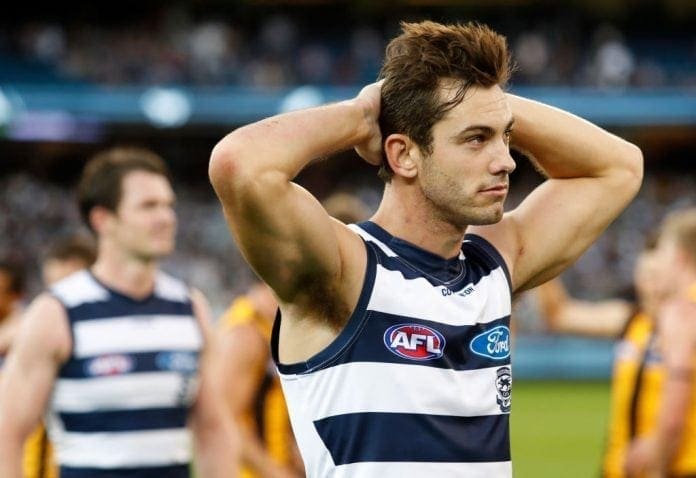 Central District star Daniel Menzel is set to miss the rest of the SANFL season after sustaining a broken foot in the opening round of the season, according to The Advertiser.
The former Cat and Swan will require surgery on the broken foot, suffering ligament damage in the process that requires surgery will see him sidelined for an extended period of time.
It's been a horror run of injuries for Menzel over the course of his footballing career and this recent broken foot sadly adds onto the injury plagued star.
During the course of his career, Menzel has recovered from four knee reconstructions while playing at Geelong before being traded to the Swans at the end of 2018. He only managed seven games for Sydney last year before undergoing groin surgery that ended his year.
Menzel said he is still in disbelief after this recent history.
"It has not completely kicked in, I've not got my head around it yet," Menzel said. "It is a weird feeling.
"I feel like with all the ACLs I have been through and everything else, I have got a lot of perspective and I did say to the surgeon 'it is not an ACL, so that is a positive'.
"That is the only way to look at it because it would drive me insane."
Menzel landed awkwardly on his foot in his first training session back after the COVID-19 shutdown, which scans revealed bone bruising that hampered his preparation for the club's first game against Sturt.
"My mindset was it will be sore, but I had to get through," Menzel said. "I could not run on the weekend and struggled through.
"It was really sore and I had another incident. I saw the surgeon and he said the damage was worse than initially thought."
After being delisted by the Swans at the end of 2019, Menzel returned to the Central Districts and had put in as much work as he could to get himself physically and mentally ready for the season ahead.
The opportunity to play with brother Troy at the club and have plenty of time in the midfield was also a huge motivating factor for Daniel to keep on playing, and Menzel says despite suffering the injury setback, he will not give up his football career.
"I just have to postpone things in my mind in terms of playing wise," Menzel said.
"I'm not throwing everything in, I'm only 28 and have a lot of time left."
Menzel will have a moon boot on his foot for the next six weeks and will remain at the Bulldogs as an assistant coach for the remainder of the SANFL season.