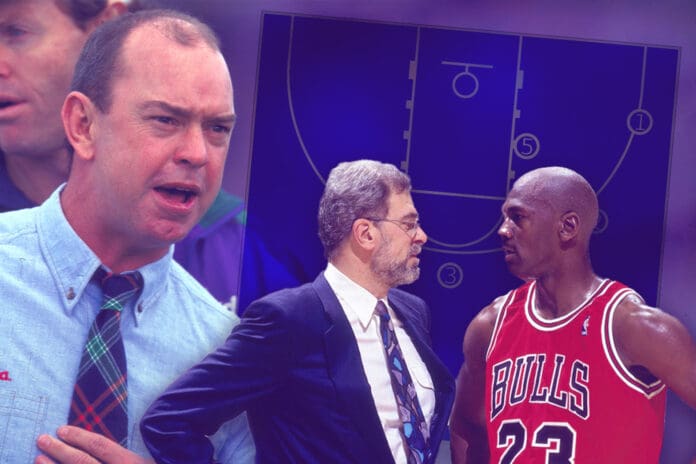 You've heard the howls before.
They usually arrive as the scoreboard ticks freely and almost every fan in the stands appears to be having the time of their lives.
Still, there's always one. A barnacled anchor submerged beneath the crowd's inviting ripple.
You've seen their sort before too.
They usually arrive early and set up beneath crocheted blankets with a brew from their thermos and behind a faded rosette.
"The modern game is too much like basketball," they routinely spit from their pursed lips as yet another loose defender spins the Sherrin freely off half-back.
And while these hunkered purists may believe that today's tactics have been thatched from the tatters of the game's tapestry, their derision holds little weight given their near-certain inability to differentiate between Karl Malone and Moses Malone.
History also suggests that their lead boots have landed on the wrong side of a divide, as coaches since the fifties have placed a premium on isolation, pacing and free-wheeling transition between the painted arcs.
The famed Smith brothers – Len and Norm - gained a myriad of devoted disciples after regularly delivering sermons on the importance of "running and gunning" from defence, with icons like Hafey, Jeans, and Barassi owing large portions of their triumphs to the mantra.
But while a collective success has seen 'T-shirt Tommy', 'Yabby' and 'Barass' earn seats within the game's legendary coaching pantheon, a mass of other offensive innovators have to remain content with simply being misunderstood.
Gerard Neesham, for example.
Following a playing career on both sides of the Nullarbor, and an array of WAFL flags under his belt, the most prominent member of one of West Australia's most identifiable sporting clans traded studded boots for a clipboard, and continued his winning ways in the coaches box for Claremont.
With the glory rolling down Davies Road at will during the late 80s and early 90s, Neesham's name was naturally thrown into the mix for the soon-to-be minted Fremantle Dockers' job ahead of the 1995 season.
And although the cousin of a Melbourne Cup-winning jockey, and the brother of an Australian Olympian's status was near anonymous in the AFL's Victorian heartland, the homegrown visionary was able to beat out the likes of bigger names in Kevin Sheedy, Robert Shaw, and Ken Sheldon to become the inaugural name to fill the post.
The key to his election?
A 72 percent win record with the Claremont Tigers, built off the back of an avant-garde game plan.
For the uninitiated, Neesham's style was simplistically labelled as the 'chip-and-draw' due to its foundation coming from luring opponents when in control of the ball, pressing when without, and transitioning into space from defence.
But while the tag stuck like mud on a shag rug, it has long left the architect vexed.
"The 'chip-and-draw' is a quite humorous thing for me," Neesham said ahead of the Dockers' debut campaign in 1995.
"I don't think you can describe it that simplistically. It's quite a complex style and it takes a long time to actually coach and train."
Notwithstanding its complexities, Neesham was still able to break his blueprint down for both the paying laypeople in the stands as well as a youthful playing group scrounged together ahead of their first dance.
"The basic philosophy is that you have to be able to identify an advantage and take maximum use of that. You have to be able to defend both as a forward and a defender, and attack both as a forward and a defender," the innovator added.
Although the same lofty heights scaled in the WAFL failed to be reached throughout Fremantle's first foray onto the national scene, the pundits who derided these plans following Freo's 8W-14L first season did little to dampen Neesham's belief.
In fact, a series of intriguing post-season conversations only sought to entrench his revolutionary views further.
As his fledgling side frolicked and tanned between Cottesloe and Bathers Beach over the summer of 1995-96, Neesham and his right-hand man, assistant coach Neale Daniher, jetted off to the United States of America - cashing in with friends in high places, and picking the brains of mentors on far greater money than himself.
First stop, the San Diego Chargers and a date with Neesham's ex-East Fremantle teammate turned NFL Pro Bowl Punter, Darren Bennett.
"Darren got us in there [with the Chargers organisation] and then we spent a few days in Denver at Colorado University speaking to a young bloke we wanted to recruit," Neesham told Zero Hanger from his base, south of Perth's CBD.
Though studied plays and talks with then San Diego boss Bobby Ross were sure to have proven illuminating, the dichotomy of positional players in the NFL could have only drawn the Western Australian's intrigue so far.
So, for a pedagogue who placed a premium on duality and transition, it was a jaunt to the Windy City of Chicago, and a catch-up with the club's future number one ticket holder, which would leave a lasting impression.
"We then went to the Chicago Bulls because of Luc Longley, and we spent four or five days there - and that was extraordinary, as you could imagine," Neesham explained.
"We didn't just watch training; we spent a lot of time talking to Phil Jackson each day. The access was incredible."
With a quintet of championship rings won as a player and coach already adoring his digits by 1995, and another eight still to be awarded in future, Jackson had forged success in Chicago with a star-studded cast playing a near selfless two-way game.
Preaching the importance of clockwork transition and the power of precision via his triangle offense, the Montana-born mastermind's gameplan placed importance on every cog - including the greatest player in the game's history - ticking in tandem.
While drastically simply on paper, the triangle is reliant upon the right players being in place to maintain movement.
And, while the likes of Scottie Pippen, Toni Kukoč, and Dennis Rodman could never be misconstrued as an ill-fit in hindsight, the minute hand of Michael Jordan was integral to Greenwich Mean Time being kept.
Still, for the beat to be kept on the court, the occasional beat down off it was sometimes seen as mandatory for the demanding five-time All-Star.
For Jordan to become, arguably, the greatest ever player to lace a sneaker in the NBA's 75-year history, the now 59-year-old believed that the key to reaching - and remaining at - his peak was to assert himself from day dot.
"I learned in the early stages that you have to be very dominant," Jordan recently told legendary hoops reporter Jackie MacMullan on The Icons podcast.
"You want that dominance to be exuded throughout your competition and people to know what they're going to get themselves into."
Granted this alpha attitude was intended to extend largely to his opponents like Larry Bird, Charles Barkley, and the much-chided Clyde Drexler, it also managed to work its way under the guard of his own point guard.
As revealed during Netflix's wildly popular The Last Dance documentary series, Jordan and incumbent Golden State Warriors head coach Steve Kerr came to blows during a pre-season session at the Bulls' Berto Center facility.
But, while this altercation largely came as news to the 23.8 million viewers that tuned in to the 10-part serial across the globe, Neesham saw the toe-to-toe battle live from the bleachers, not his loungeroom flat screen.
"The intensity at which those guys trained was really something. That's what caused that," the 67-year-old said of the standoff.
"What I remember about it was that as soon as the incident happened, Michael Jordan came over and said 'Hey, Ossi … Ossi' – [Aussie] like it was with an 'S' – 'you didn't see anything!'.
"It wasn't any big deal not to talk about it until it came up in the documentary, but it's definitely something to look back on now."
In spite of the fact that similar stoushes rarely, if ever, broke out under his watch at Fremantle Oval, with an inability to ever taste September action during his stint at the Dockers' helm, Neesham could be forgiven for demanding a similar rise from his charges.
While unable to call on a cavalcade of superstars like Jackson, and his hands remaining unencumbered with the weight of jewelry worth the bottom line of a small nation, the similarities between the 'Little General' and 'The Zen Master' are stark once the surface is scoured off.
Notwithstanding Jackson's ability to see his fluid and altruistic tactics put into place while Neesham was left running it back with kids, a single All-Australian - Ben Allan - and a chorus of Claremont call-ups, the mere fact that their plans mirrored one another saw an intriguing kinship born.
"The hardest part of teaching players is the transition between attack to defence, but the best players just do it so naturally and great attackers know when to put themselves in defensive situations," Neesham said of his days in the box.
"Phil had a lot of great insight into that because transitioning in basketball is just constant. It's up and back. It's how you just go the whole game, so it was very interesting sharing ideas with him on that."
Still, when pressed for insight into where the Xs and Os truly lay, the magician was unwilling to spill his secrets - even though a quarter of a century had elapsed since the spells were first bound.
"That's probably all I can tell you on that though," he said through a playful, yet halting, chuckle.
While correspondence between the pair naturally faded as their respective competitions recommenced, their fortunes for 1996 could not have been more contrasting.
For Jackson, the wounds of an Eastern Conference Finals loss to Orlando the year prior were mended with Chicago posting an 87-13 record and reclaiming the Larry O'Brien Trophy (NBA Championship) against the now-defunct Seattle Supersonics.
For Neesham, his Dockers remained anchored to the ladder's 13th rung despite the fledgling side's winning percentage dropping from 36.36 to 31.82.
And by the end of 1998, this chasm had grown even further, with Jackson capping his second of three career three-peats as his Australian contemporary was shown the door after only ever claiming six wins away from the WACA and Subiaco's lightning decks.
In defiance of his 32 win, 56 loss record not screaming success, hindsight has proven that Neesham's groundwork out west revolutionised the competition on the whole.
With each of the AFL's 18 head coaches now ascribing high value to maintaining possession and transitioning into space to penetrate tightly-wound defensive webs, it is clear that Neesham's patented style has become the norm.
Factor in that the Dockers are currently the most potent transitional team in the competition, and it is also clear that the seeds sown by the local product have finally sprouted into an orchard.
Some very exciting & interesting numbers here 👀 #foreverfreo pic.twitter.com/VabjVA4psJ

— Fremantle Dockers (@freodockers) April 18, 2022
Though you are unlikely to ever hear the current day CEO of the Clontarf Aboriginal College ever tooting his own horn, his contemporaries – many of whom are favourites of the outer's pursed purists  – have been content to play Neesham's notes for him.
"He was well before his time in terms of what is acceptable in Australian football," David Parkin told ABC journalist James Coventry in 2015.
"He has never received the credit he deserves. Some of his innovations have become central to the way the game is played."
Gerard Neesham would have been a premiership coach if he had taken a role at an established AFL club https://t.co/9DlMmMY869

— Michael Sleap (@michaelsleap) April 7, 2022
Barassi too championed Neesham's ingenuity describing it as an "innovative and exciting brand".
The legendary tactician even went so far as to claim it represented a baton to be sprinted on with.
"They [Fremantle] work the ball up from their backline and they are very patient with the ball. If the Dockers make this year's finals series, all clubs in the national league would be sure to follow Neesham's attacking strategies," Barassi told Football Plus magazine in 1995.
So, although a presentation like Jackson's to enter the Hall of Fame is still yet to be extended, if there are coaches club meetings held behind bolted doors designed to keep us tactical plebians out, the Order of Australia ordained, Guevara-esque revolutionary is sure to be feasting with the chiefs.
Barnacled anchors be damned.